WIN a bundle of books from Fresh Fiction! We went shopping and brought home a few books...

May 12, 2009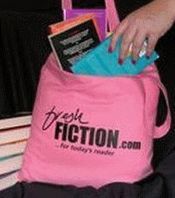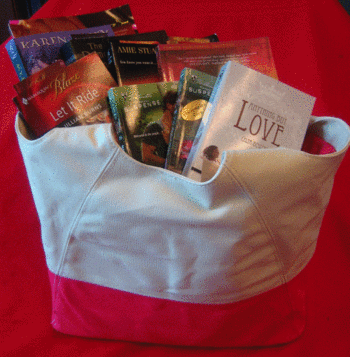 EXTENDED THROUGH MONDAY, We celebrated Mother's Day Oh, it's the weekend and that means if you visit the readers blog posts here at Fresh Fiction and make a comment you're entered to win a "bundle of books" from Fresh Fiction! So, stop by the blogs on Saturday and Sunday and make a comment. You'll be entered to win a FABULOUS selection of great reads.
And if you're shy, enter here. Just leave a comment for either Sara or Sandi, or TELL us what you'd like to talk about and you'll be put in the pool. Well, the contestant pool, I don't think we'll seriously be able to dunk everyone!
Good LUCK and happy Reading!
Signed books from:
Amie Stuart, Candace Havens, Celya Bowers, Cindy Dees, Jax Cassidy, Jillian Burns, Karen Whiddon, and Karen Kelley.
Check out our photos from the signing at the Hurst Barnes & Noble by clicking here.
Comments
20 comments posted.
Re: WIN a bundle of books from Fresh Fiction! We went shopping and brought home a few books...

I love this site, it is always informative.
(Barb Volker 3:30pm May 11, 2009)
These books are tempting.
(Cindy Rader 3:33pm May 11, 2009)
I visit this site all the time. Love books.

Linda Henderson
(Linda Henderson 3:56pm May 11, 2009)
I love this site so much info on books coming out, Thank you all
Penney
(Penney Wilfort 4:05pm May 11, 2009)
This site rocks and is VERY informative. I check it often to see what's new and what I am missing
(Faith Hayes 4:51pm May 11, 2009)
Great site
(Gary Bronstein 5:42pm May 11, 2009)
This site is great and you always have so many great contests.
(Pat Lieberman 6:01pm May 11, 2009)
A Bundle of Books - Always a Wonderful Prize. Count me in.
(Helen Livermore 6:56pm May 11, 2009)
A discussion on mothers who have faced issues many of us don't would be a great topic. For example, raising children alone, giving birth to a premature or disabled baby, dealing with both children and aging parents at the same time. There are lots of issues that could be discusses!
(LuAnn Morgan 7:29pm May 11, 2009)
LuAnn, you mention mothers who have faced different issues, and I think that's a great topic for debate. Due to my job I know a lot of single moms who have different
incomes and different abilities, and admire each one of them!
(Sandi Shilhanek 10:21pm May 11, 2009)
This looks absolutely FANTASTIC!!
(Rachael Grime 11:52pm May 11, 2009)
This is a great web-site with fabulous authors ! Happy Belated Mother's Day! marjie jones
(Marjie Jones 12:12pm May 12, 2009)
I enjoy this website because it lets my know about authors and books which are new to me.
(Sharon Long 10:26am May 12, 2009)
I saw a sign yesterday on our drive home from our daughter's graduation. It was something about bartering for services and things. How about "I would like to barter one of my characters for one of yours for my next book"?
(Karin Tillotson 2:05pm May 12, 2009)
Enjoy all facets of the Fresh Fiction site, especially receiving the newsletter.
(Margaret Garrison 2:40pm May 12, 2009)
Thanks Fresh Fiction for keeping me up to date with all of my favorite authors.
(Robin McKay 3:19pm May 12, 2009)
Woo-Hoo! Would I love to win all these books!
I'll keep my fingers crossed. Thanks.
Lorraine
moml1@cox.net
(Lorraine Larose 4:09pm May 12, 2009)
Love this site! Maybe winning a bundle of books too. How great is this!
Thank you for the opportunity!
(JoAnn White 4:07pm May 13, 2009)
Receive emails from the site daily..love ya'll from Texas!
(Debra Le 3:00pm May 14, 2009)
I love books....and really enjoy this site. So many books and so little time.
And now your offering a bundle of books...WoW! Thanks!
(Lois Imel 11:31pm May 15, 2009)
Registered users may leave comments.
Log in or register now!