I should preface this piece by saying I have always had a bug phobia.
When the first book in Tiffany Roberts' Spider's Mate series came out, I thought – "yeah, right". Who would find a romance with a half-man, half-spider hero appealing. Apparently, me – after a few intrepid forays into reading monster themed romances. I know, I know! Bugs – ick. Your mind might be going to Jeff Goldblum's character in The Fly which is all kinds of gross. But hear me out. The buggy heroes I'll be discussing here are human enough so that it's not The Fly level ick, and they are a complex group of strong, heroic, devoted, patient, caring, and – as C.M. Nascosta describes one of her mothman heroes – "adorkable".
One day I was browsing Amazon and where Scifi and monster romance intersect, I found Susan Trombley's Iriduan Test Subjects series and some other books that are connected to that series. As I usually do, I started backwards and read MY CHAMELEON MATE, and then MY ANT MONSTER MATE. Those two books led me down a rabbit hole and I started devouring the other books in the series. Again, I cannot stress enough how bug phobic I am. Something about Susan Trombley's writing just sucks me in. I've always been into character-driven stories that are heavy on emotion, and I think her books could definitely be described that way. Like so many insect monster themed books, you have to suspend your disbelief a bit when the way the language barrier gets resolved. MY ANT MONSTER MATE is an enemies-to-lovers story – not usually my favorite trope. The Menops are an airbourne ant-like race with a reputation for chewing up and spitting out other races and planets. Understandably, some races view them unfavorably. Yesenia is a human and out for vengeance on any Menops she comes across. Her family was personally damaged by the Menops. When she lands on another planet, she just so happens to come across her sworn enemy – a male Menops. Because of the culture clashes, bad blood, and language barrier, there are moments between Yesenia and Isoli that range from romcom to yikes. They come to eventually realize that they have more in common than they originally thought. I loved how their relationship evolved and there is a healthy mix of spicy and sweet scenes that should appeal to readers of scifi and fantasy romance.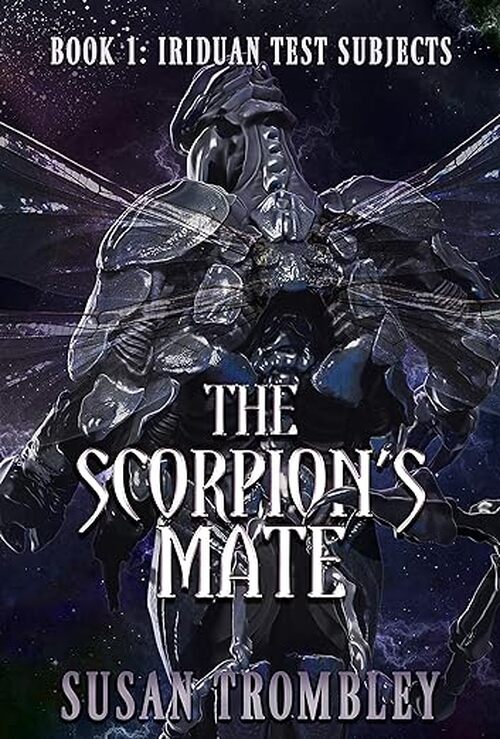 THE SCORPIAN'S MATE is the first book in the Iriduan Test Subjects series. Claire, a human female, and Thrax, a mutant scorpion humanoid mix, are both held captive by an alien race that believes in enslaving and experimenting on other races. For Thrax, this is an insta-love story. He falls for Claire as soon as he first catches a whiff of her. Claire is, predictably, a bit more apprehensive at first. I like the direction Susan Trombley went with this story. I've read some stories by other authors who had their hero and heroine meet under somewhat similar circumstances, but there was invariably a cloud of distrust on both sides that poisoned the story for me. With Thrax's initial reaction to Claire, this began as a "let's work together to take down these evil overlords and escape" story. Thrax might not be what some romance fans would immediately envision as a hero, but he is a warrior out of necessity, and he has a self-awareness and shrewdness paired with an empathy and caring demeanor toward the female he is captivated by that makes him stand out. If you're his enemy – watch out, but he's a great guy to have watching your back, and he makes a surprisingly delicious and devoted mate.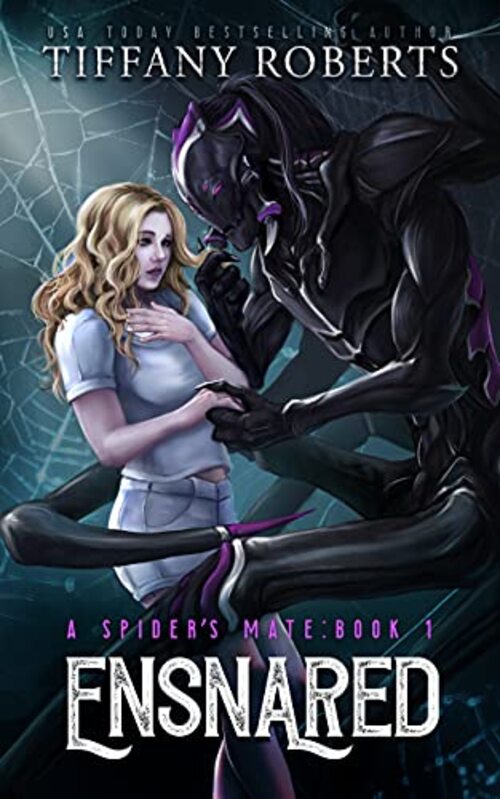 After being seduced by Susan Trombley's books, I ventured deeper into the sub-genre of insect monster romance. By now, Tiffany Roberts' series with a spider-like hero didn't sound so off-the-wall. Ketahn is a hunter and has part spider and part humanoid features. I think this series should appeal to readers who enjoy fantasy or romantasy books. Although he is physically strong, he has known tragedy and suffers to a certain degree under the reign of his narcissistic evil queen who – by the way – has the hots for him and wants to own him. One day, Ketahn stumbles on Ivy Foster – a human female who was sent to his planet in a stasis. Like a fairy story, he wakes her up and becomes enchanted by her. She's initially freaked out. How many of you wouldn't be freaked out if you woke up to a huge spider dude hovering over you? This love story spans three books and deals with the differences between this couple, getting acceptance from her people and his, and leading their found family while battling an evil queen and her henchmen. There's a satisfying balance of action, adventure, good storytelling, emotional punch, and steamy sex scenes. A big part of what makes the intimate scenes so hot, is the character development and the growth of the bond between this couple. They rely on each other but also learn from each other. At the outset, Ivy seems pretty fragile. Over time, and with Ketahn's support and encouragement, she gains self-confidence and resilience.
Another book I was happy to discover was THE CETIPEDE'S MATE by A.I. Lustre. I snagged it when it was available as an ebook but now it appears to only be available as an audiobook. In it, Eden crashes on an alien planet and meets Vedhral. Vedhral's upper half is more humanoid in appearance while his lower half is like a centipede's. These two have the usual initial communication problems, but Vedhral is intelligent and picks up Eden's language quicker and helps bridge the gap. Eden is a realistically flawed person placed in extraordinary circumstances. At times it's amusing to read about Eden trying to navigate this new world. Vedhral has a little more patience, and he helps Eden a lot – both in providing for her, as well as trying to build her confidence while still teaching her to be cautious in her environment. There is a HEA but the ending does leave tantalizing possibilities for future stories set in that world.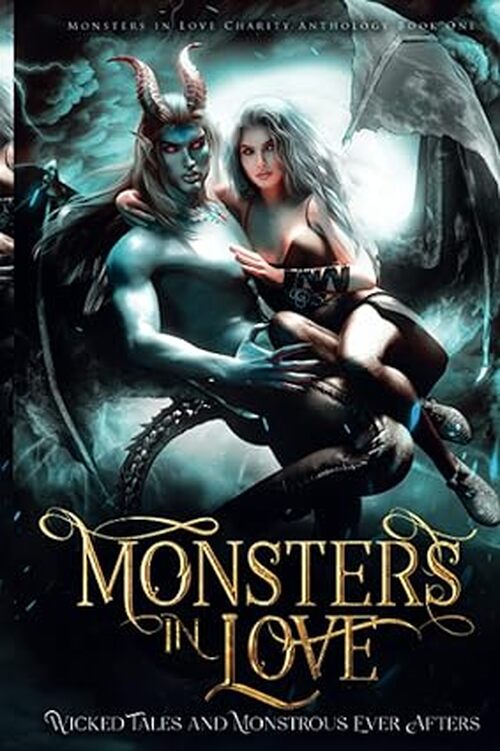 Out of all the different types of insect monsters, I may have a type. I love these stories of sweet, nerdy mothmen. In Live, Laugh, Lurk by Elsie Winters, a story that appears in MONSTERS IN LOVE: WICKED TALES AND MONSTROUS EVER AFTERS, elf Lilith is running a garden center while longing to get back to the charms of the big city. While in town, she meets her neighbor Alistair – mothman and fruit developer extraordinaire. They have a great meet-cute when she's at an experimental orchard and he appears like "a creature out of my darkest cryptid nightmares". Her shock and horror quickly turns to amusement when she observes him wrangling a little girl with a penchant for stealing bites out of his exquisite apples. While Alistair may be a little awkward, he's charming in his own way and offers Lilith friendship and a helping hand with her plants. The relationship builds until it becomes a will they-won't they situation that is totally adorable. SWEET BERRIES is part of C.M. Nascosta's Cambric Creek series where humans mix with a variety of werewolves, minotaurs, and others. The story opens with Grace – a human woman who is hardworking and desperately horny. After a marriage that turned toxic before it finally ended, she's looking for a little relief rather than anything serious. One night, she senses a stranger being a voyeur as she tries to pleasure herself. Much to her surprise she soon runs into her late-night watcher while she's at work. Merrick is a shy mothman and an "adorkable" scientist working for the local college. Grace's scent draws Merrick to her like a moth to a flame. I loved this story. The story is told strictly from Grace's perspective, so the reader is left to wonder about Merrick's intentions just as Grace is. There is a wonderful flirtation that is both super cute and includes plenty of steamy encounters that go from 0 to "oh wow" pretty quickly. Grace can't help but find herself falling for Merrick even as she tries to guard her heart in case he leaves.
I hope this provides a glimpse into insect monster romance and prompts you to try something new.
1 comment posted.