1--What is the title of your latest release?
2--What's the "elevator pitch" for your new book?
What happens when one guest at a Victorian house party decides to exact vengeance for a murder that happened twenty years before?
3--How did you decide where your book was going to take place?
I knew I wanted to set a book at the country estate of one of my recurring characters, and because there were fossils involved, it was a natural choice to place it in Devon. They don't call it the Jurassic Coast for nothing.
4--Would you hang out with your protagonist in real life?
Absolutely! This is my eighth book with Veronica Speedwell, and it's a delight to hang out with her every time.
5--What are three words that describe your protagonist?
Intrepid, audacious, irrepressible.
6--What's something you learned while writing this book?
That there were clergymen who claimed to know the exact date and time the earth was created.
7--Do you edit as you draft or wait until you are totally done?
I plow on through until the book is finished. It's much easier to revise when I can see the book as a whole.
8--What's your favorite foodie indulgence?
Baguette, cheese, and a glass of wine.
9--Describe your writing space/office!
I am lucky enough to have the whole of the converted attic space as my personal playground! It has my books, my workspace, and a spot for yoga as well as plants and art supplies. It's my haven.
10--Who is an author you admire?
Ijeoma Oluo. SO YOU WANT TO TALK ABOUT RACE was a phenomenal read.
11--Is there a book that changed your life?
Oyinkan Braithwaite's MY SISTER THE SERIAL KILLER was the first time I realized I wasn't too much of a chicken to read thrillers. And four years after I read it, my own very first thriller, KILLERS OF A CERTAIN AGE was published!
12--Tell us about when you got "the call." (when you found out your book was going to be published)/Or, for indie authors, when you decided to self-publish.
I had been writing and NOT publishing for fourteen years, so getting that call was an out-of-body experience. I don't actually remember a single thing about it! But it was a three-book deal, and I've been publishing ever since.
13--What's your favorite genre to read?
Mystery with a hefty side of memoir, travel, history, and romance.
14--What's your favorite movie?
I could never choose! Recently I've loved KNIVES OUT and the latest adaptation of EMMA.
15--What is your favorite season?
I love them all for different reasons. They all have their own pleasures, right?
16--How do you like to celebrate your birthday?
Lunch outside with my family, just soaking up the summer sunshine.
17--What's a recent tv show/movie/book/podcast you highly recommend?
The Apple+ adaptation of SLOW HORSES by Mick Herron is simply superb. And you get the double pleasure of reading the books as well.
18--What's your favorite type of cuisine?
Mexican
19--What do you do when you have free time?
Read, of course! I also practice yoga and play with my paints and Tarot cards.
20--What can readers expect from you next?
I just turned in the next Veronica Speedwell novel and I have a few other projects on deck. Stay tuned!
Veronica Speedwell Mystery #8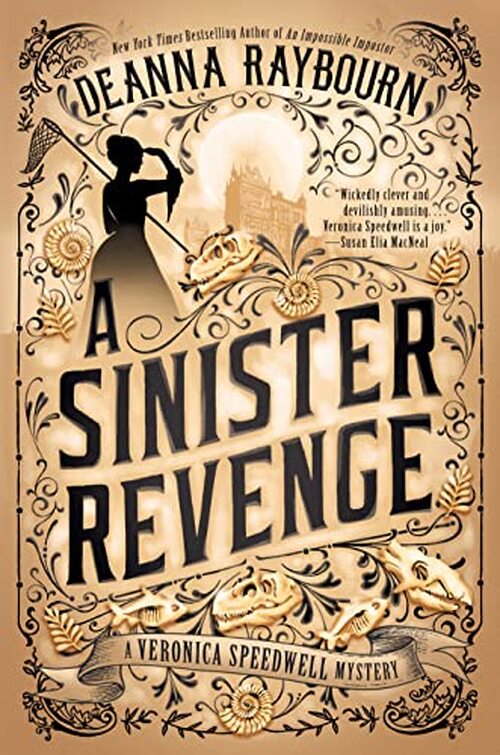 Veronica must find and stop a devious killer when a group of old friends is targeted for death in this new adventure from the New York Times bestselling and Edgar Award–nominated author Deanna Raybourn.
Veronica's natural-historian beau, Stoker, has been away in Bavaria for months and their relationship is at an impasse. But when Veronica shows up before him with his brother, Tiberius, Lord Templeton-Vane, he is lured back home by an intriguing job offer: preparing an iguanodon for a very special dinner party.
Tiberius has received a cryptic message—along with the obituaries of two recently deceased members of his old group of friends, the Seven Sinners—that he too should get his affairs in order. Realizing he is in grave danger but not knowing why, he plans a reunion party for the remaining Sinners at his family estate to lure the killer out while Veronica and Stoker investigate.
As the guests arrive and settle in, the evening's events turn deadly. More clues come to light, leading Veronica, Stoker, and Tiberius to uncover a shared past among the Sinners that has led to the fatal present. But the truth might be far more sinister than what they were prepared for.
Romance | Mystery [Berkley, On Sale: March 7, 2023, Hardcover / e-Book, ISBN: 9780593545928 / eISBN: 9780593545942]
Feminist detective and her partner must uncover a tricky killer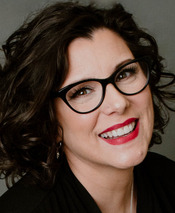 New York Times and USA Today bestselling novelist Deanna Raybourn is a 6th-generation native Texan. She graduated with a double major in English and history from the University of Texas at San Antonio. Married to her college sweetheart and the mother of one, Raybourn makes her home in Virginia. Her novels have been nominated for numerous awards including two RT Reviewers' Choice awards, the Agatha, two Dilys Winns, a Last Laugh, three du Mauriers, and most recently the 2019 Edgar Award for Best Novel.
She launched a new Victorian mystery series with the 2015 release of A CURIOUS BEGINNING, featuring intrepid butterfly-hunter and amateur sleuth, Veronica Speedwell. Veronica returned in 2017's A Perilous Undertaking, and A Treacherous Curse, 2018. A Dangerous Collaboration was released in 2019, and book five, A Murderous Relation, was a March 2020 release. An Unexpected Peril, Veronica's sixth adventure, will be published in March 2021.
In addition to further Veronica books, Deanna is writing a contemporary novel about four female assassins on the cusp of retirement.
No comments posted.