1--What is the title of your latest release?
2--What's the "elevator pitch" for your new book?
Vinyl Resting Place blends murder, music, and macchiatos in a delightful cozy mystery.
When Juni Jessup returns to her small Texas hometown, she and her sisters put all their beans in one basket to open Sip & Spin Records, the ideal place to enjoy musically-themed coffees like Espresso Yourself while listening to great music and town gossip, until – record scratch! – a body deader than disco falls out of the supply closet during the grand opening.
Family is everything to the Jessup sisters, so when their off-beat uncle is arrested, they'll do anything to help, including putting Sip & Spin Records up for collateral. Unable to face the music, Uncle Calvin takes off, leaving the future of the shop in peril. Can Juni and her sisters catch the real killer before the trail – and the coffee – goes cold?
3--How did you decide where your book was going to take place?
Like Juni, some of my fondest memories involved my grandparent's family-owned shop in a small Texas town. When I was thinking about a series that revolved (no pun intended, this time) around a record shop, I naturally gravitated toward Austin, the self-proclaimed live music capital of the world. What could be more perfect?
4--Would you hang out with your sleuth in real life?
Are you kidding? Juni Jessup has an unlimited supply of great music and delicious coffee at her fingertips, not to mention a collection of vintage concert t-shirts that I would kill for. If I could, I would hang out in Sip & Spin Records every day with Juni, her sisters, their cat Daffy, and the quirky residents of Cedar River, Texas.
5--What are three words that describe your sleuth?
Juni Jessup is intelligent, independent, and nostalgic.
6--What's something you learned while writing this book?
Before writing Vinyl Resting Place, I couldn't have told you the difference between a latte (1 part expresso and 3 parts steamed milk, topped with froth) and a macchiato (expresso topped with froth). I spent many hours "researching" how coffee drinks are made and different flavor combinations. The things writers do for their craft, am I right?
7--Do you edit as you draft or wait until you are totally done?
I play it by ear for the first draft. I do leave myself lots of comments as I write – "Verify this!" "Is this a clue?" "Foreshadowing?" Otherwise, I'd end up wasting time chasing rabbit holes and waffling over the perfect sentence structure when I could be writing. Once I have a first draft down, I go through and address all the notes I've left for myself and then put it aside for as long as possible so when I revisit it, it's with fresh eyes.
8--What's your favorite foodie indulgence?
I'm not much of a foodie, but for Juni Jessup, the amateur sleuth in Vinyl Resting Place, the way to her heart is through her stomach. She'd probably jump into a murderer's van for the promise of tacos. She puts her love of flavors to use crafting fun coffee drinks with musically-themed names for the customers at Sip & Spin Records.
9--Describe your writing space/office!
My desk always has something fun on it – right now it's three roses made from upcycled vinyl records in a mason jar covered with stickers. Most of the time I'm writing, there's a snoring puggle nearby, either in her bed under my desk, or in my lap. Have you ever tried writing a book when there's a chonky dog between you and the keyboard?
10--Who is an author you admire?
That's a trick question, because I admire anyone who can create a story out of their head. I have a tendency to fangirl and may have made a complete fool of myself more than once when meeting authors in person.
11--Is there a book that changed your life?
I think every book I read changes my life a little, because the characters often live in my head long after I've read the last chapter. Some books stand out, like the first novel (Jack London's White Fang) or the first cozy (Agatha Christie's A Murder Is Announced) I ever read. But if I'm being 100% candid, one book that changed my life was my debut novel, Killer Content. Seeing my first published book in bookstores was a life-long dream, and I can't thank the editors, my agent, and the readers enough for helping make that fantasy a reality.
12--Tell us about when you got "the call." (when you found out your book was going to be published)
When Vinyl Resting Place was out on sub, I called my agent about something unrelated and he said he wanted to chat, but it wasn't a good time, so we set up a meeting for later in the day. When we got back on the phone that afternoon, he spilled the beans that my dream editor had offered a 3-book deal. It was music to my ears! Then I realized that he must have known this *hours* earlier when we'd spoken over the phone and he'd never let on. It turns out that being the fabulous agent he is, he didn't want to jinx anything until we had the deal in writing.
13--What's your favorite genre to read?
When it comes to reading, I especially enjoy genre-bending books because what's a good space opera without a romance subplot, or a fantasy without an element of mystery?
14--What's your favorite movie?
I'm a giant nerd, so I'd have to say Serenity. It's a great example of genre being fluid; it's a cowboy western – set in space. It's got equal amounts of action and humor with three ongoing romance threads. Serenity is shelved as sci-fi, but the only way for the crew to save the 'verse is by solving a mystery. Plus, it's very shiny.
15--What is your favorite season?
I love the in-between seasons. A cool day in the middle of a brutal Texas summer. An unseasonably warm fall weekend. A flower blooming in Maine when it's so cold you can't feel your hands and there's a Nor'easter coming. An evening at the beach when you wish you'd brought a sweater, even though it's going to be ninety tomorrow. Those in-between times that break up the monotony are my favorites.
16--How do you like to celebrate your birthday?
I prefer quiet birthdays where I can do exactly what I want to do all day, whether it's sleeping in too late, re-reading a favorite book, or over-eating at my favorite restaurant.
17--What's a recent tv show/movie/book/podcast you highly recommend?
I'm completely obsessed with Only Murders in the Building. The cast is delightful, the true-crime podcast format for what is essentially a cozy mystery is fantastic, and every arc is riveting. Each episode is perfect but leaves you wanting more. It is skilled storytelling at its finest.
18--What's your favorite type of cuisine?
I could eat Tex-Mex three times a day, seven days a week and be perfectly happy, which is a trait I share with Juni.
19--What do you do when you have free time?
When I'm not writing, I'm reading or crafting. I almost always have a crochet project going on. Right now, I'm crocheting pillows that look like the vinyl record on the cover of Vinyl Resting Place that I intend to give away (but I have a sneaking suspicion one or two will end up on my couch.)
20--What can readers expect from you next?
I'm currently working on the sequel for Vinyl Resting Place. It's springtime in Cedar River, Texas. The annual Bluebonnet Festival is brewing and the whole town is in harmony. Juni Jessup and her sisters Tansy and Maggie thought opening Sip & Spin Records was going to be their biggest hurdle, but the Frappuccino hits the fan when the mayor drops dead - poisoned by their delicious coffee - and the sisters find themselves in hot water. Between the town festivities, a good old fashioned treasure hunt, and an accidental cow in the mix, Juni will have to pull out all the stops to find the mayor's killer.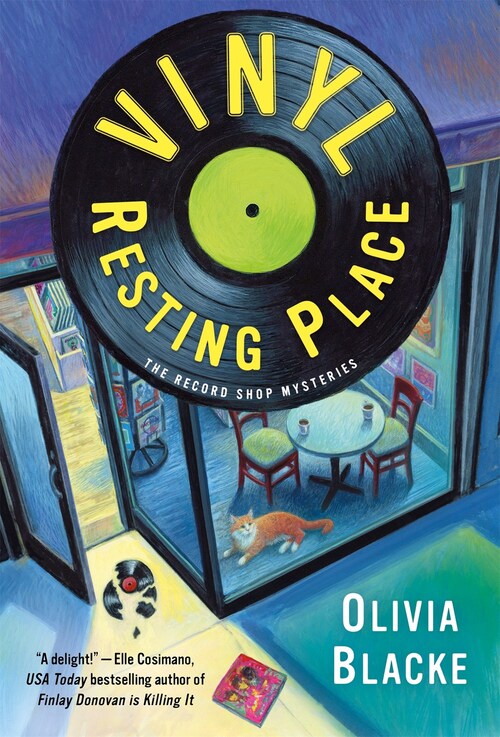 When Juni Jessup and her sisters Tansy and Maggie put all their beans in one basket to open Sip & Spin Records, a record-slash-coffee shop in Cedar River, Texas, they knew there could be some scratches on the track, but no one was expecting to find a body deader than disco in the supply closet.
Family is everything to the Jessups, so when their uncle is arrested by Juni's heartbreaking ex on suspicion of murder, the sisters don't skip a beat putting Sip & Spin up for bail collateral. But their tune changes abruptly when Uncle Calvin disappears, leaving them in a grind. With their uncle's freedom and the future of their small business on the line, it's up to Juni and her sisters to get in the groove and figure out whodunit before the killer's trail—and the coffee—goes cold.
Music and mocha seem like a blend that should be "Knockin' On Heaven's Door," but caught up in a murder investigation with her family and their life savings on the line, Juni wonders if she might be on the "Highway to Hell" instead.
Mystery Cozy | Mystery Amateur Sleuth [St. Martin's Paperbacks, On Sale: December 27, 2022, Mass Market Paperback / e-Book, ISBN: 9781250860088 / eISBN: 9781250860095]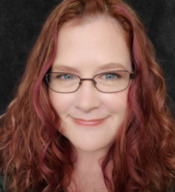 OLIVIA BLACKE (she/her), author of the Record Shop Mysteries, beginning with Vinyl Resting Place, and the Brooklyn Murder Mysteries, finally found a way to put her Criminology degree to good use by writing quirky, unconventional, character-driven cozy mysteries. Olivia is a little nerdy, a lot awkward, and just the right amount of weird. She is a recovering ex-Texan who resides with her husband, Potassium, and Baileycakes, their roly-poly rescue puggle. When not writing, reading, or spending way too much time on social media, Olivia enjoys Amigurumi crochet, scuba diving, collecting tattoos, watching hockey, and baking dog cookies. She wants to be a unicorn when she grows up.
2 comments posted.