1--What is the title of your latest release?
COMING HOME. It's the first novel in the Woodland Park Firefighters Romance Series
2--What's the "elevator pitch" for your new book?
When Anderson Kelly, Woodland Park High School's former quarterback, returns to town after a lengthy stint in the army, everyone in the small Colorado mountain town is thrilled, especially since he's recently joined the fire department. There's one person who isn't all that pleased, however. That's his former girlfriend and current single mother Chelsea Davis. As they reconnect, they must mend old wounds, forgive their mistakes, and figure out if it's possible to plan a future together.
3--How did you decide where your book was going to take place?
For three years we lived in Colorado Springs. One day, while driving through the mountains, we came upon the darling town of Woodland Park. When we took a walk in Memorial Park and I saw some guys from a nearby army base playing basketball, I knew this town was going to one day be in a book.
4--Would you hang out with your heroine in real life?
Absolutely! I always try to write novels featuring characters that I would like to know. Coming Home's heroine, Chelsea Davis, is no exception. I loved that she was a good mother, worked at a senior center, and was strong enough to stand up to the hero.
5--What are three words that describe your hero?
Steadfast, Brave, Haunted
6--What's something you learned while writing this book?
I learned so much while writing this novel! I spent several hours at a firehouse climbing firetrucks and learning how to combat wildfires in the mountains. I also interviewed an army nurse to help me make some of my hero's experiences seem realistic.
7--Do you edit as you draft or wait until you are totally done?
I love the first draft of a novel. I usually do very little editing until the book is at least halfway done. Only then do I take a good look at the storylines, pacing, and conflicts and figure out what needs to improve.
8--What's your favorite foodie indulgence?
Donuts. I really love a good donut. I try to stay away from them, though! One never seems to be enough.
9--Describe your writing space/office!
I write a lot and I like to move around. So, I usually spend my mornings in my office at my desk, and then, if I still need to get some pages done, I relocate either outside or in front of the fireplace. We have two dogs. Every morning when I tell them that it's time to go to work, they trot to my office and promptly fall asleep.
10--Who is an author you admire?
I really love to read, so there's a pretty big list. But off the top of my head, I'd say Robyn Carr because she's an expert at creating likable characters in memorable small towns.
11--Is there a book that changed your life?
A book that made a big impression on me was Alice in Wonderland. I've always been a dreamy sort of girl who likes to make up stories, so I loved the idea of Alice entering a new world where anything is possible.
12--Tell us about when you got "the call." (when you found out your book was going to be published)
My agent Nicole called me about an offer for Coming Home and its sequel Moving Forward. I honestly thought she was calling about something else and was just stunned by the news. Since I'm mainly known in the Christian market, I didn't think I had much of a chance to get to write a mainstream romance for a well-known house like Berkley. Nicole had to tell me the news twice!
13--What's your favorite genre to read?
Romance. I've always been a romance reader. A close second would be historical mysteries.
14--What's your favorite movie?
Casablanca. I love everything about it.
15--What is your favorite season?
Fall. I love all the leaves changing colors, the shorter days, and the many fun activities to do.
16--How do you like to celebrate your birthday?
Growing up, birthdays were a big deal! So, I love starting the day with lots of texts and phone calls. After that, I usually don't need too much. My husband usually makes me dinner and I always bake a cake.
17--What's a recent tv show/movie/book/podcast you highly recommend?
I recently started watching Shetland. It's a British mystery set in the North Sea. It's lovely.
18--What's your favorite type of cuisine?
Since I grew up in Houston, Texas, I'm a fan of all things Tex-Mex and southern, such as biscuits or country-fried steak.
19--What do you do when you have free time?
I love to take our dogs for long walks. We live near a lot of nature trails. I try to take a walk in the middle of every day if at all possible.
20--What can readers expect from you next?
I'm thrilled to share that MOVING FORWARD, the next book in the Woodland Park series, will be released next summer!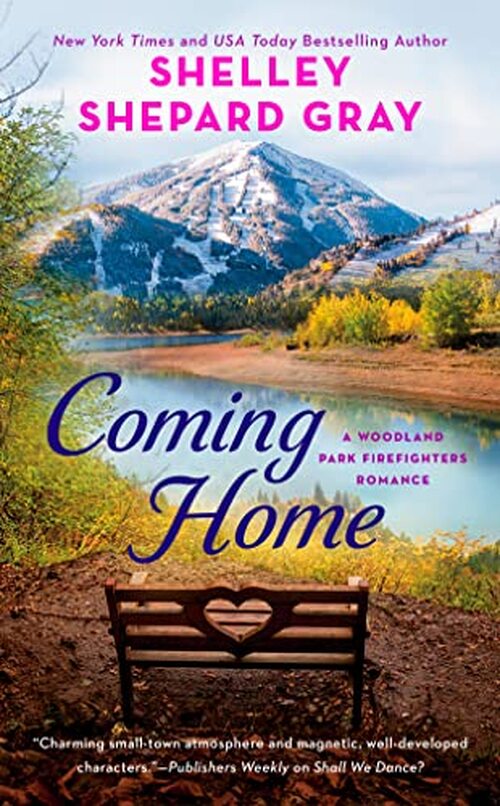 When an army vet becomes a firefighter in small-town Colorado, the flames of an old love reignite in this sweet romance by bestselling author Shelley Shepard Gray
In Woodland Park, a small town nestled in the foothills of Pikes Peak, Anderson Kelly and Chelsea Davis were once the high school "it" couple—the star quarterback and the valedictorian. They broke up when Anderson joined the army and one poor decision at a fraternity party changed Chelsea's life. Now, she works long shifts in a senior center to support her nine-year-old son, Jack.
After multiple tours in Afghanistan, Anderson has changed, too—physically scarred but mentally strong—and he decides to move back to Woodland Park. Anderson and Chelsea steer clear of each other to avoid reopening old wounds, until they are forced to reconnect through the senior center. They soon discover that the love they once shared never completely vanished. But it will take a fire, a dangerous collision, and the love of one little boy to help Anderson and Chelsea see that the future they've always yearned for is in sight...
Small Town | Romance [Berkley, On Sale: November 29, 2022, Paperback / e-Book, ISBN: 9780593438084 / eISBN: 9780593438091]
Uplifting Inspirational Romance
Shelley Shepard Gray is a New York Times and USA Today bestselling author, a finalist for the American Christian Fiction Writers prestigious Carol Award, and a two-time HOLT Medallion winner. She lives in southern Ohio, where she writes full-time, bakes too much, and can often be found walking her dachshunds on her town's bike trail.
1 comment posted.