1--What is the title of your latest release?
2--What's the "elevator pitch" for your new book?
Two cousins with opposite personalities, forced to run a food stall together at a local night market, get a serving of murder.
3--How did you decide where your book was going to take place?
I love night markets and live in Los Angeles, so I combined the two for the fictional Eastwood Village Night Market setting.
4--Would you hang out with your heroine in real life?
For sure! I'd hang out with both cousins…although maybe not when they stumble over dead bodies. I'd certainly tag along on their outings to visit hidden Los Angeles attractions, though.
5--What are three words that describe your hero?
Yale Yee: filial, bookish, and curious
6--What's something you learned while writing this book?
That there was a California lawsuit against silver dragées (those metallic balls used for decorating cakes and cookies).
7--Do you edit as you draft or wait until you are totally done?
Apart from minor word choices, I wait until I'm totally done—and then a lot of revising happens!
8--What's your favorite foodie indulgence?
Hawaiian chocolate dobash cake: a chocolate chiffon cake with pudding-like chocolate frosting
9--Describe your writing space/office!
Oh, you mean the kitchen table? I relocated with the pandemic but have since appreciated the open space and expanded writing surface.
10--Who is an author you admire?
For popularizing culinary cozies, Joanne Fluke. For being a stalwart supporter of new writers as well as being an amazing author, Naomi Hirahara.
11--Is there a book that changed your life?
Amy Tan's The Joy Luck Club for letting me know that there are authors who look like me; Nordie's at Noon for sharing about four young women who got diagnosed with cancer, and helping me to prioritize and focus on writing.
12--Tell us about when you got "the call." (when you found out your book was going to be published)
My agent's number popped up on my phone, and I wondered why she was calling. I think I was in shock. We'd worked on a pitch, but I didn't know she'd been officially submitting.
13--What's your favorite genre to read?
Besides cozy and amateur sleuth mysteries, I like domestic suspense, young adult SFF, and sweet rom-coms.
14--What's your favorite movie?
Beauty and the Beast (animated and live versions) and The Princess Bride
15--What is your favorite season?
Spring—I love the emerging flowers and the fresh seasonal fruit.
16--How do you like to celebrate your birthday?
Surrounded by family and with a sweet treat. (Bonus if I don't have to do the dishes and can kick back and read.)
17--What's a recent tv show/movie/book/podcast you highly recommend?
The new Get Cozy podcast with Krysti Meyer. I also enjoy the long running The Cozy Corner with Alexia Gordon.
18--What's your favorite type of cuisine?
I tend to prefer Asian food: Chinese, Malaysian, Vietnamese, Korean…
19--What do you do when you have free time?
I like baking, taking short hikes, and going kayaking.
20--What can readers expect from you next?
HOT POT MURDER (Book 2 in the L.A. Night Market Mystery series) comes out in spring 2023.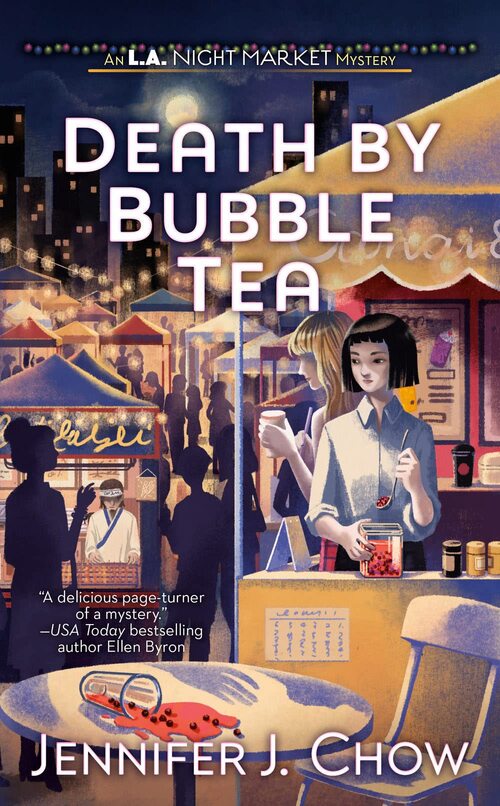 Two cousins who start a food stall at their local night market get a serving of murder in this first novel of a delicious new cozy mystery series by Jennifer J. Chow, author of Mimi Lee Gets a Clue.
When Yale Yee discovers her cousin Celine is visiting from Hong Kong, she is obliged to play tour guide to a relative she hasn't seen in twenty years. Not only that, but her father thinks it's a wonderful idea for them to bond by running a food stall together at the Eastwood Village Night Market. Yale hasn't cooked in years, and she hardly considers Celine's career as a social media influencer as adequate experience, but because she's just lost her job at her local bookstore, she feels she has no choice.
Yale and Celine serve small dishes and refreshing drinks, and while business is slow, it eventually picks up thanks to Celine's surprisingly useful marketing ideas. They're quite shocked that their bubble tea, in particular, is a hit—literally—when one of their customers turns up dead. Yale and Celine are prime suspects due to the gold flakes that Celine added to the sweet drink as a garnish. Though the two cousins are polar opposites in every way, they must work together to find out what really happened to the victim or the only thing they'll be serving is time.
Mystery Cozy | Mystery Culinary | Mystery Amateur Sleuth [Berkley, On Sale: July 5, 2022, Mass Market Paperback / e-Book, ISBN: 9780593336533 / eISBN: 9780593336540]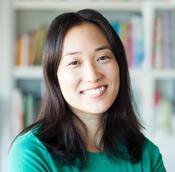 Jennifer J. Chow is the Lefty Award-nominated author of the Sassy Cat Mysteries and the forthcoming L.A. Night Market Mysteries (Berkley/Penguin Random House). The first in the Sassy Cat series, Mimi Lee Gets A Clue, was selected as an Overdrive Recommended Read, a PopSugar Best Summer Beach Read, and one of BuzzFeed's Top 5 Books by AAPI authors. Her upcoming Mimi Lee Cracks the Code was listed in BookRiot's Best Upcoming Cozy Mysteries for the Second Half of 2021. She is the current Vice President of Sisters in Crime and is active in Crime Writers of Color and Mystery Writers of America.
No comments posted.