When you read this blog post, I'll probably be flying through the air on my way across the country to see family I haven't seen in person in well over a year. I'm beyond excited to get on a plane and go somewhere I haven't been for some time, see people I adore, and get out of my house! I'm also traveling with my mom and we're having a tiny girls' trip before we reach our final destination of Southern California. We are PUMPED.
That being said, over the last year+, books have really been my salvation and a way for me to travel, so to speak. I love when a sense of setting is just as important to the story and I feel immersed in the place the characters are figuring out their lives. Here are a few recent reads where I felt like I was truly there, and felt a sense of escapism through reading:
SCANDAL IN THE VIP SUITE by Nadine Gonzalez
When two people accidentally get double-booked in the same luxurious suite at a gorgeous resort in Miami, instead of trying to find different rooms, they just decide to share. What could happen? A whole lot! I read this book earlier this year when it was winter in Chicagoland and it was exactly the right book. And lucky for all of us, Nadine's next book, WHAT HAPPENS IN MIAMI, is now available!
THE ROAD TO ROSE BEND by Naima Simone
This small town romance set in the Berkshires is so charming. The characters have their reasons for wanting to stay away from Rose Bend or why they decided not to leave… and returning to find their place in their town as well as in each other's lives is really heartwarming. And you know because it's Naima, it's super sexy! I also loved that this small town has a diverse population. Looking forward to many more stories set here!
PEOPLE WE MEET ON VACATION by Emily Henry
This book is the ultimate escapist read because the two main characters in this book take a trip together every summer, until a fateful trip to Croatia when things go horribly wrong. Readers get to vicariously travel with these characters over the years to fabulous places like New Orleans and Tuscany. All the while, two people are trying to work through their changing relationship over the years. Finally, they take a trip to Palm Springs, two years after their disastrous last vacation, to see what can be salvaged. It's emotional and swoony and I devoured it in one sitting.
SERVING SIN by Angelina M. Lopez
Do you want to go to Mexico? How about a Spanish principality? Oh, And Texas, too? All three of these places are vitally important to the plot of SERVING SIN, by my friend Angelina M. Lopez. I loved the spotlight on Mexico and it's thriving businesses—and the heiress poised to take over the auto industry—as well as watching a reluctant prince come to love and cherish the kingdom he learns to consider his home. PS—this book is SEXY!
ISLAND QUEEN by Vanessa Riley
This book starts out on the island of Montserrat, where Dorothy Kirwan was born into slavery, but works to save enough money to buy her freedom and that of her mother and sister. She becomes a savvy businesswoman and travels the world, but the way Vanessa Riley describes Dorothy's life in the Caribbean is so vivid, I could practically feel the humidity. This is a sweeping, important historical novel, based on a real woman, and I cannot wait for everyone to know more about this incredible story. Fun fact--the Fresh Fiction podcast interviewed Vanessa last month and we talked about ISLAND QUEEN quite a bit. You can listen to it here, or on the podcast app of your choice.
TOO GOOD TO BE REAL by Melonie Johnson
I adored this rom-com, inspired by… rom-coms! Imagine—going to a lovely resort in Wisconsin (trust me, LOL) where everything is a romantic comedy come to life. It's near Lake Michigan so there's a beach, woods nearby for hiking, and a beautiful hotel set up to bring your favorite movies to life and you get to immerse yourself there. This book is chock full of rom-com Easter Eggs, I LOL'd at all of the funny animals, and there's a wonderful romance at the heart of it all.
--
COMMENT TO WIN: What books have taken you somewhere fabulous lately? Leave a comment with your answer and you'll be entered to win a $10 Love's Sweet Arrow eGift Card!
--
Did you know I host a podcast? The Fresh Ficiton Podcast comes out every other week and I have so much fun chatting with my friend and colleague Gwen Reyes. We interview awesome authors, talk about fun pop culture topics, and so much more (we really know how to digress). Recent guests include Alyssa Cole, Angelina M. Lopez, and next week, we're chatting with Reese Ryan! Subscribe on your preferred podcast app!
--
This Friday, June 18 at 7pm CT/8pm ET, the Boozy Book Broads are talking to Alexandria Bellefleur about her latest release, HANG THE MOON, drinking flirtinis, and whatever else comes up! Join us live on Love Sweet Arrow's YouTube page. You can get a FREE ticket on the Eventbrite page, which will send you a reminder! Plus, we give away a $10 LSA gift card at each show if you join in the live comment feed. Hope to "see" you there!
--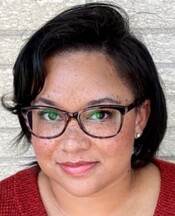 Danielle Jackson Dresser is a contemporary romance author (her debut novel with Berkley will be out in 2022!), avid reader, lackluster-yet-mighty crafter, and accomplished TV binge-watcher.
Once upon a time, she was a publisher publicist and continues to cultivate her love of books and reading by chatting with the best authors in the business as the Editorial Manager of Fresh Fiction and co-host of the Fresh Fiction podcast. Danielle is one of the Boozy Book Broads, a monthly author chat show streamed live on YouTube. She also moderates panels, interviews authors, and hosts a book club at Love's Sweet Arrow, the romance-focused independent bookstore.
Danielle lives in Chicagoland with her very own romance hero husband, darling daughter, and two tempestuous cats. Follow her on Twitter and Instagram, @dj_dresser.
10 comments posted.
On a friend's recommendation I started reading Alexander McCall Smith's series about the No.1 Ladies' Detective Agency which takes place in Botswana, Africa. Interesting and entertaining!
(Linda Gawthrop 7:35am June 17, 2021)