A cold case is law enforcement terminology for an unsolved investigation that has run out of leads. Typically, when you think of cold cases, they are investigations that stalled out years ago. Once a case goes cold, it's technically still open but any hope of solving it drops drastically.
Trying to solve a cold case brings a lot of challenges. Usually, the approach is to bring in a new set of eyes, someone who can review all of the existing case materials with fresh eyes. Sometimes, a cold case will start being actively investigated again because new evidence has surfaced. But the more time that has passed since the crime was committed, the more likely that witnesses will forget details, the more likely that suspects or others connected to the investigation will die or move away, the more likely that the crime scene will no longer look like it did when the crime was committed. Even evidence might degrade and if there was any evidence that was missed, it's far less likely to still be there years later.
So, why attempt it? For an investigator who caught the case in the first place, it's a puzzle with an answer out there somewhere. It's a nagging reminder of a failure or a blip in an otherwise strong record. It's the knowledge that just one more interview, just one more pass over the case file, could be the difference between a case staying open or finally being closed. The difference between letting a killer go free or putting them behind bars, preventing them from doing it again. It's the (sometimes persistent) pressure from family and friends who still want justice for a loved one.
For Alaskan police chief Keara Hernandez, the heroine of my upcoming romantic suspense, K-9 COLD CASE, it's so much more. Because the victim of the cold case that haunts her was her husband.
Seven years ago, Keara was a detective in the Houston police department, working alongside her husband Juan, a fellow detective. When Juan was murdered in their own backyard, as hard as it was to stay out of it, she followed the rules. She let the other detectives run the case, because she knew she wouldn't be able to stay objective, because the fact that she had a relationship with the victim could come back to hurt the case if a suspect went to court. When a year passed and all leads went cold, she reluctantly accepted that the other detectives Juan had worked with, detectives who were his friends, had done their best and her husband's case would never be solved.
But Keara couldn't stay in Houston, couldn't remain with the memories of Juan in her house, on the streets she'd once patrolled with him, at the station where his empty desk was just across the bullpen from hers. So, she accepted the position of police chief in the remote Alaskan town of Desparre. For six years, she did her job, focusing on protecting the officers under her command. For six years, she tried to forget her past and move forward with the new life she'd created for herself.
But when a bomb explodes in the nearby town of Luna and the FBI comes to town, Juan's cold case suddenly returns to the forefront – and all the progress Keara thought she'd made with moving forward is destroyed in an instant. Because FBI Victim Specialist Jax Diallo thinks the bomber is somehow connected to her past – and to Juan's murder.
Not even for an instant does Keara consider letting the past remain buried. The possible connection – a thread of evidence so slim she's not even sure it's real – is one she'll follow as far as she can, no matter the risks. But those risks aren't only to herself. Because it quickly becomes clear that the bomber has also targeted Jax – the first man Keara has allowed herself to get close to in seven years.
Keara knows she can't move on in her life romantically unless she can truly put her husband's death behind her by giving him the justice he deserves. But the deeper she digs into the past, the more she worries she'll have to make a terrible choice: Let her husband's case remain unsolved forever. Or try to solve it and risk losing the man she's started to fall for.
You can read Keara and Jax's story – and find out how the cold case ends – in K-9 COLD CASE, coming March 30th. Until then, you can catch up on the K-9 Alaska series with K-9 DEFENSE (also available in a duo book with Elle James's Six Minutes to Midnight in VALIANT TRACKER) and ALASKA MOUNTAIN RESCUE.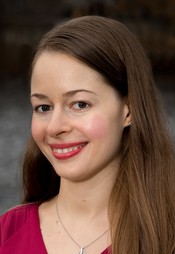 Publishers Weekly bestselling author ELIZABETH HEITER likes her suspense to feature strong heroines, chilling villains, psychological twists, and a little bit (or a lot!) of romance. Her research has taken her into the minds of serial killers, through murder investigations, and onto the FBI Academy's shooting range. Her novels have been published in more than a dozen countries and translated into eight languages; they've also been shortlisted for the HOLT Medallion, the Daphne Du Maurier award, the National Readers' Choice award and the Booksellers' Best award and won the RT Reviewers' Choice award.
The heroine of Elizabeth's Profiler novels was called "one of the most amazing characters created in print" by Fresh Fiction. Her novels have received praise from Lee Child, J.T. Ellison, Jeffery Deaver, Tess Gerritsen, R.L. Stine, Allison Brennan, Laura Griffin, Suzanne Brockmann, Hank Phillippi Ryan and Zoë Sharp.
1 comment posted.