I don't know about you, but I love a good book series. When I began writing my debut novel, Inherent Truth, I didn't originally plan for it to become a series. However, as things progressed and the characters revealed themselves, it became clear–this book was meant to be the kick-starter for a far more complex story than could be told within the confines of one novel. And so, Blood Secrets was born.
I've thought about that a lot as I've navigated this journey, and after talking with some friends I've come up with what I consider the top five reasons why we love book series so much. I can't wait to see if you agree.
Reason #1: Characters become friends.
Come on, don't act like you've never closed a book and felt like you suddenly lost your best friend. We've all been there, and series have a way of roping us in, wrapping us up in these fictional lives so that we begin to feel like family. Most series provide a diverse cast of characters so that almost any reader can find a favorite, providing enough common ground that each turn of the page feels like a chat with a good friend.
Reason #2: The themes resonate with us.
We all have particular themes that speak to us. Whether it's the theme of family, belonging, trust, independence, or even redemption, certain thematic elements draw us in like a siren's song. A good series is faithful to the thematic elements that make it what it is. Each installment acts as another act, bringing us closer to the closure we so desperately seek.
Reason #3: The setting intrigues us.
Ah, setting…the great equalizer. One of my favorite places in the world is Ireland, so when I started Inherent Truth, I knew the country and its people would play prominently in the storyline. And while the actual countryside of the fair isle may not make an appearance until Book 2 (spoiler alert) the element is a core feature of the series. There are so many good series set in various places around the world­–Scotland, Ireland, smalltown U.S.A., San Francisco in the '70s­–all of these can pull a reader in and give them the warm fuzzies that keep them coming back for more.
Reason #4: It gives us all the feels.
This one boils down to the writing. Did you get goosebumps? Did your heart skip a beat when the main character ran from the bad guys? Or kissed the hero? Did you find yourself wiping at tears after a particularly heart-wrenching scene? Did you forget you were reading a book? That last one is a personal favorite and my ultimate goal as an author. If a series gives me all the feels, you better believe I'll be coming back for more, and it's exactly the scenario I hope to create for my readers.
Reason #5: We can't wait to find out what happens next!
Unresolved story elements are a key player in any series. We need the satisfaction of a clear story arc, but we also need to wonder what will happen in our new friends' lives. Until the next release, those characters need to populate our minds, make us think, ponder, pique our curiosity. In a series, the same force that drives us through the pages will also drive us toward the next installment and keep us asking, "What happens next?"
Now, it's your turn. I know what keeps me turning pages late into the night. What keeps you coming back to your favorite series?
--
COMMENT TO WIN: Tell us about your favorite series and be entered to win an e-copy of INHERENT TRUTH by Alicia Anthony! Good Luck!
--
Read an excerpt from Inherent Truth, Blood Secrets Book 1:
Grandma's pale blue dressing gown fluttered gently against sun-starved legs. How many Saturday mornings had I come downstairs to the kitchen at Sullivan farm to see exactly this image? For anyone else, that's what this would be–a memory-induced dream, a creation of the subconscious. But not for me.
The blue of her gown, coupled with the stream of light filtering through an imaginary window, added a shimmer to her eyes. My grandmother had the most beautiful eyes. Rich pools of pale cornflower blue that twinkled when she laughed. A knot rose in my throat. How I longed to hear that laugh.
"Do you remember this one, Liv?" She looked at me. Her gaze pulling like the fingers of some unseen force, coaxing me to join her at the table. I worked my toes into the carpet beneath my feet and I stood from the side of the bed, shuffling toward the vignette in front of me. She pushed a grainy photograph across well-worn oak as I slid into the chair opposite her. The spindles of the oak chair pressing into my spine were the only proof I'd moved from my perch on the bed.
"I took that when he was on a weekend leave in Germany. Can you believe I flew all the way over there just for a weekend with your grandfather?" A light chuckle, like a breeze through well-tuned wind chimes, escaped her lips.
I smiled at the mischievous glint in my grandma's watery blue eyes. "I bet he was glad you made the effort."
She reached her hand to cover mine and gave a squeeze. The warmth of her touch spiraled a note of helplessness down my spine as I battled the nugget of comprehension that explained her appearance. I clenched my jaw against the tears pricking at the backs of my eyes, determined to focus on the smiling faces of my young grandparents, primitively colorized in the photograph in front of me. They'd looked so happy.
"It's time." Playfulness evaporated from her voice. "You ignored the warning, but you can't ignore your legacy."
(C) Alicia Anthony, 2020
***
Blood Secrets #1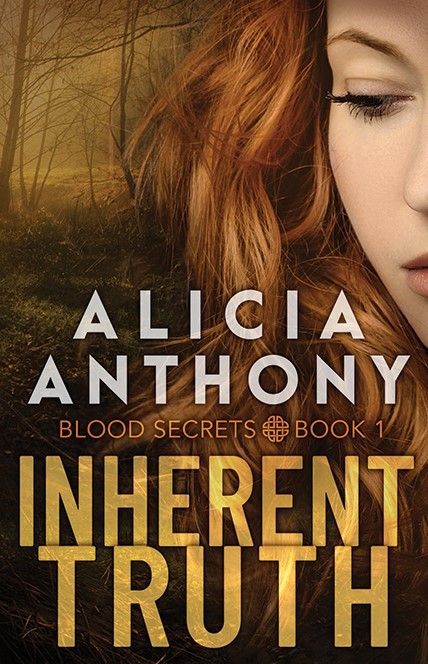 A woman with buried secrets. . .
An agent with an impossible mission. . .
An inheritance that will destroy them both. . .
When Liv Sullivan's dead grandmother beckons for help from beyond the grave, the reluctant psychic is forced back to her small Ohio hometown. Scrambling to make sense of her grandmother's legacy, Liv finds herself face to face with undercover Agent Ridge McCaffrey.
Assigned to protect the woman whose gifts unnerve him, all for a covert psychic intelligence operation he doesn't understand, Ridge struggles to place duty over desire. But when a body is found at Sullivan Farm and Liv's allegiance is called into question, Ridge's mission becomes clear.
Can Liv unearth family secrets that are best left buried before the ghosts of her past destroy her dreams of a normal future?
Thriller | Mystery Woman Sleuth [Self Published, On Sale: January 14, 2020, Paperback / e-Book, ISBN: 9781733362412 / eISBN: 9781733362412]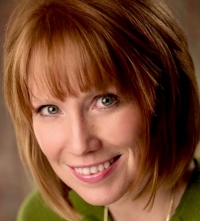 Alicia Anthony's first novels were illegible scribbles on the back of her truck driver father's logbook trip tickets. Having graduated from scribbles to laptop, she now pens novels of psychological suspense in the quiet of the wee morning hours. A full-time elementary school Literacy Specialist, Alicia hopes to pass on her passion for books and writing to the students she teaches.
A two time Golden Heart® finalist and Silver Quill Award winner, Alicia finds her inspiration in exploring the dark, dusty corners of the human experience. Alicia is a graduate of Spalding University's School of Creative & Professional Writing (MFA), Ashland University (M.Ed.) and THE Ohio State University (BA). Go Bucks! She lives in rural south-central Ohio with her amazingly patient and supportive husband, incredibly understanding teenage daughter, two dogs, three horses, a plethora of both visiting and resident barn cats, and some feral raccoons who have worn out their welcome.
When she's not writing or teaching, Alicia loves to travel and experience new places. Connect with her online. She'd love to hear from you!
10 comments posted.
I love series and it is so hard to pick a favorite. In historical romance, Elizabeth Hoyt's Maiden Lane series and Jennifer Blake's Masters at Arms series are favorites. In romantic suspense, Katie Ruggle's series set in the Rockies and auto buys.
(Patricia Barraclough 12:38pm January 27, 2020)
I have so many favorite series it's hard to pick just one! I'm currently enthralled in
the Stillhouse Lake series by Rachel Caine.
(Tracy Urschler 7:19pm January 27, 2020)
Some of my favorites are "Kitty" Kat By Gini Koch , Dark Protectors by Rebecca Zanetti , Delta Force Heroes by Susan Stroker and Alpha and Omega by Patricia Briggs
(Blanche Nixon 10:45am January 29, 2020)