Author Reader Match: Michele Pariza Wacek

September 17, 2018
WRITES:
I write psychological thrillers that include romance (is romantic psychological thrillers a thing? If it is, that's what I'm writing) plus a dash of paranormal. Basically what I love to explore is the idea of "things are not as they seem."
Is it a haunting? Or is there something else going on?
Or … could it be both?
My latest book IT BEGAN WITH A LIE is a perfect example of a few of my fave things coming together as it includes a haunted house (that may not be haunted) in a creepy "Twins Peak" like town with a love triangle just to spice things up.
ABOUT AUTHOR:
I taught myself to read at 3 years old because I wanted to write stories so badly. I'm a voracious reader of all types of genres (which is likely why I love nothing more then genre bending in my own books). I grew up in Wisconsin (and, so far, all of my books have take place there) but now live in the mountains of Arizona (and one day I hope to have a book take place here) with my hubby of twenty-plus years (!) and southern squirrel hunter, Cassie.
WHAT I'M LOOKING FOR IN MY IDEAL READER MATCH:
Appreciates a good, clean, creepy book (not a lot of violence and no gore)
Enjoys plot twists where you're never ... quite … sure what's going on (remember, things aren't always as they seem)
Loves a good romance that just makes everything even more complicated
Likes a little humor to break up the tension
WHAT TO EXPECT IF COMPATIBLE:
Marathon reading sessions (due to not being able to put the book down)
Some sleepless nights (see above)
A few scares
A couple of stomach flips for good measure.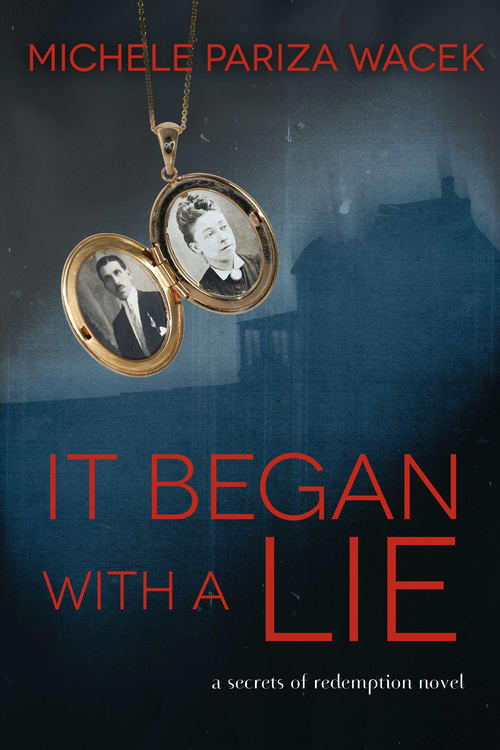 A fresh start. That was what Becca hoped the move from New York to Redemption, Wisconsin, would be for her troubled family—a way to get her crumbling marriage back on track, and to bond with her difficult 16-year-old stepdaughter.
But instead of a new beginning, Becca is thrust into a mysterious past she barely remembers … a past that includes complications from interacting with her teenage crush, Daniel, as well as living in her aunt's old house (aka "The Witch House," according to locals).
But is the house really haunted? Or is there something far more sinister out to destroy them?
Romance Suspense [Love-Based Publishing, On Sale: September 10, 2018, e-Book ]
Michele Pariza Wacek (also known as Michele PW) taught herself to read at three years old because she so badly wanted to write fiction. As an adult, she became a professional copywriter (copywriters write promotional materials for businesses, nothing to do with protecting intellectual property or putting a copyright on something) and eventually founded a copywriting and marketing company. She grew up in Madison, Wisconsin and currently lives with her husband and dogs in the mountains of Arizona. She's published two novels, "The Stolen Twin" and "Mirror Image," both psychological thrillers/mystery/suspense books. .
GIVEAWAY: $10 Amazon Gift card
Do you think you're compatible? Tell us why or why not to be entered to win!
Comments
14 comments posted.
Re: Author Reader Match: Michele Pariza Wacek

Sounds interesting... thanks for sharing a bit about your book!
(Colleen Conklin 1:11pm September 17)
I like that the author jumps genres. And I love a bit of
the paranormal. This looks like an interesting book. I'll
be checking it out. Thanks for the chance to win.
(Mary Songer 4:25pm September 17)
Definitely compatible. I like a little creepy, but not horror. I am guilty of the "just
one more chapter" syndrome and spend way too many nights up late reading. Plot
twists....check. Complicated relationships....check. Humor is a necessity for me in
the books I read. IT BEGAN WITH A LIE sounds like a book I will thoroughly enjoy.
(Patricia Barraclough 11:57pm September 17)
I love a good romantic suspense. Even better when it is a
little creepy. Can't wait to start reading!
(Tina Bartunek 1:38pm September 18)
I am definitely compatible.
(Maria Dalmau 5:04pm September 18)
I am compatible.
Marilyn
(Marilyn Collins 6:40pm September 18)
I am compatible.
(Ellen Levickis 8:35pm September 18)
I do believe I am compatible. I love romances and add in the creepy factor and I find the reading that much more captivating..
(Debra Guyette 6:29am September 19)
Definitely a good compatibility. I love creepy stories with the suspense building. I love plot twists.
(Pam Howell 6:51am September 19)
If I had been asked this question a couple of years ago I
would have jumped up and down in agreement. These days I am
busy taking care of more than I can normally handle. I do
appreciate every single minute I get with a book (usually
while waiting for some appointment).
(Candy Voisine 12:01pm September 20)
Definitely, I'm compatible. I enjoy a creepy, romantic story, especially if a bit of humor is added.
(Anna Speed 12:09pm September 20)
Sounds very interesting. I definitely wanna read!
(Jered Rabren 12:25pm September 21)
That's me in a nutshell, Michele! Your book sounds so good! I love the cover too.
(Ashley B. 2:38pm September 21)
Romantic suspense is my favorite thing to read!!!
(Linda Herold 10:47pm September 21)
Registered users may leave comments.
Log in or register now!