Rachael Thomas | Top Five Most Exciting Moments

February 18, 2015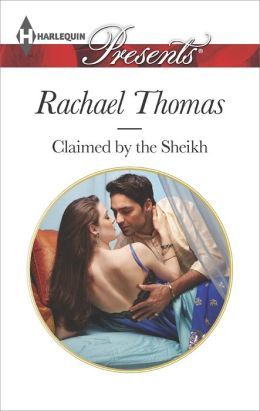 Claimed by the Sheikh
Rachael Thomas
AVAILABLE

January 2015
On Sale: January 20, 2015
ISBN: 0373133189
EAN: 9780373133185
Kindle: B00O92PR0I
Mass Market Paperback / e-Book
Add to Wish List

Also by Rachael Thomas:
A Child Claimed by Gold, January 2017
To Blackmail a Di Sione, September 2016
The Sheikh's Last Mistress, May 2016
New Year at the Boss's Bidding, January 2016

Being new to the job of a published writer, I thought I'd share the top five most exciting moments of my journey from the time I began chapter one of that very first story.
Writing romance is something I'd dreamed of doing for so many years, but it was about eight years ago I sat down and seriously started to pursue that dream. It's been a long road, with lots of highs and plenty of lows, too. One piece of advice I was given was to enjoy writing and the journey chasing that dream would take me on – and I did!
1. The first time I wrote "the end" – It's a major milestone and should be marked accordingly. Whether that story makes it into print or not, you are a writer, so go and crack open a bottle of bubbly, or at the very least, give yourself a pat on the back.
2. There are other writers out there? – When I started writing it felt like I was the only unpublished writer out there, but as soon as I joined The Romantic Novelists' Association I began meeting lots of women just like me, who were hooked on writing romance. I enrolled on courses and attended conferences and made friends from all over the world. So getting out there, online or in person, is a must.
3. Getting a rejection – Yes, getting a rejection is an exciting moment – once you've had a little sulk, of course! If a rejection offers any kind of advice, it's a good sign. A busy editor has taken time to give feedback because they saw something, however small, in what they'd read and that in itself is acknowledgment of you as a writer.
4. Being a finalist – Entering competitions is another brilliant way of getting your work in front of readers and editors. It took me quite a few years of entering Harlequin's So You Think You Can Write competition to get any kind of feedback from it. Then in 2013 all that changed as my entry became one of those in the Top Ten, available for everyone to read online. Which was pretty scary as it was the raw, unedited version!
5. Getting "the call" – That call came last January and I'm still on cloud nine one year later. My writing suddenly moved up a gear, or even two, as I moved onto a whole new journey which saw the publication of my first book. Seeing that on the shelves was just amazing.
My advice to anyone chasing that sometimes elusive dream of publication is to believe in yourself, not to give up and above all, enjoy every moment of that journey, even when the road gets bumpy.
About CLAIMED BY THE SHEIKH
Banished!
Princess Amber's arranged marriage to Prince Kazim Al-Amed of Barazbin was a dream come true—for her, at least! But then their wedding night went spectacularly wrong, and a furious Kazim banished Amber from his kingdom and his life…
Hunted!
Now, with his country in turmoil, Kazim must prove his ability to rule and provide an heir for his people. But to do so he'll need to track down his princess.
Claimed!
Amber has always threatened Kazim's tightly held control. Yet if he is to save his nation—and his marriage—he must finally make the ultimate claim…on his wife!
About Rachael Thomas
Rachael and her husband run a dairy farm in Wales. Although it's hard work, she always make time to write. In January 2014, she got The Call and is now a Harlequin Mills and Boon author.
Giveaway
Readers, are you chasing a dream? Leave a comment below for your chance to win your own copy of CLAIMED BY THE SHEIKH.
Comments
31 comments posted.
Re: Rachael Thomas | Top Five Most Exciting Moments

seems to be really interesting! I hope to
get to read all of them.
(Paula Kangasniemi 3:20pm February 18, 2015)
Thanks for sharing your 5 moments. I am glad you made it.
(Leona Olson 4:29pm February 18, 2015)
Congratulations on your book and may there be many more. Life would be so dull and boring if we didn't have all the ups and downs . I hope to read your new book soon.
(Joan Thrasher 6:55pm February 18, 2015)
Congrats on your book's release! Love the sound of Claimed By The Sheikh!
(Colleen Conklin 7:03pm February 18, 2015)
no. I'm not chasing a dream. happy to sit back and read great books, though I almost always think the author should have added or subtracted one or to things. oh well, backseat driving is the way to go.
(Angela Parrish 10:57am February 19, 2015)
Loved your exciting moments.
(cHARLETTE bOND 11:22am February 19, 2015)
There are a few people who have told me that I should write
a book, however it wouldn't be a Romance. I just haven't
had the nerve, nor have I had the time to actually sit down
and actually do it. At this point, time goes by so quickly,
so I have to make up my mind, and just do it!! You had the
guts to do so, and my hat goes off to you!! Congratulations
on your latest book, and I'm looking forward to reading it.
Thank you for the tips, and I'll take them to heart, as I
get my own nerves in check to write.
(Peggy Roberson 11:43am February 19, 2015)
Love Sheikh's stories. there alwasy so much passion.
(Emily Stemp 1:26pm February 19, 2015)
I am still chasing my dreams, up next buying a house.
(Seanna Yeager 3:24pm February 19, 2015)
Sounds good, sheikhs are interesting to read about!
(Cindy Hamilton 4:53pm February 19, 2015)
Congrats on your book, Rachael! It sounds really good!
(Marcy Shuler 7:21pm February 19, 2015)
Princess Amber? Of course I have to read it!
(Amber Kuehn 11:01pm February 19, 2015)
Love to win
(Lilian Gamble 7:26am February 20, 2015)
Thanks for Paula and I hope you get to read them too!

Thanks for stopping by Leona - I'm so happy to have made
it!

You are right about that Joan. Hope you enjoy my book!

Thanks for the congratulations Colleen!
(Rachael Thomas 8:49am February 20, 2015)
Thanks Elaine - it was a long ride!

Great image of you backseat reading Angela!

Thanks for stopping by Charlette.

Good luck with you writing Peggy - remember even a few
words each day builds into a page, then a chapter and
finally a book!

Hope you enjoy mine Emily. I had great fun writing it!

Keep chasing Seanna, it will happen one day!
(Rachael Thomas 8:53am February 20, 2015)
Hi L Lam!

Thanks for the congrats Mary!

Yay Amber!! Yes you have to!

Winning is such fun Lilian!
(Rachael Thomas 8:56am February 20, 2015)
All my wildest dreams have been met...I married my soul mate many years ago! Would love to read this book. Thanks for the chance to win a copy!
(Bonnie Capuano 9:51am February 20, 2015)
I love reading your exciting moments. It gives me hope about my dreams.
(Kristine Murphy 10:34am February 20, 2015)
This sounds like such a great book!
(Denise Austin 11:21am February 20, 2015)
Sounds like a book i would love to read and review. One
year what exciting times and fulfilling your dreams. wish
you nothing but the best
(Peggy Clayton 11:58am February 20, 2015)
Sounds like a great book. I would like a better job, but can't really complain as I know so many people who are un or underemployed!
(Lindsey Andronak 12:08pm February 20, 2015)
Thank you for sharing with us today! I can't wait to read Claimed By the Sheikh!
(Tonya Coley 2:29pm February 20, 2015)
Well, first off, you have to love really dominant males to get
into this book. I do. ;-) In fact, I can't wait to read it!
I have had several careers at this point in my life. My last
career change took me into a school library. It has been a
really great fit. I'm not happy with the direction education
is going at the moment, but I will NEVER regret having gone
into the field. I wish I could say that a career in writing
awaits me on retirement, but I don't think it does. Not
everyone has the skill and ability to spin a tale!
(Marcia Berbeza 3:01pm February 20, 2015)
Congratulations, Rachael, on your determination, and your continued
efforts to succeed! I applaud you. And I can't wait to read your exciting
story - it does look like it's going to be exciting. Good luck in all your future
efforts.
(Kantu Malhotra 3:56pm February 20, 2015)
Thanks for sharing your Top 5 Exciting Moments. I look
forward to reading "Claimed by the Sheikh". I love a HEA.
:)
(Gail Siuba 7:16pm February 20, 2015)
Happy Friday. Glad its the weekend I hoping to read all
weekend in bed and keep warm
(Emily Stemp 7:36pm February 20, 2015)
My dream I guess was to be a school teacher. I even earned a high school teacher's certificate in college, but right after graduation I found a job with an oil company and never used the certificate. I still help a lot of folks with the manuscripts.
(Gladys Paradowski 12:21pm February 21, 2015)
Believe it or not when I was in my late teens I always thought
I'd be a witer. :) But I met my true love and raised 7
children instead. I was writing alright. Notes for being
absent, for Dr appointments etc. lol But it's all good. Now I
spend all my free time reading books which I love. Thanks for
the chance.
Carol L
Lucky4750 (at) aol (dot) com
(Carol Luciano 6:30am February 21, 2015)
Bonnie, what a lovely comment! So happy for you.

Kristine - I love to give hope to others.

Thanks Denise.

Thank you for the best wishes Peggy.

Thanks for stopping by Lindsey. Hope you find a better
job one day, but well done for being positive.
(Rachael Thomas 5:03pm February 21, 2015)
Hope you enjoy it Tonya!

Thanks Marica and I'm pleased you are so happy in your
job!

Thank you Kantu for the lovely comment and good wishes!

My pleasure Gail and I hope you enjoy it!
(Rachael Thomas 5:06pm February 21, 2015)
Hope you are enjoying all your reading Emily - and
keeping warm!

In that case Gladys, you are using your certificate! A
job with an oil company sounds interesting.

Wow, seven children. That's a lot of hard work. You've
earned your free time reading Carol!
(Rachael Thomas 5:10pm February 21, 2015)
Registered users may leave comments.
Log in or register now!