We've got some new releass in the sensual categories that are sure to make your reading list, so let's get right to the point...
CONTROL, Kayla Perrin (Spice, 9/1/2010, $13.95)
Their romance was a modern-day fairy tale: handsome older millionaire falls hard for struggling young waitress. Robert swept Elsie off her feet—and into his bed—put a huge diamond on her finger and spirited her away in his private jet destined for happily-ever-after. Eight years later, Elsie Kolstadt realizes the clock has finally struck midnight. The five-star restaurants, exclusive address and exotic vacations can no longer make up for Robert's obsessive desire to control everything about their life together. From her hairstyle to her music playlists, Robert has things just the way he wants them. No matter what. But it's Robert's ultimate, unforgivable manipulation that finally shocks Elsie into action. Though divorce would strip her of everything, she can't live under Robert's roof any longer. Making her decision easier is Dion Carter, a high-school football coach with a heart of gold and a body of sculpted steel. Suddenly Elsie is deep in a steamy affair that could cost her everything— because Robert will stop at nothing to keep Elsie under his thumb.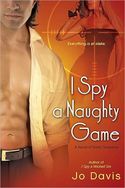 I SPY A NAUGHTY GAME, Jo Davis (NAL, 9/7/2010, $15.00, SHADO Agency)
A tantalizing tale of erotic suspense in which a mask slips-and everything is revealed. Blaze Kelly, one of the Secret Homeland Defense Organization's top spies, is a powerful D/S master, and all raw male. Yet underneath his mask hides a wounded soul that aches for love. Emma Foster wears disguises too as part of her job for SHADO. But she's not excited about her next mission-with the man who broke her heart. Together they must infiltrate a group that plans to transfer a weapon of mass destruction into enemy hands-a mission that involves them in an illicit sexual game. As they are forced to explore their most dangerous desires, they face a challenge that could break even the steeliest of spies.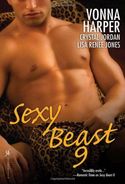 SEXY BEAST 9, Vonna Harper, Crystal Jordan, Lisa Renee Jones (Aphrodisia, Sept 2010, $14.00) Bestselling author Vonna Harper anchors a brand-new collection in the hugely popular Sexy Beast series, where love and lust have never been wilder.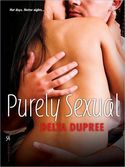 PURELY SEXUAL, Delta Dupree (Aphrodisia, Sept 2010, $14.00)
From the author of the sizzling Strip comes another red-hot interracial romance as a playboy on a mission to save his own skin meets the one woman who can make him give his heart.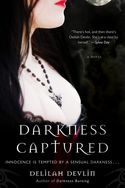 DARKNESS CAPTURED, Delilah Devlin (AVON Red, 9/21/2010, $13.99)
Headstrong and proud—a royal creature of sinuous grace, all primal instinct and lethal beauty— the shapeshifter Gabriella has agreed to serve as emissary to the vampires who rule in the shadows of the New Orleans night. But she cannot resist the pull of the demon she glimpses on the other side of a mirror, and she is drawn to him hungrily through a magical portal into the Land of the Dead. Now an eternal nightmare awaits Gabriella at the hands of a mesmerizing dark lord who satisfies her every erotic need . . . while slowly devouring her soul.
No comments posted.