Death is something most people avoid at all costs. Whether itā€™s talking or thinking about it, you have to admit, itā€™s not the best topic to toss around at a cocktail party. Letā€™s be honest. No one really wants to die. But, what if you could die for a few moments and then come back to life? Wouldnā€™t it be fascinating to get a glimpse of whatā€™s on the other side? How differently would you live your life today if you knew what was in store for you down the road? Now that would be an awesome conversation to have with your friends.
This monthā€™s Jenā€™s Jewels dares to answer that very question concerning near- death experiences in her latest release entitled, DEATH ANGEL. (Quite an appropriate title if you ask me!) I am so delighted to have New York Times Bestselling Author Linda Howard with me this month. Her reputation for consistently delivering such page-turning stories makes her one of the biggest names in the romance industry. Quite simplyā€¦her work is truly amazing.
As part of this interview, Ballantine Books has graciously donated five copies of DEATH ANGEL to my readers. So, donā€™t forget to look for the trivia question at the end of the column. Good luck! Go ahead and grab something cold to drink and get to know the one and only Linda Howard.
Jen: The road which leads to publication can often be attributed to a defining moment in life when a writerā€™s passion suddenly blossoms into a career. Please give us a brief overview of your educational and professional background in relation to its significance, if any, in preparing you for a career in publishing.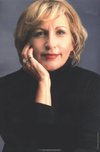 Linda: If I know anything, it was that I was born to be a writer. I wrote my first book when I was nine. My mother read to us from the time we were infants, but sometimes Iā€™d want to hear a story and she wouldnā€™t have time right then to read, so I was really frustrated that I didnā€™t know how to read. I was three. Frustration is a great motivator, because I learned how to read when I was four. I can still remember how satisfying it was to be able to read the comic page in the newspaper all by myself. Along the same vein, I began writing when I was nine because Iā€™d read everything I wanted to read in the school library. I needed something to read, so I wrote it myself. Given how early I began writing, my professional background had no influence whatsoever, and any educational background was simply knowing how to read and thirsting for more. I was blessed in that I attended a very small country school, where all the teachers knew me, because my modus operandi was that, on the first day of school, Iā€™d read all of my textbooks from cover to cover, and for the rest of the school year Iā€™d read fiction books while my classmates were laboring over the textbooks. So long as I passed the tests, which I did, and knew the answers if called on in class, my teachers pretty much let me set my own educational pace and read whatever I wanted. That would never happen now. I did go to college -- for one semester. I was the only journalism major in the school, but it didnā€™t take me long to realize newspaper reporting was not what I wanted to do. I wanted to make stuff up. So I dropped out of college and went to work at a trucking company (now, there was an education!) and continued writing fiction for my own pleasure.
Jen: We live in a society obsessed with instantaneous gratification and I think some aspiring authors just expect their careers to happen. Yours took many years in the making. What was the most valuable piece of advice you ever received and why?
Linda: Well, letā€™s see. I began writing when I was nine, and practiced for twenty years before I thought I was good enough to submit. That manuscript sold, but Iā€™d submitted it in a vacuum, without knowing anything about publishing. Lo and behold, RWA was born at almost exactly the same time as I sold my first book, and I became a charter member. RWA is a networking gold mine. Through RWA I met some of my dearest friends, including Iris Johansen, who, when I told her the plot for what became DREAM MAN and which I was intending to write for Silhouette, gave me the best piece of advice Iā€™ve ever received. She said, ā€œDonā€™t waste a big-book plot on a shorter book.ā€ She was exactly right. The space constraints in a category book would have prevented me from writing the plot the way it needed to be written. So I wrote DREAM MAN for Pocket Books, and it was my first book to hit the New York Times Bestseller List.
Jen: Back in the 1980ā€™s when you first began writing professionally, what was the most significant hurdle to overcome in respect to fine-tuning your craft? Did you rely solely on your editor and agent for input? And, how (if at all) does that relate to your involvement with Romance Writers of America?
Linda: My hurdles were the same ones every beginning writer has. I had to learn about plotting, transitions, all the mechanical stuff of being a writer. Iā€™ve always been very good at English, but I learned more about writing from going over that first edited manuscript from Leslie Wainger than Iā€™ve ever learned since. You know, that isnā€™t so much a hurdle as it is an opportunity. What I write isnā€™t chiseled in stone; thereā€™s always room for improvement, and I hope I never stop learning. Because I first sold at the same time RWA was organized, the two are almost unrelated. I joined RWA because I was starved for contact with other writers, and its biggest attraction for me is that it still provides that network.
Jen: From conception to completion, approximately how long does it take for you to write a standard length novel? And in general, how much research goes into each one?
Linda: Every book is different. A character-driven plot doesnā€™t require as much research as an action-driven plot. Nor is the development of a plot necessarily linear. Iā€™ve had some ideas that have to incubate for several years before they become thought-out enough to become books. The actual writing usually takes about two or three months, but the research . . . oh, the research. Itā€™s a good thing I love doing research. Sometimes the research will take a year or longer.
Jen: Being a New York Times Bestselling Author is every writerā€™s dream; however, with it comes the added pressure of meeting your readersā€™ high expectations with subsequent releases. Whatā€™s your secret for keeping that in check in relation to producing the highest quality work possible yet allowing yourself to enjoy the ride?
Linda: My poor readers have to be some of the most frustrated people on earth. I donā€™t see how they could possibly build any expectations around anything I write, because I never know from one book to the next what Iā€™m going to be writing about. One book may be a comedy; the next may be a time-travel. The one after that may be pure romantic suspense. Or it may be a hybrid of several different elements. Sometimes Iā€™m body-slammed by a story that come out of the blue, and sometimes one gradually unfolds until I know itā€™s ready to write. Every book is different because all of the characters are different people, and getting to know them is what keeps me interested.
Jen: When I pick up one of your books, I am guaranteed at least three things.
1. A fast-paced, action-packed storyline that will take me on a ride like none other.
2. Sex scenes that would make the cast from Sex and the City blush.
3. A well-executed resolution that leaves no questions unanswered.
Which of the three is the most challenging to write and why?
Linda: Number three, by far. For one thing, Iā€™m a total pantster. I canā€™t plot, I canā€™t outline, and if I did Iā€™d lose interest in the book because then, as far as I was concerned, the story would have already been told. The fun for me is knowing the beginning and the end, and figuring out how the characters get there. But the resolution is always fraught with danger, because of all the detours I run into along the way. Iā€™ve never yet been able to write a book that matches the idea in my head, so Iā€™m always screwing up somewhere along the line. Maybe one day Iā€™ll nail it.
Jen: In your latest release, DEATH ANGEL, you chose to tackle a controversial subject concerning near-death experiences. Without giving too much away, were you hesitant about your readersā€™ willingness to embrace its inclusion in the story in respect to its credibility to the plot? Have you or a loved one had a near- death experience? Do you believe they exist?
Linda: Hā€™mmm. To answer your questions in reverse order, I have no doubt that near-death experiences exist, and I have no doubt that thereā€™s something else after death, even though neither I nor anyone in my family has had a near- death experience. Neither was I the least bit hesitant about having a near- death experience as part of the plot. I think readers are, by definition, pretty intelligent people. This is a work of fiction, and they recognize that. I donā€™t write about anything in an effort to persuade -- in fact, my characters often do things that I personally donā€™t like -- because the stories arenā€™t about me, theyā€™re about the characters, and all of them are different. This was Dreaā€™s story, and what happened to her was what happened, so I had to write about it. Itā€™s as simple as that.
Jen: The lead characters, Drea and Simon, both have crosses to bear as well as demons from which they run. Who is the stronger character and why?
Linda: Theyā€™re equals, but their strengths arenā€™t the same strengths and their weaknesses arenā€™t the same weaknesses. They complement each other, and fit together into a whole.
Jen: A pivotal moment in the storyline is when Drea has an epiphany of sorts in respect to her ability to become self-sufficient. Why then does she willingly get drawn into Simonā€™s web?
Linda: Because she loves him. From the beginning she recognized something in him, and he something in her, that pulled them together, but they were both in denial with a capital D, because both of them saw emotion as a weakness and they didnā€™t want to love anyone. For both of them, becoming willing to admit to love, to accept it, was a huge part of turning their lives around.
Jen: In my opinion, DEATH ANGEL would make the perfect screenplay. Has there been any talk about it making it up on the big screen?
Linda: Not that I know of, but, hey, if anyoneā€™s interested, think GERARD BUTLER.
Jen: I was surprised by your decision to forgo a website. Why have you chosen not to give in to the Information Age? What impact, if any, has it had on your career? And, are there any hidden benefits for remaining incognito?
Linda: I didnā€™t choose not to give in to the Information Age. After the third stalker, the cops told me emphatically that a web site wasnā€™t a good idea. At the time, I was in the process of getting one set up. I donā€™t know what it is, but evidently thereā€™s something about my books that some obsessive types tend to focus on. I mentioned that a web site didnā€™t necessarily have to have any personal info on it, and the detective just shook his head and said, ā€œNo. It gives them one more thing to focus on. These people arenā€™t rational.ā€ So I took his advice. I donā€™t know if itā€™s had any negative impact on my career, because the books seem to sell okay without a web site. Thereā€™s no way to tell if theyā€™d sell better if I had one, but it doesnā€™t matter, because staying alive is more important. Iā€™m not a recluse, but I am careful.
Jen: Do you participate in author phone chats? And if so, how would my readers go about arranging one? Do you have a blog? E-mail notification of upcoming releases?
Linda: No blog. See above. I do occasionally post on the Writing Playground blog, because the Children are wonderful people and Iā€™m one of their Mavens. Itā€™s all part of what makes our local RWA chapter, Heart of Dixie, so special. Itā€™s a great little chapter. But I donā€™t do self-promotion, at all, in any form. Iā€™m an introvert, so self-promotion is alien to me. Iā€™m not shy, as people whoā€™ve met me know, but I donā€™t feed off crowds or attention, either. Iā€™ve done a couple of phone chats, but I have no idea how theyā€™re arranged. Someone else did it, and I phoned into the central location at the correct time. The questions and answers were posted on-line and the moderator gave me the questions, and then typed in the answers. Is that what youā€™re talking about, or has technology moved on from that? To be honest, the past three or four years have been very tough; Iā€™ve struggled to keep my head above water, so Iā€™ve done only what was necessary and let everything else go.
Jen: Are you currently at work on your next novel? And if so, what can you tell us about it?
Linda: No, Iā€™m currently taking a break. I have no idea what the next book will be about. A character has been taking shape, but whether or not sheā€™ll be the next heroine, I donā€™t know. As I said earlier, sometimes an idea takes years to form.
Jen: On behalf of my fellow RWA members, I want to take this opportunity to thank you for all you have done and continue to do make our organization the best in the industry. It has been an absolute pleasure being able to chat with you. I wish you much success in 2008.
Linda: Thank you! I love this type of interview. And -- RWA rocks.
I hope you have enjoyed my interview with Linda. Please stop by your local library or bookstore today and pick up a copy of DEATH ANGEL.
Okay, now itā€™s time for the contest question!
Name one of the two main characters in DEATH ANGEL.
Next month, Iā€™ll be bringing to you my interview with Heather Thomas, best known for her role in the eighties television show The Fall Guy. Her debut novel, TROPHIES, is a hilarious spin on what life is truly like for the rich and famous in L.A. You wonā€™t want to miss it!
Until next month....Jen
---
When a twist of fate landed Jennifer at the "Reading with Ripa" roundtable discussion with Kelly Ripa and Meg Cabot, she knew that her career as a French teacher would essentially be over. Instead, she figured out a clever way to combine her love for reading and writing and "voilĆ " She became a book reviewer and columnist with www.freshfiction.com. On the sidelines, her parents secretly hoped that her French degree from Vanderbilt would one day come in handy and Jennifer is happy to report that the phrases ā€˜Je ne sais pas' and ā€˜C'est incroyable!' have been quite useful when reviewing certain selections! As is typical in her whirlwind life, one thing led to another and soon she found herself facilitating a popular moms' book club and writing a column she cleverly named Jen's Jewels. (Jewelry is one of her many addictions, as is the color pink and Lilly Pulitzer, which when you think about it, would probably make for a good story! Hint! Hint! ) To keep herself away from her favorite retailer, Ann Taylor, she serves on the Board of Trustees of the Harford County Public Library in Maryland. As a national trainer for The Arthritis Foundation's Aquatic and Land Exercise Classes, she is an advocate for those like herself who suffer from arthritis, the nation's #1 cause of disability. When asked how she manages to do all of these things and actually get some sleep at night, she simply replied, "It's just Par for the Course." Hmm! Now where have we heard that before?
3 comments posted.