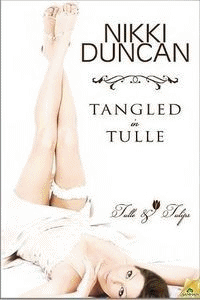 They've been TANGLED IN TULLE and TWISTED IN TULIPS. The wedding planners of Tulle and Tulips Designer Weddings are back and someone is going to be HANDCUFFED IN HOUSEWARES. Now is your chance to get TWISTED IN TULIPS. Just tell us which you would prefer and you'll be entered into the drawing.
And keep an eye out to see who gets HANDCUFFED IN HOUSEWARES!

HANDCUFFED IN HOUSEWARES
Order Today
Monday mornings have a reputation for sucking, and today is no different for Burton Anderson. One year ago, his "perfect" life full of prestige, money, success and travel crumbled in the glaring light of betrayal.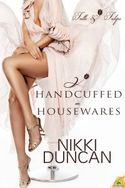 This morning? This close to making his new construction business a success, a date gone awry has left him handcuffed to a toilet in a housewares store. Naked. And the first customer of the day is coming down his aisle.
Planning and shopping for other couples' Big Day is about as wild and crazy as buttoned–up Leigh Schyuler gets. Until she gets an eyeful of Hearth and Home's daily special. He's definitely a "designer" temptation while she's "off the rack".
But there are risks, and then there are risks. Burton isn't sure he can once again trust his heart to a woman who holds the power to ruin him. And Leigh discovers too late that indulging in a little no–strings sex is tying her dream of Devoted Love into hopeless knots...
Contest ends: July 31, 2013