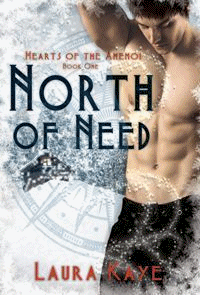 Leave a comment today on Laura Kaye's guest blog post for a chance to win your own copy of NORTH OF NEED.


She's the only one who can see through his golden boy façade to the broken god within...
Chrysander Notos, Supreme God of the South Wind and Summer, is on a mission: save Eurus from his death sentence, and prove his troubled brother can be redeemed. But Eurus fights back, triggering vicious summer storms that threaten the mortal realm, dangerously drain Chrys, and earn the ire of the Olympic gods who ordered Eurus dead.
Laney Summerlyn refuses to give up her grandfather's horse farm, despite her deteriorating vision. More than ever, she needs the organized routine of her life at Summerlyn Stables, until a ferocious storm brings an impossible--and beautiful--creature crashing down from the heavens.
Injured while fighting Eurus, Chrys finds himself at the mercy of a mortal woman whose compassion and acceptance he can't resist. As they surrender to the passion flaring between them, immortal enemies close in, forcing Chrys to choose between his brother and the only woman who's ever loved the real him.
You must leave a comment on Laura Kaye guest blog post to win.
Contest ends: June 2, 2013