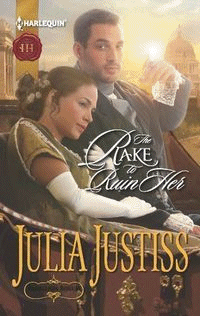 The first of the Ransleigh Rogues are here! Two of these four dashing devils, cousins who've banded together since childhood, made their appearance this spring, Max in March's THE RAKE TO RUIN HER and Will in April's THE RAKE TO REDEEM HER. For those who might have missed the launch—or who'd like them to give a friend—this month Julia is giving away two sets of these two novels. Enter below and enjoy now—Alastair and Dom's stories won't be out until 2014!

The Rake to Redeem Her
Order Today
Will Ransleigh, illegitimate nephew of the Earl of Swynford, has the tall, aristocratic bearing of nobility–and the resourceful cunning of a streetwise rogue. To clear his cousin's name he is on a mission that will take him across the Continent into a world of international intrigue–and the arms of Elodie Lefevre, the society hostess who brought shame to his family.
Is she seductress, spy, or damsel in distress? In the haze of the sensual spell she casts, Will has to keep his wits about him and uncover the true nature of this mysterious Madame....
US / Canada Addresses only
Contest ends: June 30, 2013