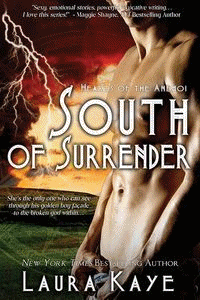 Don't miss your chance to win three signed books from the PRISM award–winning Hearts of the Anemoi series, "A Favorite Returning Paranormal Series," says RT Book Reviews magazine! Start your summer off with the snow god Owen Winters in North of Need, guaranteed to melt your heart and put you in the mood for a big bowl of ice cream – Owen's favorite! Move next to spring god Zephyros Martius's sweet and sensual intensity – love never triumphed over so many obstacles as in Zeph and Ella's story in West of Want. Then dive into the just released South of Surrender. Featuring the Supreme God of the South Wind and Summer, Chrysander Notos, South of Surrender is the perfect summer read – just be prepared for things to get red hot!

South Of Surrender
Order Today
She's the only one who can see through his golden boy facade to the broken god within...
Chrysander Notos, Supreme God of the South Wind and Summer, is on a mission: save Eurus from his death sentence, and prove his troubled brother can be redeemed. But Eurus fights back, triggering vicious summer storms that threaten the mortal realm, dangerously drain Chrys, and earn the ire of the Olympic gods who ordered Eurus dead.
Laney Summerlyn refuses to give up her grandfather's horse farm, despite her deteriorating vision. More than ever, she needs the organized routine of her life at Summerlyn Stables, until a ferocious storm brings an impossible––and beautiful––creature crashing down from the heavens.
Injured while fighting Eurus, Chrys finds himself at the mercy of a mortal woman whose compassion and acceptance he can't resist. As they surrender to the passion flaring between them, immortal enemies close in, forcing Chrys to choose between his brother and the only woman who's ever loved the realhim.
Check out South of Surrender's amazing reviews, including the New York Journal of Book saying South of Surrender is "a fast-paced thrill ride." What else would you expect from the hottest god of them all? Good luck!
US / Canada Addresses only
Contest ends: June 30, 2013