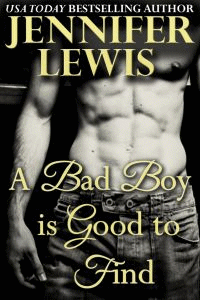 Enter to win a signed copy of A BAD BOY IS GOOD TO FIND and this fleur–de–lis charm necklace, handmade in Louisiana.

A BAD BOY IS GOOD TO FIND
Order Today
Do you like Bad Boys?
A Bad Boy is Good to Find begins the way most romances end, with kisses, caresses and professions of love. But when New York heiress Lizzie Hathaway finds out the man of her dreams is only after her money—which her father just lost in a publicized scandal—she knocks him unconscious with a champagne bottle, and runs off.
Conroy Beale may be a little wayward, but he's not heartless. When his quiet, studious Lizzie goes on a dangerous partying binge, he tracks her down, kidnaps her, and forces her to dry out. Lizzie wants revenge on everyone, including Con, and he reluctantly agrees to go along with her scheme to exploit her unwelcome notoriety for money.
Her plan explodes in her face when she drags Con and a camera crew back to the Louisiana swamp he's been running from all his life. Now Con must confront the pain he tried to escape, Lizzie fights feelings that don't follow any script, and there's that troublesome attraction that threatens to boil the bayou...
ADVISORY: May contain bad language, bad hair days and violence against expensive shoes. May also require tissues.
Read an excerpt on my website.
US / Canada Addresses only
Contest ends: April 30, 2013