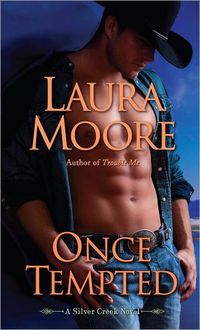 Leave a comment today on Laura Moore's guest blog post for a chance to win your own copy of ONCE TEMPTED.

ONCE TEMPTED
Order Today
Oldest son Ward Knowles feels the sprawling California ranch in his blood. And now that the family business has expanded to include a popular resort, he's working harder than ever. Silver Creek is his legacy and his life, which is fine for the ruggedly sexy ladies' man and committed bachelor. Love and trust don't come easily for Ward since he lost his heart to a gold digger—until he meets a shy, unpretentious beauty whose sweet grace is about to turn his jaded heart into a hungry one.
Tess Casari has found sanctuary at Silver Creek, working as an assistant to Ward's mother, Adele. Grateful for her busy new life running the ranch's spa and resort, Tess can escape the heartbreak, humiliation, and secret shame of her failed marriage. The last thing she needs is temptation— especially from a man who reminds her so much of the husband who shattered her faith in love. But passion and destiny are about to change the rules for two people who have stopped believing in the healing power of love.
US / Canada Addresses only
Contest ends: April 2, 2013