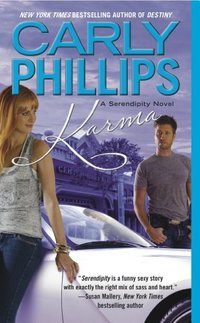 Leave a comment today on Carly Phillips's guest blog post for a chance to win choice of Serendipity backlist title - SERENDIPITY, DESTINY, or "Kismet" (eBook only) US addresses only Plus Carly Phillips goodies!
Police Officer Dare Barron has had a crush on Liza McKnight ever since he was a teenager. But despite his lifelong attraction, the closest he's ever come to interacting with her is watching Liza regularly bail out her brother at the station.
Dare's dark past with Liza's brother, Brian, has always kept him from pursuing her. But suddenly Liza finds herself in need of protection and Dare appoints himself as the man for the job. And while the sizzling attraction between Dare and Liza draws them together, the past that Dare and Brian share threatens to keep the two apart forever.
Welcome to the town of Serendipity and the Barron brothers.
You must leave a comment on Carly Phillips guest blog post to win.
Contest ends: May 8, 2012