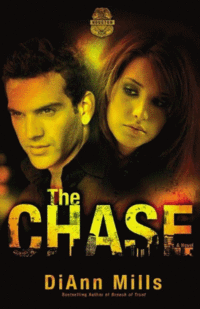 In DiAnn Mills' new novel, The Chase, Tigo Harris is dead serious about his job as an FBI agent in the Houston office, tracking down gun smugglers and gang hoodlums. But when TV reporter-turned-women's fiction author Kariss Walker spies the Buzz Lightyear watch he's wearing, she knows there's more to the devoted special agent than meets the eye.
Tigo and Kariss could use a light moment. Together, they're tracking down the monster who starved a little girl to death, a cold case reopened (thanks to Kariss) that is strangely connected to Houston gangs and Mexican border gun racketeering. Tigo and Kariss might be attracted to one another, but they have to focus on finding the child's murderer. And the closer they get to the killer, the greater their chances of falling victim to criminals who have them in their crosshairs.
DiAnn will send the winner in her April contest a Buzz Lightyear watch like Tigo wears—and a copy of the launch book in her Crime Scene: Houston series, The Chase. The Buzz Lightyear watch is standard issue for every "Big Time Space Hero" (no wonder Tigo wears one—he's got the hero business down pat!). And the watch comes in a keepsake tin.
The Chase
Who could forget an unidentified little girl who was found starved to death in the woods behind a Houston apartment complex five years ago? Certainly not Kariss Walker, a TV news anchor who reported on the story.
Now a New York Times bestselling women's fiction author, Kariss is compelled to turn the unsolved case into a suspense novel, to solve the murder in fiction, if not in real life. Kariss persuades FBI Agent Tigo Harris to re-open the case, and together they solve the crime in a collage of suspense, faith, and romance.
But the search for the dead girl's missing mother yields a discovery that plunges the partners into a witch's brew of danger.
Visit www.DiAnnMills.com to read an excerpt and check out her mobile phone app. Be sure to visit her Facebook page and join others in telling DiAnn what news story has profoundly affected you.
Contest ends: April 30, 2012