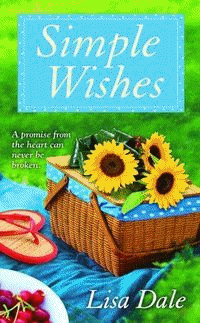 Lisa Dale wants you to celebrate Christmas in July with a little something special—a great gift set from Bath & Body Works, fit for pampering yourself this summer, along with a copy of her debut novel, SIMPLE WISHES.
Adele Matin couldn't wait to put her lonely childhood and hometown behind her. Amid the bright lights and hustle and bustle of New York, she built a life for herself--until one terrible mistake brought it crashing down. Now Adele is running again, this time to a cottage she inherited from her mother in rural Pennsylvania. And she's about to realize that a small town has more to offer than she ever dreamed.
An artist and woodworker, Jay Westvelt knows a thing or two about living in the country. Adele is intrigued by her mysterious and sexy green-eyed neighbor, a man who took care of her house and soon cares deeply for her. But even as Adele's heart begins to soften toward him, secrets from her mother's past threaten to send her fleeing back to the city. Can Jay convince her to stay with him?
Only if she can learn an important truth: that happiness begins with SIMPLE WISHES.
Contest ends: September 30, 2009