Lexy (spelled Leagsaidh in Scots Gaelic, but she's given up) lives in the fictional town of Cuento, CA, smack-dab between Sacramento, San Francisco and Napa. She loves California! She loves the insane friendliness, the endless sunshine, the street trees that drop grapefruit on her head . . . and she especially loves going out to eat. Here are Lexy's top five local(ish) foodie hotspots, imagined as a single day-long blow-out to end all blow-outs.
Benedict for Breakfast at Katie's Place, Carmel
Carmel is picture-postcard-perfect California, with its gingerbread cottages, huge sweep of white beach, and rail-thin millionaire ladies. Katie's Place is a kind of miracle. It's where people go to eat carbs. Yes, carbs. The breakfast menu is (literally) to die for: waffles, pancakes, hash browns, biscuits . . . but it's hard to see past the benedicts. A split muffin, three-count-them- three perfectly poached eggs, a zingy but comforting blanket of hollandaise and a middle layer of . . . you name it. Smoked salmon (Nova Scotia Benedict), shrimp (Cajun Benedict), steak (New York Benedict), or Lexy's favourite: Irish Benedict with a high heap of home-made corn beef hash.
Fish for lunch at Sailor Jack's, Benicia
A drivable distance up the road from the Monterey Peninsula is one of the Bay Area's best- kept secrets: the quaint little town of Benicia. A long meandering main street leads down to the waterfront, lined with antique shops, boutiques, glass galleries, and a clutch of eateries. But donft be tempted to stop until you get to the shore and Sailor Jack's, where the seafood is as fresh as the breeze. The mussels, clams, calamari and battered cod are all delish, but Lexy's favourite is the pan-fried sole with cranberry wild rice, and French beans. Light but rich, it leaves juuuuust enough room for ice-cream.*
Steak for dinner at the Buckhorn , Winters
*But not if this is waiting at the end of the afternoon. An easy forty minutes from Benicia brings you to the bustling little town of Winters. It's got wine-tasting rooms, an acclaimed music venue, an artisan cheese shop, all in one of the prettiest downtowns you'll ever see. And the jewel in the downtown crown is The Buckhorn. Lexy is used to stuffed animal heads- you see them all the time in posh hotels in the Scottish Highlands-so the decor didn't faze her on her first trip. She was all set to be sniffy about the beef, though. Would it, could it, be as good as the beef of home? It could. It is. The steaks at the Buckhorn, cut by their own on-site butcher and cooked with a level of care bordering on obsession, are sublime. A bowl of the impossibly tasty mushroom soup to start (thinks: beef stock may be a factor) then an Idaho baked potato on the side and there's zero chance of dessert. Lexy, in fact, suspects that the Buckhorn desserts are fictitious, likewise the pork, lamb, seafood and burgers. The steak's the thing.
Pie for dessert at the Sugarpine , Mariposa
You know where dessert isn't fictitious? At the Sugarpine Cafe on the way to Yosemite. It's quite a drive, but you're digesting that steak, remember? And it's worth it. Lexy lost more than a few outdoorsy points with various Patagonia-clad guys by naming the Sugarpine as her favourite Yosemite attraction when she was speed-dating. But seriously. The apple pie is America served in eight slices, the chocolate cream pie is the heart of the New South, the peach pie is the soul of the Old South, and the quite magnificent mixed berry pie is everything. It's made of the lightest, crispest, glossiest pastry, filled with a quivering, deep, sweet-tart ocean of glistening near-black fruit. It's almost too good to put cream on.
What a day that would be. The next morning, you wouldn't want much want much breakfast, would you? So maybe settle for...
Coffee at Mishka's in downtown Davis.
Davis has coffee chains, of course, but Mishka's - with its home-roasted, home-ground, organic, fairtrade, delicious coffee - is the place to be. Inside with the NYT, outside under the blossom trees, or taking your coffee to go to the indie cinema next door, Mishka's is a treat. In fact, even though fictional Cuento is not Davis, absolutely not wink, enough of SCOT FREE was written there that the book is dedicated to Mishka's baristas.
A Last Ditch Mystery #2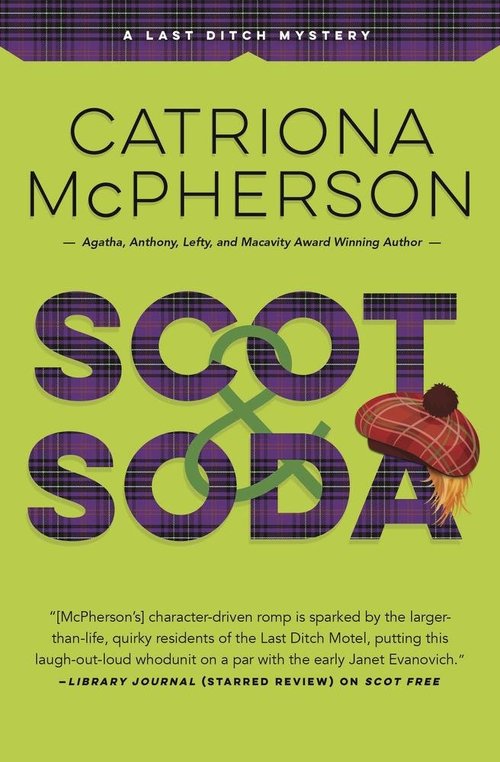 Scottish-born California transplant Lexy Campbell sails again when a body is found during her houseboat Halloween party.
Now settled in her little houseboat, moored in the slough at the back of the Last Ditch Motel, Lexy Campbell wants nothing more than to build her counseling business, avoid her mother's phone calls and who knows? meet a nice guy. But when she throws a Halloween party for her motley crew of motel pals, the only single man is too old for her, too wrapped up in the case of beer chilling in the slough, andoh, yestoo dead.
The smart choice is to leave it up to the cops to identify the body and catch the killer. Lexy and company make a different choice, and they're on the case before you could say "Tam O'Shanter," delving deep into the roots of this mystifying crime.
Mystery Cozy | Mystery Amateur Sleuth | Holiday [Midnight Ink, On Sale: April 8, 2019, e-Book, ISBN: 9780738754123 / ]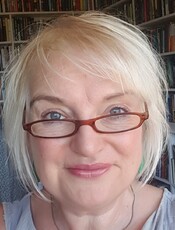 Catriona McPherson was born in Edinburgh, Scotland, and is the author of several standalone novels for Midnight Ink. She is a four-time winner of the Lefty Award, three-time winner of the Macavity Award, two-time winner of the Agatha Award, and two-time winner of the Anthony Award. Additionally, she has been a finalist or shortlist honoree for more than a dozen major awards. Catriona also writes the Dandy Gilver historical mystery series (Minotaur/Thomas Dunne Books). She is the past president of Sisters in Crime and a member of Mystery Writers of America. She lives in Davis, California.
No comments posted.