Like most people in small towns, my daily life is woven between generations. I never remember a time when I said, "I'm not sure what to do or which way to turn." I've always had relatives around, not only giving me advice, but pushing me in what they think is the right direction.
So when I began MORNINGS ON MAIN I knew I wanted to show those threads. My main character, Jillian, steps into a town and a world foreign to her. She's a drifter who doesn't pack her even memories as she moved from place to place.
When Jillian takes a job in Laurel Springs, she finds far more than what she planned. Eugenia Larady, Gram to her family, has owned a quilt shop for fifty years. The quilts lining her walls hold the history of the town and its people. As Gram's mind slips, Jillian rushes to log all the stories and quilts with the help of Eugenia's great-granddaughter, Sunny, who is hell bent to make her own wild memories as fast as possible. As the stories of lives in the town come to light, so do secrets and loves that have lasted a lifetime. Jillian is drawn in and forced to question her lifestyle.
When I began to write of the relationships, the love and the sacrifices of the people in Laurel Springs, I asked my friends, "How do you store your memories?" Do you save each one in pictures or letters? Do you bury all the bad memories? Do you make up parts the way you wish they would have happened?
In my book, MORNINGS ON MAIN, Gram asks Sunny, "Will this boy you're stepping out with be worth a square if you make a quilt of your life."
I have a room in my house we call the quilt room. The walls are lined with quilts made by my mother, my grandmother and my great-grandmother. I even have one made by my crazy Great Aunt Sally. The room always seems to welcome me when I step in. I think about their lives, the peaks and the valleys. In an odd way, they're still with me in the colorful quilts.
I'm the only one of my mother's daughters who did not learn to quilt. My mother only read my first book, but she loved it and said, "Jodi, you quilt with words."
Jodi Thomas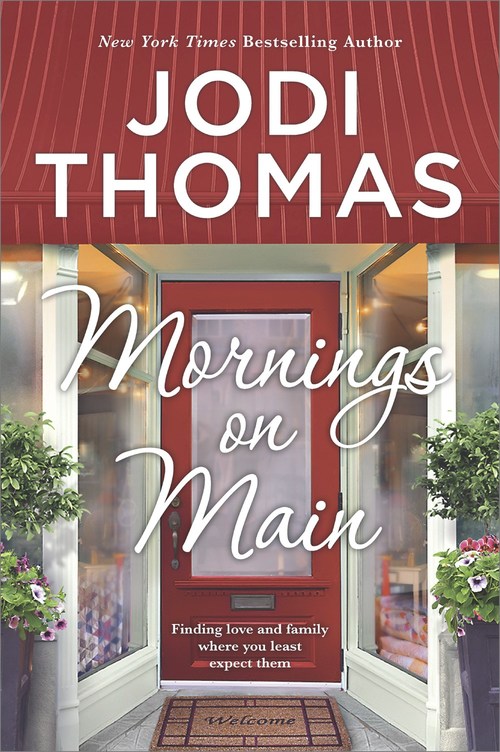 New York Times bestselling author Jodi Thomas makes her original trade paperback debut with this heartfelt piece of commercial women's fiction, perfect for fans of Debbie Macomber and Barbara Delinsky.

Jillian James has always been a nomad; she's never had a place she could call home. So when she lands in Lauralee, Texas—broke, friendless, alone—she's definitely not expecting to stay. Desperate to make some quick cash before she moves on again, she uses her last dollar to place a notice in the local paper, advertising herself as a literal "Jill of All Trades".

Michael Larady's elderly mother has owned a quilting shop all her life, but lately she has struggled increasingly with Alzheimer's. He faces the overwhelming task of closing her shop and cataloguing her inventory, which ultimately represents her life's work. When he sees Jillian's ad, he seizes the opportunity for some help. As Jillian learns more about the stories behind each quilt, she grows close to Michael's mother, and a tender friendship between Jillian and Michael begins to blossom into something deeper.

Michael's seventeen-year-old daughter has spent her whole life in Lauralee, Texas, and she feels restless. When Jillian moves to town and begins helping to close the quilting shop, she represents travel, adventure, excitement--a fascinating alternative to life in Lauralee. Michael's daughter has to ask herself: Is it possible to build a meaningful life in your hometown, or do you need to go farther afield to find yourself?

Weaving together the powerful story of three generations of women looking for a place to belong, Mornings on Main asks us to consider how we make our memories—what we remember, what we forget, what becomes part of our story— and reminds us that it's not where we live, it's how we live that counts.
Women's Fiction [HQN, On Sale: April 10, 2018, Trade Size / e-Book, ISBN: 9781335062956 / eISBN: 9781488029516]
Beautiful story about finding a life.

Jodi takes you to the Heart of Texas
Join me for afternoon tea at BOAS & TIARAS on Saturday, June 9 in Allen, TX. Tickets now available!
A fifth-generation Texan, New York Times and USA Today bestselling author Jodi Thomas chooses to set the majority of her novels in her home state, where her grandmother was born in a covered wagon. A former teacher, Thomas traces the beginning of her storytelling career to the days when her twin sisters were young and impressionable.
With a degree in family studies, Thomas is a marriage and family counselor by education, a background that enables her to write about family dynamics. Honored in 2002 as a Distinguished Alumni by Texas Tech University in Lubbock, Thomas enjoys interacting with students on the West Texas A&M University campus, where she currently serves as Writer in Residence.
Commenting on her contribution to the arts, Thomas said, "When I was teaching classes full-time, I thought I was making the world a better place. Now I think of a teacher or nurse or mother settling back and relaxing with one of my books. I want to take her away on an adventure that will entertain her. Maybe, in a small way, I'm still making the world a better place."
When not working on a novel or inspiring students to pursue a writing career, Thomas enjoys traveling with her husband, renovating a historic home they bought in Amarillo and "checking up" on their two grown sons.
1 comment posted.