"History is a gallery of pictures in which there are few originals and many copies." Alexis de Tocqueville
I love reading historical romance and have since I cracked open the cover of GONE WITH THE WIND as a teenager. Unlike my boring history classes, here was history worth reading. At first I skimmed over the battles, but then as I continued on with the book, I read more and more of the actual history contained in the story.
This book was about people. Those who lost loved ones, those who waited at home for a letter, for some indication that their husband, brother, father or son was still alive.
Fiction? Yes. GONE WITH THE WIND is a work of fiction, but what happened to Scarlett O'Hara, et al, was based on real life events. Babies were born during the height of battle. Plantations were burned to the ground, and thousands, both black and white, were left homeless, adrift in a world turned completely upside down.
I closed that book with a sigh of pleasure, and then followed up with the story of Henry VIII's last wife, Katherine Parr. That led me to read the stories of the other five wives. I was fascinated. History was not just battles and dates, it was the story of people. Real people who lived and died, with hopes and dreams, sorrows and pain.
I had been converted. I was a history addict, which eventually led me to a degree in History.
As an historical romance author, authenticity is important. Keeping true to my era is important. I try very hard to make sure I don't use language and references inappropriate for the time. And when I make a mistake, my editor slaps my hand. Or if it slips by her, I can be sure a reader will call me on it.
One thing I learned from my love of history. People haven't changed much since the beginning of time. We think our time period is violent and nasty. Read some books about the medieval period, or ancient Rome, or the Spanish Inquisition. It has been suggested that young children are never safe unless they are within view of their parents because times are dangerous. Dangerous times for children? Read some books about the orphan train in the United States between 1854 and 1929, or the abduction and forced labor of children in Victorian England.
Are things worse now? No, we just know more now. Human nature is human nature throughout history, and in every country on earth. It helps to keep this in mind when reading today's news on social media.
Maybe things were just as violent in times past, but unless it was right on your doorstep, you didn't know about it.
Sometimes ignorance is bliss.
That brings me to why I write historical romance. Like all readers and writers of romance novels, I love a happy ending. In DENYING THE DUKE, Patience and Alex were sweethearts as teenagers (although they weren't called that then). They are torn apart when Patience is betrothed to Alex's brother.
Alex enlists in the military and is shocked when he receives word four years later to return home and assume the title of Duke since both his father and brother have died. One would think that now Patience and Alex can have their happy ending. Well – since it's a romance book, you know that will happen, but believe me, the path to their HEA is riddled with trouble.
Reading fiction that contains a happy ending is a good antidote to the craziness of today's world, and keeps everything in perspective. So—enjoy life, read a good book!
Four years ago, Alex, a second son, had planned a life together with Lady Patience. However, when Patience was betrothed to his brother, the heir, Alex left his family's estate and joined the military.
Alex returns to assume the title Duke of Bedford when his brother unexpectedly dies. He is unprepared for both his new responsibilities and the reunion with Patience. The horrors of war are a heavy burden, and when he learns that Patience never married his brother, he is stunned.
Patience withstood the bullying of her fiancé and her father for four long years. She refuses to marry Alex just because he's the duke, especially if he no longer loves her. How would that be better than what she has already endured? Promises made in their youth are not enough to overcome the changes life has wrought for them but love can grow and transform, if only Patience could believe that.
Romance Historical [Entangled Scandalous, On Sale: July 10, 2017, e-Book, ISBN: 9781548204716 / eISBN: 9781640631175]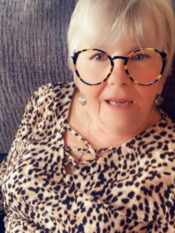 USA Today best selling author of THE ELUSIVE WIFE, Callie Hutton writes both Western Historical and Regency romance, with "historic elements and sensory details" (The Romance Reviews). She also pens an occasional contemporary or two. Callie lives in Oklahoma with several rescue dogs, two adult children, and daughter-in-law (thankfully all not in the same house), and her top cheerleader husband. She also recently welcomed twin grandsons to her ever expanding family. Callie loves to hear from readers, and would welcome you as a "friend" on Facebook. You can contact her through her website.
">
1 comment posted.
My favorite reads are historical fiction. I agree on getting the information correct.
(Leona Olson 7:46am July 20, 2017)