When you think of criminal profiling, what comes to mind? Maybe Hannibal Lecter teaching Clarice Starling how to track down Buffalo Bill in SILENCE OF THE LAMBS. Or perhaps a group of agents who fly around in a private jet and present new profiles every week to police stations across the country in CRIMINAL MINDS.
The actual process of creating a profile is a fascinating blend of psychology and criminology, and there's not just one way – or reason – to do it. Here are some of the ways profiles are used.
To catch a serial criminal: In HUNTED, the first book in my Profiler series, bodies are found deep in the woods, buried up to their necks. Police are stumped about who would do such a thing, and why, so they call in FBI profiler Evelyn Baine. When she looks at the crime scene, she sees it through the eyes of a profiler. Instead of looking at the forensics that could be in the woods, or the people with reasons to hurt these two women who might overlap, she looks at what the scene tells her about the perpetrator. And it tells her something very specific, because burying someone up to their head should be a showy display, but this killer has done it deep in the woods, where he never expected anyone else to ever see it. Evelyn's profile – a detailed description of the kind of person who committed the crime – ultimately leads them to a name (as well as a lot of danger for Evelyn personally!).
To determine if a crime is a copycat: In VANISHED, the second book in the series, a girl is abducted and the kidnapper leaves behind a note modeled on a children's nursery rhyme. The note and the abduction are eerily similar to a series of crimes from eighteen years earlier – when one of the victims was Evelyn's best friend. Those crimes were never solved, so Evelyn gets herself assigned to the case in order to figure out if the same person has returned after an eighteen-year hiatus, or if someone else is copying his crimes. The result – she hopes – will not only be bringing the new victim home alive, but also finally finding the truth about what happened to her friend all those years ago.
To figure out a terrorist's next move: In SEIZED, the third book in the series, Evelyn finds herself taken hostage in a remote mountain area after following another agent to check out a compound of survivalists. The official report on the group says they're harmless, but the agent disagrees. Convinced they're really a terrorist threat, she leads Evelyn out there and the two of them end up stuck inside. Worse, Evelyn quickly discovers that the other agent is right, and this group is much more than they seem. Eavesdropping from where the group is keeping her, Evelyn tries to figure out their next move before it's too late – and then get that information to the outside world.
To invigorate a stalled investigation: In my brand new Profiler book, STALKED, Evelyn has the rare chance to work on a case with only one victim. Teenager Haley Cooke disappeared from inside her high school one afternoon and hasn't been seen since. But her mom found a note left behind by Haley that reads, "If you're reading this, I'm already dead." The deeper Eveyn digs into Haley's life – profiling everyone around her to determine possible motivations – the more she discovers everyone has something to hide. And figuring out which secret got Haley abducted could be the key to finding her before it's too late for both of them.
All of these different kinds of profiling are really used by the Special Agents who do this job for the FBI. And there's more still! Profilers evaluate everything from cyber threats to bombs to arson to things you might more commonly associate with the field, like serial crimes. But the great variety – and the increasing use of the unit all around the country (and even overseas) – makes them even more fun to use in books!
About Elizabeth Heiter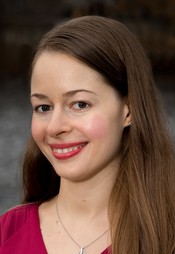 Elizabeth Heiter likes her suspense to feature strong heroines, chilling villains, psychological twists, and a little bit (or a lot!) of romance. Her research has taken her into the minds of serial killers, through murder investigations, and onto the FBI Academy's shooting range.
Elizabeth graduated from the University of Michigan with a degree in English Literature. She's a member of International Thriller Writers and Romance Writers of America. Fresh Fiction called her debut suspense HUNTED a "fast paced and thrilling start to a new series," Affaire de Coeur gave it 5 stars, calling it "very well done with a fantastic ending," and Bookreporter said HUNTED was "a thriller that grabs readers from the first page...Heiter has hit a high note right at the start of her writing career!"
No comments posted.