Today Jessica Lemmon's newest series, Billionaire Bad Boys debuts with THE BILLIONAIRE BACHELOR. Reviewer Miranda Owen chatted with Jessica recently about her Second Chance series, spinning off her characters, and why billionaires are still so sexy.
Some of the characters in your Second Chance series have connections to characters in your Love In the Balance series. When you were writing that series, did you always plan on doing a spin-off series in a small town setting?
I didn't, actually! Evan was the "other brother" who I definitely wanted to write a book about, but he didn't seem to fit anywhere. When my publisher suggested a "bridge" book starring Evan Downey in a whole new setting, I jumped on it. BRINGING HOME THE BAD BOY was the perfect link from Love in the Balance to Second Chance.
I love the heroes in this Second Chance series, but I feel like they are all at different levels on the bad boy-o-meter – what is it about a reformed bad boy that is so appealing to write about?

Aww, thank you. I love my Second Chance boys, too. :) Reformed bad boys are the best because they've already sown those proverbial wild oats. Moreover, they have learned life the hard way and are able to appreciate when they meet the woman they want to keep for forever.
One of the things I like so much about your "Second Chance" series are the tight knit friendships between the men and between the women. Are there such close friendships in your Love In the Balance series, Lost Boys series, or your new Billionaire Bad Boys series?
Hmm… good question! Close friendships are an overarching theme in my writing. There are always strong secondary characters in my books, but Second Chance definitely has the most friendships per capita. It really has that small-town, family feel.
You've written a few scenes involving sensitive situations involving children. Do you find scenes involving children more difficult to write than others?
I used to be intimidated by the idea of writing kids since I don't have any, but I do have sixteen nieces and nephews, so I'm not completely out of my element. I think the challenge when writing children is to have them in the scene in a real and tangible way instead of popping in to drop one-liners like a television sitcom child. Many readers agreed that without Lyon, Evan and Charlie may have never gotten together. It was the most charming, loving family to write. Very rewarding.
In RETURN OF THE BAD BOY, the main characters have a history spanning years, as do the main characters in the previous books to varying degrees. What's the benefit of writing books about characters who have a history versus a hero and heroine who meet for the first time in their romance?
Asher, from RETURN was a blast to write since I knew I could make him as naughty as I wanted. He drank, smoked (!), slept with groupies. He was sort of self-centered and often wandered into the room like a lazy cat. The benefit of which was watching him realize that Gloria was The One, and that he was going to get her back no matter what. It was rewarding to watch him grow up and become a better man. If their romance had happened with the man he was in book one, I don't feel like they would have made it. They both needed time to appreciate how much they loved each other.
The members of Asher's band get a lot of time on the page in RETURN OF THE BAD BOY. I found the guys interesting and was wondering if you planned on writing books featuring them in the future.
They are a motley crew, aren't they? There's a lot of opportunity to pair them each off, but I don't have any plans at the moment. If there was a demand for a Knight Time spin-off, I'd love to write their stories!
I believe your Lost Boys series is considered "new adult fiction". For readers who may not understand what that means, please explain how that relates to your Lost Boys series and how it's different from your other books.
Well, the area has grayed recently. New Adult used to be considered stories of college-aged kids (21 to 25-ish) finding their way through a series of firsts. Now, I think readers are sophisticated enough to appreciate the story for what it is: a love story, sometimes angsty, sometimes funny, always sexy. My New Adult titles are in first person, and the heroes and heroines are under 25 with varying degrees of angst and darkness.
Can you tell readers a little bit about your upcoming Billionaire Bad Boys series? Any teasers?
The series starts with a modern-day marriage of convenience between a hard-nosed playboy seeking CEO of his hotel chain and a woman he's basically bribing to marry him so he appears settled. I love Reese and Merina! They're sophisticated and sharp, and enemies to lovers is so much fun to write and read. The other two books are about Reese's brothers.
What are you working on right now?
I just finished up a draft for James Patterson's Bookshots line, which will be available in 2017, and at the moment I'm doing edits on THE BILLIONAIRE NEXT DOOR.
About Jessica Lemmon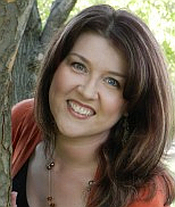 Jessica Lemmon has always been a dreamer. At some point, she decided head-in-the-clouds thinking was childish and went out and got herself a job. …And then she got another one because that one was lousy. And when that one stopped being fulfilling, she went out and got another …and another.
Soon it became apparent she'd only be truly happy doing what she loved. And since "eating potato chips" isn't a viable career, she opted to become a writer. With fire in her heart, she dusted off a book she'd started years prior, finished it, and submitted it. It may have been the worst book ever, but it didn't stop her from writing another one. Now she has several books finished, several more started, and even more marinating in her brain (which currently resides in the clouds, thankyouverymuch), and she couldn't be happier.
She firmly believes God gifts us with talents for a purpose, and with His help, you can create the life you want.(While eating potato chips.)
No comments posted.