When I sat down to write HERE TODAY, GONE TAMALE, the first book in my Taste of Texas series, I pondered the best way to take hold of the story. Would it be the plot? The setting? The mystery? Sure the mystery was important. Who wants to read a book with a predictable plot? And though I loved Far West, Texas and the desert towns near the border, they didn't reach out and grab me right away.
Head bowed and eyes closed, I prayed like a child, "Dear Lord, how the heck do I write a story that will make readers smile and feel at home?" Now, you may not pray, and the good Lord knows I don't pray as often as I should; but the answer dropped into my soul.
It was all about the characters. I decided to write lovable, quirky people I wanted to spend time with. I had to start with a heroine with grit and a bit of an attitude. She couldn't be svelte and perfect either. She had to love her tamales.
Once reporter Josie Callahan came onto the page, I needed a reason for her to leave the cool vibe and big city bustle of Austin—every Texan's dream—only to land back in postage-sized Broken Boot with her aunt and uncle. Josie was down on her luck. Laid off and jilted at the altar, she had nowhere else to go.
Now that my amateur sleuth was back home where she belonged, working in her family's Tex-Mex restaurant, who else was there for her to interact with?
Ah, a sidekick. That would be a Chihuahua named Lenny. Why Lenny? That's what his previous owner named him, of course. Why a Chihuahua? The story is set in Far West Texas, right? Now let's give that stereotype a twist. He's a long-haired Chi which makes him extra cute and adorable.
Someone else was needed in the family, someone unpredictable and cantankerous—someone who could say all the things the other characters wished they could say. Senora Mari hit the page. This mighty matriarch, standing all of four feet, ten inches, oversaw everything that had to do with the menu at Milagro especially her famous traditional tamales. Much to my surprise, it turned out Senora Mari dreamt of dead people. Those poor souls murdered in Broken Boot came to her with clues about their murders. Unfortunately, Josie couldn't make hide nor hair out of Senora Mari's dreams.
Finally where would a smart, sassy amateur sleuth be without a hint of romance in her life? Enter from stage left Josie's former college sweetheart, Coach Ryan Prentice. He's not too busy coaching the West Texas University football team to help out at Milagro now and then and lend a sympathetic ear. Sneaking in from stage right is Deputy Quinton Lightfoot. He put the silent in the strong and silent type. Intelligent and skeptical of Josie's investigative skills, he's willing to overlook her mistakes as long as she doesn't interfere with his investigation.
The stage was set. The dusty, artistic town of Broken Boot, Texas was the backdrop. Josie Callahan and the Martinez family were the leads. All I needed was a murder.
I hope you enjoy my first novel in this series, HERE TODAY, GONE TAMALE. If you crave your Tex-Mex the way I do, I know you'll enjoy the recipes in the back as well.
Adiós,
Rebecca Adler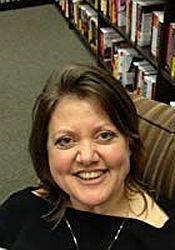 Rebecca Adler is the pen name of author Gina Lee Nelson. Gina grew up on the sugar beaches of the Florida Gulf Coast. Drawn to the Big Apple by the sweet smell of wishful thinking, she studied acting on Broadway until a dark-eyed cowboy flung her over his saddle and high-tailed it to the Southwest.
Prior to writing women's fiction, Rebecca always found a way to add a touch of the dramatic to her life: dinner theatre in Mississippi, can-can club in Florida, flower shop in Germany, acting school on Broadway, sweatshirt boutique on Madison Avenue, all night dive on the Lower East Side, video series in Jersey, and a giant Furskin at the New York Toy Fair, plus the occasional play and musical.
She's currently content to pour her melodramatic tendencies into writing cozy mysteries with a hint of romance and a sweet, Southern-fried flavor.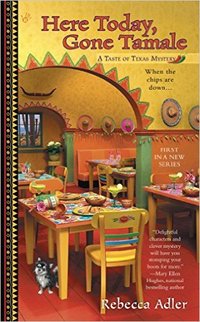 Reporter turned Tex-Mex waitress Josie Callahan is about to go from serving queso to solving cases
After losing her newspaper job in Austin and having her former fiancé unfriend her on Facebook, Josie Callahan scoops up her Chihuahua, Lenny, and slinks back to Broken Boot, Texas. Maybe working as head waitress at Milagro—her aunt and uncle's Tex-Mex restaurant—isn't exactly living the dream, but it is a fresh start.
And business is booming as tourists pour into Broken Boot for its famous Wild West Festival. But when a local jewelry designer is found strangled outside Milagro after a tamale-making party, Josie's reporter instincts kick in. As suspects pile up and alibis crack faster than taco shells, Josie needs to wrap up this case tighter than her tía's tortillas—before another victim calls for the check…
INCLUDES TEX-MEX RECIPES!
Buy HERE TODAY, GONE TAMALE: Amazon.com | Kindle | BN.com | iTunes/iBooks | Kobo | Google Play | Powell's Books | Books-A-Million | Indiebound
2 comments posted.