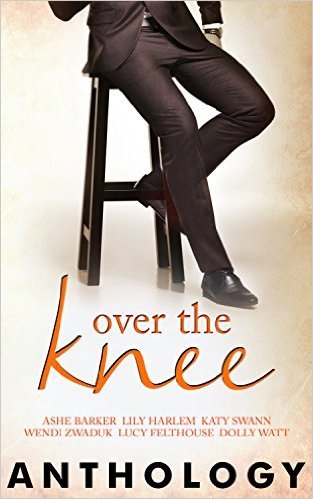 Over the Knee
Lily Harlem, Lucy Felthouse, Ashe Barker, Dolly Watt, Wendi Zwaduk, Katy Swann
AVAILABLE

November 2015
On Sale: October 20, 2015
279 pages
ISBN: 1784308064
EAN: 9781784308063
Kindle: B015NAUWE0
e-Book
Add to Wish List

Also by Lily Harlem:
Brit Boys: With Toys, January 2016
Heat of the Day, January 2016
Over the Knee, November 2015
Toy Boy, June 2015

Also by Lucy Felthouse:
Brit Boys: With Toys, January 2016
Love on Location, January 2016
Cupid, December 2015
Properly, or Not at All, December 2015

Also by Ashe Barker:
The Prize, February 2017
Brit Boys: With Toys, January 2016
Over the Knee, November 2015
Chameleon, February 2015

Also by Dolly Watt:
Over the Knee, November 2015
Bliss in Bordeaux, June 2015

Also by Wendi Zwaduk:
Runaway Royal, February 2021
Over the Knee, November 2015
Taken In, September 2015
Wild After Dark, June 2015

Also by Katy Swann:
Over the Knee, November 2015

I've always wanted to create cast lists for movies. One day, I'd love for one of my books to be turned into a movie. Until that happens, I thought I'd create a list of who I'd chose to play each of the leads in SILK AND DECADENCE,my contribution to the OVER THE KNEE anthology.
Elias isn't a simple sort of man. He needs to be strong, soft, but commanding. Who would I pick to play him? I'd select Bradley Cooper. Why? First, he fits the physical description. He's tall, blond, and handsome. His eyes twinkle and besides, when he talks, he makes people melt. Elias needs to have those qualities, but he's also got to be commanding. Cooper can be commanding and smooth at the same time. He can be the dom and wield a paddle with ease, then turn around and romance the girl—while using the paddle. Grin. I'd watch. He's also got to have a sense of humor and be willing to schmooze customers. Cooper has that in spades.
What about Sadie? There are plenty of women who could play her. She's a simple girl. Simple, sweet and innocent. She's got to look like every woman. So who would she be? I'd pick Scarlett Johansson. She can kick some serious butt and still look sexy, plus she's awesome at being sensual but innocent. That's a hard quality to project. She has to be willing to give herself up to her dom and still know how to steer the situation outside of the bedroom. Plus I think she'd work the waitress outfit like a champ. I think she'd be a good foil for Bradley Cooper's Elias.
Then there's Sean and Roxy. They're two secondary characters, but valuable to Elias and Sadie. Sean doesn't talk much. He's the strong and silent type. He has to look strong and commanding without saying a whole lot. Who would play him? Michael Fassbender. Yes. I can hear him using his deep voice to soothe a scared sub, while drizzling food all over her. Plus, he's handsome and brooding. Yes, he'd be perfect. What about Roxy? She's tall and beautiful, but smart. But she'd have to be played by someone who can be meek, but also kick butt. I'm thinking Kate Winslet. She's strikingly beautiful, can be meek, but can also dominate a situation when needed.
Whew! I don't know about you, but if SILK AND DECADENCE were made into a movie, it would be one sexy, hot, sophisticated movie. I'd watch it. Which actors and actresses do you think would fit the various roles? Let me know.
Wendi Zwaduk started outlining stories in her head at a young age while revising the storylines she'd seen portrayed on General Hospital--well, as much as a seven year old can revise them.
The characters evolved and the stories thickened into her current works. She hopes to take the reader on a journey in her stories--to places yet to be visited, meeting characters who will become close friends, and lots of sizzling romance for fun.
Website | Facebook | Twitter | Google+ | Pinterest | YouTube | Blog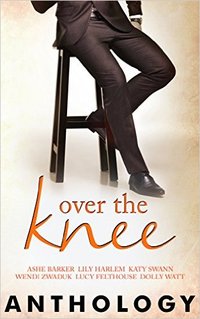 IN THE EYES OF THE LAW by Ashe Barker
She's still his wife, in the eyes of the law. But is she still his submissive? His to spank?
SPICING IT UP by Lily Harlem
Heat from a spanking ensures that Cassandra simmers with pleasure in a way she never would have imagined.
KNEEL FOR YOU by Katy Swann
Should she agree to be spanked? Just the once? It would all be in the name of research, of course…
SILK AND DECADENCE by Wendi Zwaduk
There is always fun in the club, but taking the fun outside and into life might be exactly what's needed for a lifetime of passion.
PROPERLY, OR NOT AT ALL by Lucy Felthouse
How will a husband and wife cope when they're told one of their favourite kinky pastimes is temporarily off the menu?
A PRIVATE EDUCATION by Dolly Watt
Archivist Emma Willoughby learns a lesson in kinky lust when she's invited to assess the ninth Earl of Folchester's private library.
No comments posted.