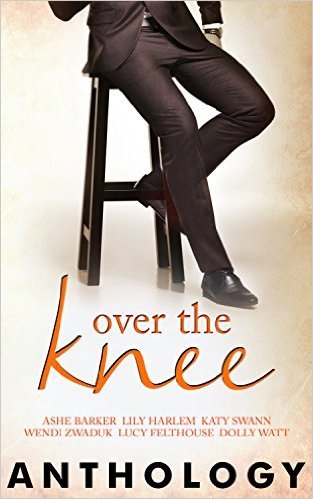 Over the Knee
Lily Harlem, Lucy Felthouse, Ashe Barker, Dolly Watt, Wendi Zwaduk, Katy Swann
AVAILABLE

November 2015
On Sale: October 20, 2015
279 pages
ISBN: 1784308064
EAN: 9781784308063
Kindle: B015NAUWE0
e-Book
Add to Wish List

Also by Lily Harlem:
Brit Boys: With Toys, January 2016
Heat of the Day, January 2016
Over the Knee, November 2015
Toy Boy, June 2015

Also by Lucy Felthouse:
Brit Boys: With Toys, January 2016
Love on Location, January 2016
Cupid, December 2015
Properly, or Not at All, December 2015

Also by Ashe Barker:
The Prize, February 2017
Brit Boys: With Toys, January 2016
Over the Knee, November 2015
Chameleon, February 2015

Also by Dolly Watt:
Over the Knee, November 2015
Bliss in Bordeaux, June 2015

Also by Wendi Zwaduk:
Runaway Royal, February 2021
Over the Knee, November 2015
Taken In, September 2015
Wild After Dark, June 2015

Also by Katy Swann:
Over the Knee, November 2015

The original title for my latest hot romance was SERVING THE EARL but my editor, concerned it sounded too historical, suggested we change it. Of course, there's nothing wrong with historical except that my story is contemporary so the title was potentially misleading.
I must confess I was secretly pleased with my editor's observation. Even though my tale is set in the present day, I wanted it to have the feel of fiction from another era. As a reader, I find historical fiction has the capacity to whisk me away to a different world, one where the surroundings are richer, and where the sensory has more depth. I love the lantern light gleaming on the stablehand's brow, the hiss of taffeta as she sweeps past him, the rumble of carriage wheels on cobbles, and the rushes strewn across the floors of cold, draughty castles.
When I read good, descriptive historical fiction, it's as if I'm there. I'm in the book with the characters, seeing what they see, smelling what they smell. Don't get me wrong, I love modern fiction too but it doesn't transport me quite as much. As a writer, I'd love to be able to whisk my readers away from their day-to- day lives. However the thought of penning historical fiction makes my sharpened quill tremble! All that research! All those hours disappearing into the black hole of Google! All those tiny details you need to get right!
So in my latest release – renamed A PRIVATE EDUCATION– I cheated! I conjured up another world by setting the action in a grand manor house, primarily in a library of dusty, leather-bound books. Among those books as my heroine, an archivist, discovers, are volumes of Victorian spanking diaries. The nineteenth century, notorious for its sexual repression, is also known for its naughtiness. For a page or so, I enjoyed adopting the voice of a Victorian gentleman and describing a scene where petticoats and stockings frame a rosy red bottom.
When my heroine, Emma, reads the risqué diaries, it's as if she's disappearing through a keyhole into a world of saucy secrets. Maybe I'll be brave enough to try my hand at writing historical romance one day. But for now, I simply hope that readers who try A PRIVATE EDUCATION feel as if they're disappearing through a keyhole just as Emma does.
Dolly Watt has been spinning saucy stories in her head for over a decade but has only recently sat down at a keyboard and allowed her imagination to run riot. And oh boy, does it run!
Dolly (Dolores for long) lives in rural Sussex with her handsome husband, their two kids, and a growing menagerie of pets in a house she describes as 'shabby chic' in the hope of convincing herself it doesn't resemble an explosion at a jumble sale.
Dolly loves writing character-driven erotic romance with a side order of kink and laughter.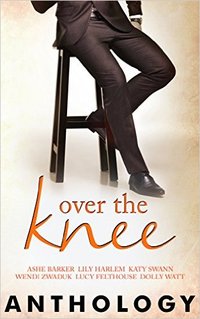 IN THE EYES OF THE LAW by Ashe Barker
She's still his wife, in the eyes of the law. But is she still his submissive? His to spank?
SPICING IT UP by Lily Harlem
Heat from a spanking ensures that Cassandra simmers with pleasure in a way she never would have imagined.
KNEEL FOR YOU by Katy Swann
Should she agree to be spanked? Just the once? It would all be in the name of research, of course…
SILK AND DECADENCE by Wendi Zwaduk
There is always fun in the club, but taking the fun outside and into life might be exactly what's needed for a lifetime of passion.
PROPERLY, OR NOT AT ALL by Lucy Felthouse
How will a husband and wife cope when they're told one of their favourite kinky pastimes is temporarily off the menu?
A PRIVATE EDUCATION by Dolly Watt
Archivist Emma Willoughby learns a lesson in kinky lust when she's invited to assess the ninth Earl of Folchester's private library.
No comments posted.