It's human nature to make comparisons. We do it all the time: in the grocery store, when we're shopping for clothes, even when we're trying to decide where to go on vacation. I'm a big time bargain shopper, so I'm always making comparisons. After all, we want to make sure we're getting the best value for our money. Most of the time, comparison is a good thing.
But as a writer, comparison is poison.
Let's face it, just the simple act of thinking about comparing two things, infers they are somewhat similar. And that couldn't be farther from the truth.
As writers, we are all unique. Yes, we put words on a page, but, really, that's where the similarities end. We're all on different paths, whether that path is self publishing, traditional publishing, or a mix of both. To judge yourself based on someone else's journey isn't going to mean anything. Yes, it may look like that author is an overnight success, but 99.9% of the time, they were working their butt off for years and no one noticed.
That's the same argument you should use for writing speed. I think I'm a fairly slow writer, but others think I'm fast. It's all based on where you sit. And the truth is, you don't know what's going on behind the scenes. Maybe that author who writes so slow is a single parent with two jobs.
And the absolute worst thing you can do is to compare your success with someone else's. Stop it. No good will come from that. Besides, haven't we already agreed that you can't compare yourself to another writer anyway?
If you must compare yourself with someone, compare yourself with yourself. Are you making progress in your writing journey? Any progress? The amount doesn't matter as long as you're making it. Do you have more words on the page than you did this time last year?
Because at the end of the day, it's not anyone's journey - it's yours.
Tara Sue Me wrote her first novel at the age of twelve. It would be twenty years before she picked up her pen to write the second.
After completing several clean romances, she decided to try her hand at something spicier and started The Submissive. What began as a writing exercise quickly took on a life of its own and The Dominant and The Training soon followed. An avid reader of all types of fiction, she soon discovered she enjoyed writing a variety as well.
Tara lives in the Southeastern United States with her husband, two children, two dogs, and a cat.
Website | Facebook | Twitter | Pinterest | Goodreads | Blog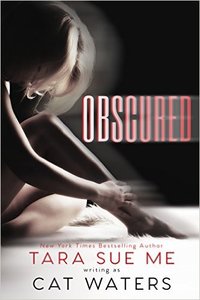 There's the truth you know….
At age 16, Athena Hamilton traded her body for survival when a powerful Vegas hotelier and pimp lured her into his world. Ten years of turning tricks has taught her to trust no one and feel nothing. Yet a chance meeting with a childhood crush sparks hope for something more.
The truth you believe…
There's no way Isaiah Martin could want her. He's a pastor. Too good. Too pure. But when she learns her days are numbered, she runs into the safety of his arms and trusts his promise of protection.
And the truth you never imagined...
The aftermath of a tragic accident and a bitter betrayal leaves her destitute and alone. The one man she shouldn't trust offers her a chance to escape. But when good and evil collide, what do you do when the truth is Obscured?
1 comment posted.