Shayla Black sits down with Fresh Fiction reviewer Sherri M. to talk writing, Wicked Lovers , and what fans can expect!
Sherri: Hi, Shayla! Thank you for joining us on Fresh Fiction. You're one of my all-time favorite authors.
Shayla: Thank you for having me. And wow, thanks so much for the compliment. Writing can be a solitary business, so it's nice to know the stories I craft can bring enjoyment or touch hearts.
Sherri: At what age did you get interested or want to start writing, and what is your favorite thing about writing?
Shayla: When I was in my second year of college, I was browsing a used bookstore for textbooks but I happened upon copy of Woodiwiss's SHANNA. It was a classic by then, but I remember my babysitter reading it when I was a kid. She wouldn't let me touch it then, so I snatched it up as an adult. That book started me on my journey of reading romance. Within a few months, I began to toy with the idea of writing. I'd never written anything more than a school paper in my life but that didn't stop me. I figured that anything worth doing was worth learning how to do to the best of my ability. It took a lot of years and stumbling and tears to sell my first book to a publisher but being where I am today, it was worth every bit of effort and every drop of mental sweat.
Sherri: And of course I'm going to follow up with what is your least favorite thing about writing? Is there any part of the writing process you dread?
Shayla: No one part of the process is my least favorite. Every book is different, so sometimes I hate starting the book. Sometimes it's the ending that trips me up. Sometimes it's the editing process. More often than not, the part that I find most difficult is that section between the midpoint and the end, making sure I fill it with enough emotion and story while tying up all my loose ends is always one of my focuses.
Sherri: What was your profession before you started writing and in what ways does it show in your stories?
Shayla: I had quite a few professions before being a full-time writer. I worked for a Fortune 10 company for nearly 20 years. In the last position I held, I was responsible for writing sales and technical training materials. I learned style guides very well, which means copyeditors tend to like me. I got a lot of practice putting words together to create a certain effect and being as precise and specific as possible, while properly punctuating.
Sherri: Out of all your books which one do you feel was the turning point in your career?
Shayla: I first wrote historical romances as Shelley Bradley. After nine books, I decided to take a step back and re-evaluate what I really wanted to do. I would say the turning point book for me was BOUND AND DETERMINED. It represented my first foray into contemporary romance. It was certainly a much sexier romance than I'd been writing. But I still wanted to release darker, emotionally deeper, more erotic books. Less than a year later, Shayla Black released WICKED TIES, the first book in the Wicked Lovers series. The rest is history…
Sherri: Which release made you feel like WOW I did it? or WOW I made it?
Shayla: Honestly, I never really feel that way. Once I started releasing books in the Wicked Lovers series, readers contacted me to let me know they enjoyed the books, but even when I've made lists or achieved personal goals, I only feel as if I haven't yet written my best book, so I continue to strive toward that goal.
Sherri: If you had to do it all over again, would you do anything differently?
Shayla: It's easy to say I'd change things—and I'd be tempted in some cases. But every choice I've made and everything I've been through taught me something. I'm a deep believer in both experimenting and knowledge, so I'll probably always continue to try new things, some of which will work while others won't, then adjust accordingly.
Sherri: Can you tell us what you're working on now? What can fans look forward to in the future!
Shayla: Absolutely! After WICKED FOR YOU (Wicked Lovers, October 6), I'll be releasing the next book in the series during summer 2016. I've got a title…but I'm not quite ready to share. I'll also be continuing The Perfect Gentlemen series with Lexi Blake. After SCANDAL NEVER SLEEPS, we'll be releasing SEDUCTION IN SESSION in January and BIG EASY TEMPTATION in May. Lexi and I are also hoping to put out another Masters of Ménage book, THEIR VIRGIN BRIDE, next spring/summer. Jenna Jacob, Isabella LaPearl, and I are also planning to publish THE EDGE OF DOMINANCE, the final book about Hammer, Raine, and Liam in the ongoing Doms of Her Life series. And I still have more surprises to come…
Sherri: Wow!! I can't wait. :)
Shayla Black (aka Shelley Bradley) is the New York Times bestselling author of over 30 sizzling contemporary, erotic, paranormal, and historical romances for multiple print and electronic publishers. She lives in Texas with her husband, munchkin, and one very spoiled cat. In her "free" time, she enjoys reality TV, reading and listening to an eclectic blend of music.
Shayla has won or placed in over a dozen writing contests, including Passionate Ink's Passionate Plume, Colorado Romance Writers Award of Excellence, and the National Reader's Choice Awards. Romantic Times has awarded her Top Picks, a KISS Hero Award and a nomination for Best Erotic Romance.
A writing risk-taker, Shayla enjoys tackling writing challenges with every book.
Website | Facebook | Twitter | Pinterest | Instagram | Google+ | YouTube | Blog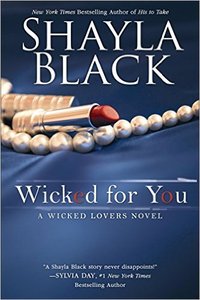 Ever since he rescued her from a dangerous kidnapper, Mystery Mullins has wanted Axel Dillon. When he returned her to her Hollywood father and tabloid life, she was grateful…and a little in love. Mystery wasn't ready to let Axel go, even after the soldier gently turned her away because, at nineteen, she was too young.
Now, six years later, Mystery is grown, with a flourishing career and a full life—but she's still stuck on Axel. Disguised, she propositions him in a bar, and the night they spend together is beyond her wildest dreams. Mystery steels herself to walk away— except the sheets are barely cold when her past comes back to haunt her.
Once he realizes Mystery isn't the stranger he thought, Axel is incensed and intrigued. But when it's clear she's in danger, he doesn't hesitate to become her protector —and her lover— again. And as the two uncover a secret someone is willing to kill for, Axel is determined to claim Mystery's heart before a murderer silences her for good.
1 comment posted.