COUNTERFEIT COUNTESS was the seventh of my novels to be published by a New York publisher, but it represented a shift in my style—a pursuit for humor that continues now more than ten years later. (Note: COUNTERFEIT COUNTESS has been out of print for over ten years and is being relaunched this month, and for the first time ever, it will be an eBook also.)
My first published book, A DUKE DECEIVED with Harlequin Historical, featured a brooding, tortured hero. There was at least one other tortured hero in the next five books and lots of emotional ups and downs in all of them, including particularly the third and fourth of my popular Brides of Bath series (which now numbers six). In fact, they were hanky reads.
After I turned in the fourth Brides of Bath Regency historical, my Zebra editor called me and asked me to write two new, totally different books that would be connected to each other in some way. I asked if she'd read a proposal I'd sent. Her response: "It's pretty dark."
It was.
In those days there were few publishing options. If I wanted to sell more books to Zebra, I knew my editor would prefer "light." So I started brainstorming. To be perfectly honest now, I must tell you I took some of the plot of my favorite movie, Charade, and decided to adapt it to Regency England. A widow who was planning to divorce her husband finds out on his death he wasn't who he claimed to be. With humor. Just like in Charade.
I wrote a first chapter which is basically just like in the published book and my editor said, "I love it!" I had like a one-paragraph synopsis when I got the green light—and the publishing contract and advance money.
It was so much fun, I wrote the book faster than I'd ever written a book before or sense. (There was no social media then, and email wasn't of the volume that it is today.) In ten weeks, I had a completed novel that was published to some acclaim. The reviewer for the American Library Association's Booklist didn't call my COUNTERFEIT COUNTESS hero tortured, but he said he was honorable. I like that!
Now as I'm older, I've come to know myself better. I have analyzed what I like in a book or movie, and humor always factors in. Therefore, I endeavor to make all my books lighthearted now. Sometimes the humor works well; sometimes it's probably a miss.
That is not to say that I have turned my back on emotional depth of characters. That's important. And so is the magic of falling in love.
Do you like humor in your historical romances? What elements are important to you?
Cheryl Bolen is the New York Times Bestselling Author of more than a dozen Regency- set historical romances published by Harlequin Historical and Zebra Historical. Her first book, A Duke Deceived, won her the title of Notable New Author and was a runner up for the Holt Medallion for Best First Book. Her One Golden Ring won the Holt Medallion for Best Historical. Her books have been finalists for many writing awards, including the Daphne du Maurier, have been Barnes & Noble bestsellers, and have been translated into French, Portuguese, Swedish, Norwegian, Italian, Polish, and Japanese.
Admitting to a fascination over dead Englishwomen, she is a regular contributor to the Regency Plume, The Regency Reader and the Quizzing Glass. Many of her interesting articles on Regency England can be found at her website.
She holds an English/journalism degree from the University of Texas and an MS from the University of Houston. Before her first book was published in 1998, she enjoyed careers as a newspaper reporter/editor and as a public school English teacher.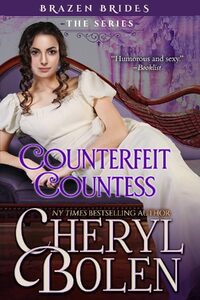 Maggie thought she was married to an earl . . . but it seems that her late and unlamented husband lied to her from the day they met. Now—penniless and stranded in London—she has thrown herself on the mercy of the real Lord Warwick. What's a counterfeit countess to do?
Edward, the Earl of Warwick, desires only to get rid of the beautiful woman who arrived at his house with no less than fourteen trunks, a younger sister, a maid, and a very large cat. Her preposterous explanation is of no importance—but her late husband held the clue to the identity of England's greatest traitor, a clue the Foreign Service must get at any cost. Edward will have to guard her night and day—but he cannot guard his heart.
9 comments posted.