Chanel Cleeton, author of the Capital Confessions series, joins Fresh Fiction to talk about her sexy cast of characters, inspiration, and HOT romance!
Jen: Hi, Chanel. Thank you for joining us on Fresh Fiction!
Chanel: Thanks for having me!
Jen: PLAYING WITH TROUBLE is the second book in the Capital Confessions series, which features three sisters. I love series that feature sisters and this one adds in a dose of political tension and sizzling romance. Where did the idea for this series come from and how has it changed as you've developed the characters?
Chanel: I've always loved politics and I'm a huge Scandal fan, so the idea of setting a series in Washington D.C. was really appealing. Will and Jackie's story (FLIRTING WITH SCANDAL) came to me first. I knew I wanted to write about a political candidate who falls for his intern. Their first meeting at the Hay-Adams hotel came into my mind, and I suddenly knew Jackie had an interesting backstory that would be an obstacle for them to overcome. I realized that she was the illegitimate daughter of a U.S. senator and that her past and issues with her paternity had made her the woman she was. From there, the idea of the Capital Confessions blog was born and I began wondering about her sisters. Blair and Kate's stories began to emerge, but it wasn't until I began writing PLAYING WITH TROUBLE that I realized just how intertwined their lives would be.
This series has been so much fun to write, and it gave me the opportunity to draw on many of my own experiences and interests—attending law school and my passion for politics and international relations.
Jen: If you could pick the perfect movie star cast for Capital Confessions who would you pick?
Chanel: I love this question! It's been so fun seeing the casting choices readers have made for these characters in their teaser graphics. I would love to cast Blake Lively as Jackie, Ryan Reynolds as Will, Leighton Meester as Blair, Tom Hardy as Gray, and Kristen Bell as Kate.
Jen: You're an avid reader and hopeless romantic. :) Which writers have inspired you and continue to inspire you and why?
Chanel: I've been reading romance novels for nineteen years, and they've always been a huge passion of mine. There's nothing like reading a good book to get over a bad day or to inspire you when you're feeling stuck. Some of my favorites include: Judith McNaught, Nora Roberts, Brenda Joyce, Kristen Ashley, Joanna Wylde, Susan Elizabeth Phillips, Jennifer Crusie, Lisa Kleypas, Julie Anne Long, Sarah MacLean, Johanna Lindsey, Loretta Chase, Christina Lauren, and Jenny Han. I love a story that can take me on an adventure.
Jen: Summer has always been one of my favorite times to binge-read or watch a favorite series. What is your current series obsession: TV or book?
Chanel: I just started watching The Americans and I'm really enjoying it. I love the sexy intrigue and D.C. setting. Some of my other favorite shows include: Jane the Virgin, Nashville, all the Real Housewives franchises, The Daily Show, Last Week Tonight, Turn, Homeland, and of course, Scandal. I get a lot of inspiration from TV shows :)
Jen: Can you give us a sneak peek into what is coming after your Capital Confessions series? Where will you be taking your fans to next?
Chanel: My next series will be released by Penguin in ebook and print in 2016. The Wild Aces series features a squadron of F-16 pilots who fly fast, love hard, and risk their lives defending the country they love. The first book, FLY WITH ME, will be out in May 2016, followed by INTO THE BLUE in July 2016, and ON BROKEN WINGS in October 2016. Each book is an adult contemporary romance and can be read as a standalone. This series is HOT and was one of my favorites to write. I promise readers plenty of laughter, swoons, and the occasional tear.
Jen: WOW! Lots to look forward to from you! Thank you so much for joining us!
Chanel: Thanks for hosting me today!
Originally a Florida girl, Chanel Cleeton moved to London where she received a bachelor's degree from Richmond, The American International University in London and a master's degree from the London School of Economics and Political Science. Chanel fell in love with London and planned to stay there forever, until fate intervened on a Caribbean cruise and a fighter pilot with smooth dance moves swept her off her feet. Now, a happily ever after later, Chanel is living her next adventure.
Law school made Chanel realize she'd rather spend her days writing sexy stories than in a courtroom, and she hasn't looked back since. An avid reader and hopeless romantic, she's happiest curled up with a book. She has a weakness for handbags, her three pups, and her husband.
Chanel writes contemporary romances and women's fiction. She is published by Harlequin HQN, Penguin/InterMix, and Penguin/Berkley and is the author of the International School, Capital Confessions, and Wild Aces series.
Website | Facebook | Twitter | Google+ Tumblr | Pinterest | Instagram | Blog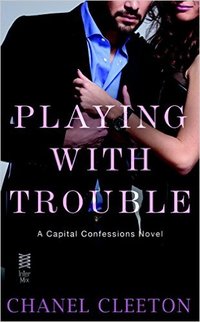 The author of FLIRTING WITH SCANDAL presents her second book in a sexy contemporary romance series about three sisters in a powerful political family, the scandals that threaten to destroy them, and the passion that drives them…
The daughter of one of the Senate's most powerful figures, Blair Reynolds was ready to become the ultimate political wife—until she caught her fiancé cheating on her wedding day. Law school is a fresh start, her shot at putting the pieces of her life back together. That's the plan, at least. Until trouble comes in the form of her Torts professor, the man whose arrogance infuriates her in class but haunts her private fantasies.
Graydon Canter had a fortune and a place on all the hottest "Thirty under Thirty" lists, until a series of personal missteps nearly destroyed his career. A year teaching at a D.C. law school is just the break he needs to get his life back in order, as long as nothing—and no one—trips him up.
When Blair and Gray are forced to work together, their explosive attraction becomes impossible to resist. But Gray's demons have drawn him dangerously close to the edge, and Blair has spent her life playing by the rules. Will she break them for a shot at love?
2 comments posted.