Travel to NYC is always fun, but add in the Romance Writers of America conference and a book launch, and life got really fun, really fast. It all started before I left when I...

A. Was super organized, finished all my work beforehand, and even got to the airport on time.
B. Was an insane nutcase who packed all the wrong clothes, had all the wrong flights, and it was a miracle I didn't get lost on the way from LaGuardia airport to the hotel.
C. Woke early, handled TSA and NYC taxis with aplomb. I only lost it when I realized I'd forgotten my laptop.
D. Spent way too many hours cleaning out "presents" from my cat which she'd dropped into my luggage.

Answer: A. I'm shocked too! Yes, I got the work done ahead of schedule, binge watched Arrow while I was doing laundry and packing, and ended up being very Zen throughout the whole conference. In fact, it was so odd for me that lots of people commented on it and I felt very strange. Who is this calm person? What happened to my zany, nutso life?
THE PLAYER NEXT DOOR by Kathy Lyons released on Tuesday of the conference at a reduced, come try it out price. Immediately I got a ton of reviews and thank God, they all loved the book. And instead of sitting at home obsessively checking my Amazon ranking, I was...

A. Obsessively checking my ranking via my phone while in the hotel lobby.
B. Hanging out at Lady Jane's Salon and winning books from fav author Leanna Renee Hieber.
C.Getting cheap sushi with Damon Suede while he talked about corn flavored ice cream.
D. Sweating to death as I tried to walk in NYC without melting in heat.

Answer: All of the above. When I had a moment, I was watching my ranking, but mostly I was having fun with Leanna and Damon. And yes, he does indeed love corn flavored ice cream. (Must be a NYC thing). And yes, it was sticky hot in NYC, but I seemed to enjoy myself anyway!
If you'd like to see my pictures from New York and RWA, visit my website. I had a fabulous time, and I wish you could have been there with me!
A USA Today Bestseller, Jade Lee has been scripting love stories since she first picked up a set of paper dolls. Ball gowns and rakish lords caught her attention early (thank you Georgette Heyer), and her fascination with the Regency began. And as a Taurus, she lives to pit a headstrong woman against a tortured hero just to watch them butt heads on the way to true love. Flesh wounds are rare, but the healing and laughter are real.
Now an author of more than 30 romance novels, she finally gets to set these couples in the best girl-heaven of all: a Bridal Salon! This way she gets to live out all her wedding fantasies, one by one. (Let's be honest, what girl has only one idea for her dream wedding?)
And don't forget Jade's other name, KATHY LYONS. That's Jade's lighter, contemporary side. She writes for Harlequin Blaze merging hawt sex and funny relationships into really great reads.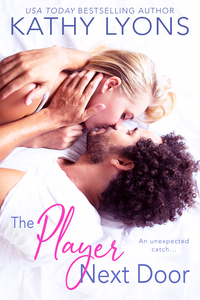 An unexpected catch...
NBA star Mike Giamaria doesn't mix basketball with love. Ever. Then Mike meets Tori Williams, his cute, quirky new neighbor who seems hell bent on refurbishing her death trap of a house on her own. When she falls from her roof and into his arms, Mike knows he's just caught a whole heap of trouble.
Trouble sums up Tori's life. Despite her academic success, no one believes she can take care of herself-not her family, not her ex-boyfriend. She's determined to live her life on her own terms, and if that includes a hot summer fling with the super-sexy athlete next door, so much the better.
But when Tori's around, Mike can't keep his mind on basketball. He wants...more. And to his horror, not just more time on the court. When training starts, it's game over-it has to be-unless Tori can convince Mike that love doesn't belong on the sidelines.
No comments posted.