Mary Kennedy | The Wonderful Wacky World of Dreams

August 4, 2015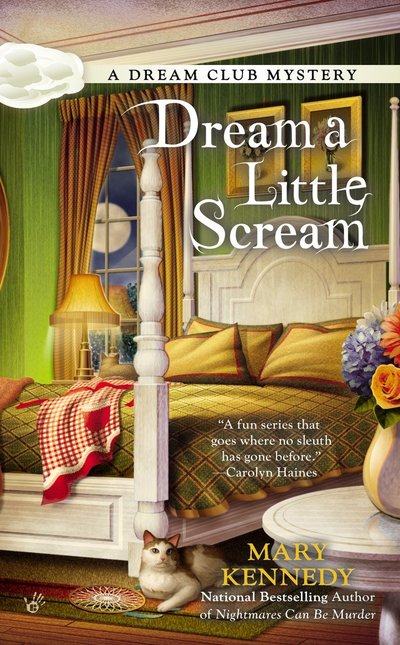 Dream A Little Scream
Mary Kennedy
AVAILABLE
Dream Club Mystery #2

August 2015
On Sale: August 4, 2015
Featuring: Taylor Blake; Etta Mae Beasley
304 pages
ISBN: 0425268063
EAN: 9780425268063
Kindle: B00OQS4E4K
Paperback / e-Book
Add to Wish List

Also by Mary Kennedy:
Love Signs, September 2016
A Premonition of Murder, June 2016
Dream A Little Scream, August 2015
Nightmares Can Be Murder, September 2014

Anything can happen in a dream. You can take on a new persona, explore lands both real and imaginary and have adventures worthy of Johnny Depp in Pirates of the Caribbean. Since dreams are not subject to time and space constraints, you can share a plate of marrons (two closely related species of crayfish in Australia) with Marie Antoinette ("Let them eat cake!") one night and be part of the first space mission ("Houston, we have a problem.") the following evening.
But what are we to make of the strange dream images that flit through our minds as we sleep? They seem so real while we're experiencing them, and sleep studies reveal that our bodies react to dreams with real-life physical stress. Are you climbing a mountain in your dream or swinging from a zip line like Angelina Jolie? Your blood pressure may soar, your heartbeat may rachet up a notch and your chest may feel tight. If you awake and take a few deep breaths, everything will return to normal in a few minutes.
On the other hand, what if you're dreaming of lounging in a meadow, taking in the sweet scent of honeysuckle as you thumb through a book of poetry? Your body will show signs that you are indeed, at rest. Your heart rate will rachet down and your breathing will become slower as your mind enjoys this respite from the cares of the day.
In any case, it's fun to explore our dreams and what they really mean, as the characters in the Dream Club do. The members like to think that they are uncovering clues to solving murders in Savannah and they seem to have had some success. They combine intuition with solid sleuthing skills and some dream work. But do clues from their dreams really solve crimes? Is it luck, or coincidence or a combination of the two? I leave it to the reader to decide.
Mary Kennedy is the author of over forty novels and has made the BookScan, Barnes and Noble and Publisher's Weekly best-seller list. She is a psychologist in private practice on the East Coast and lives with her husband and eight neurotic cats. Both husband and cats have resisted all her attempts to psychoanalyze them, but she remains optimistic.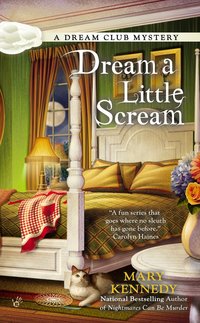 The national bestselling author of NIGHTMARES CAN BE MURDER once again gathers together the members of the Dream Club in Savannah, Georgia, where the book tour of a famous chef becomes a recipe for disaster…
Behind her down-home folksy persona, celebrity chef Sonia Scott is a real Dixie diva who's made plenty of enemies in her climb to the top of the culinary world. One of them is the newest member of the Dream Club, Etta Mae Beasley, who claims Sonia stole her family's recipes and used them in her latest cookbook.
After Sonia's suspicious death from anaphylactic shock at a book signing held at Taylor and Ali's retro candy store, Etta's revelation sows seeds of doubt in Taylor Blake's mind. Now the Dream Club needs to put their heads together to determine if one of their own decided to give the chef her just desserts…
Comments
12 comments posted.
Re: Mary Kennedy | The Wonderful Wacky World of Dreams

The story line for your book is totally different from any other book that I've seen lately, and is so interesting, that I wish I had a copy in my hands, so I could start reading it!! For now, I have to have you on my TBR list, until I can get my hands on a copy. Since I've branched out this year, and have been reading different genres, your book is going to be a very welcomed addition to my Summer reading list. Congratulations on what I'm sure will be a big hit!! The cover is beautifully done, too!!
(Peggy Roberson 4:06pm August 4, 2015)
It sounds like the practice of Lucid Dreaming would be very helpful here.
(Eileen Sheehan 5:20pm August 4, 2015)
Thanks so much for having me as a guest yesterday! Peggy, so glad you liked the cover, thanks for stopping by. And Peggy, you're right, it would be great to learn the art of Lucid Dreaming, not everyone can do it.
(Mary Kennedy 11:08am August 5, 2015)
Looking forward to reading this ASAP!
(Margo Sue Bittner 11:27am August 5, 2015)
I Love these books. They are different than the ones I
normally read. Love the food angle so will be reading this
soon!!!! PLEASE keep this series coming!!!!!!!!
(Sandy Hemsher 11:40am August 5, 2015)
Hi Sandy, there is definitely a lot of delicious food in the series. The members of the Dream Club serve scrumptious desserts at all their meetings. How I wish we had a Dream Club here! Thanks for stopping by.
(Mary Kennedy 12:53pm August 5, 2015)
HI Margo, so glad you are looking forward to it! It was great fun to write this series.
(Mary Kennedy 12:54pm August 5, 2015)
Hi Eileen, I meant to address the Lucid Dreaming comment to you and reference Peggy by mistake. I have known a few people who do "Lucid Dreaming" and it's a fascinating topic. They seem to be aware that they are dreaming and they can change the direction of the dream or even end the dream. This would be very handy if you were having a nightmare!
(Mary Kennedy 12:56pm August 5, 2015)
I've read Dream A Little Scream and I love it! The Dream
Club mysteries are a whole new ballgame in cozies. I've
always been interested in dream interpretation so a dream
club is very intriguing to me. I've learned so much about
interpreting dreams from reading Nightmares Can Be Murder
(the first book in this series) and Dream A Little
Scream. The description of the dream club meetings is so
real that I can almost taste the pastries served. The
mystery is fun to investigate with the main characters.
Murder of course is a serious business but in Savannah
the murderer is sure to be caught & the clues revealed in
dreams help the main character solve the crime.
(Linda Chudej 2:04pm August 5, 2015)
Hi Linda, thank you so much, I am so happy you love the series. I wish we had a dream club in my home town...I would join in a New York minute! Thanks for stopping by
(Mary Kennedy 3:37pm August 5, 2015)
I haven't read this series and the title would not grab my
attention since I do not dream. However, since reading how
the Dream Club works, I am intrigued.
(Connie Reynolds 2:53am August 6, 2015)
Hi Connie, it's very possible that you really do dream, and don't recall them. Sometimes people are heavy sleepers and don't wake up, and sometimes they are taking certain medications that suppress dreams. Glad you find the Dream Club interesting, I'm having a lot of fun with the series. Most studies agree that people "need" to dream--it's the mind's way of making sense of all the thoughts, images, sights and sounds we encounter during the day. Thanks for stopping by!
(Mary Kennedy 7:51am August 6, 2015)
Registered users may leave comments.
Log in or register now!