A big thank you to Fresh Fiction for having me over today to celebrate the release of OVER THE TOP, my brazen small-town contemporary romance featuring a wild cowboy and a whole lot of meddling townspeople! I was asked the other day about small towns and why I like them so much, and I guess it's because I grew up in a small town.
It's much bigger now, but when I was growing up, people still waved from their cars when they passed each other on the street. Everybody knew everybody, which provided little privacy but a lot of safety, I think. My doctor has been my doctor almost my entire life, and he's the doctor for my grandparents, my parents, my siblings, and now my kids. Talk about a whole family history at his fingertips! I really don't know what I'm going to do when he retires.
When I was a junior in high school, I rolled a car while driving around the lake road. I landed on my best friend, Brett, who was a big football player, and we were both fine. (No, we didn't have our seatbelts on…lesson learned there!) Anyway, the police (the dog catcher, actually) took me home, and after my mom calmed down, she ran to the grocery store. The clerk at the store had already heard about the wreck! :)
I have tons of stories, but if you know me, I like lists. So here is a list of the Top 5 best things about growing up in a small town:
1. As a kid, if you get caught doing something you shouldn't, neighbors are a lot more likely to call your folks than the police. (Who probably would call your folks anyway).
2. As an adult with kids, babysitters are probably related to you…and only charge five bucks an hour. If that. They also will make sure your house is clean, because they know their mama is going to ask you the next day.
3. Friday Nights Football games. The entire town shows up…from 10 year olds to 90 year olds and cheers on the team. Same with other teams, but football always seems to be the loudest, you know?
4. When something big happens to a town resident, everybody celebrates. Now that's cool.
5. You can leave your keys in the car and expect it to be there when you get out of the store. Unless your sister or one of your cousins is around. Then you can expect to find your car hidden around a corner somewhere littered with fast-food wrappers.
Thanks again for having me over today, and I sincerely hope you enjoy Hawk and Dawn's story in OVER THE TOP!
New York Times and USA Today Bestselling author Rebecca Zanetti writes dark paranormals, romantic suspense, and contemporary romances. She's sold from the slush pile, from auction, from pre-empt, and most recently from a short conversation with an editor that turned into a five book deal. She believes strongly in luck, karma, and working her butt off…and she thinks one of the best things about being an author, unlike the lawyer she used to be, is that she can let the crazy out.
Currently, she is writing the bestselling Dark Protector series from Kensington, with the tenth book, MARKED, being released in December; the bestselling Sin Brothers series from Grand Central, with TOTAL SURRENDER, book 4, being released in March of 2015, and finally, the Maverick Montana series from Entangled, with RISING ASSETS, the third book, hitting the New York Times and the USA Today Bestseller lists.
Website | Facebook | Twitter | Pinterest Goodreads | Blog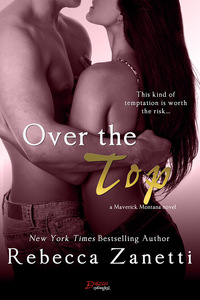 This kind of temptation is worth the risk...
Dawn Freeze had a huge crush on Hawk Rain for years, and the entire town knows it. It's understandable―the man is total hotness. That tall, lean body. Intense dark eyes. And always one foot out the door. Now he's on leave for exactly one week. And this time, he's made it crystal clear that he only wants one thing. Her.
Hawk's been fighting his attraction to Dawn for as long as he can remember. She's his best friend's little sister, and that means hands-off. Except now she's all grown up, and her sweet sexiness is exactly what he craves. But just as Hawk allows himself one mindblowingly intense night with Dawn, he learns that everyone he loves is in danger. Especially her.
And the only way to protect Dawn is to push her away...
2 comments posted.
I would say the best thing about a small town is living in a big town all of your life, then coming to a small town to settle when the timing is perfect!! That's what I did when the chips were basically down in my life, but I'm living with my Husband in the area that I've always loved, and never looked back!! I'm a small-town girl now!! As for your book, the synopsis has me totally entranced, and I'll be putting it on my TBR list right after I get done with this comment. It should do amazingly well, and I'm sure it will be a real page-turner!! Congratulations on what should be one heck of a read!!
(Peggy Roberson 2:17pm July 21, 2015)
As a city gal living amongst 375K people I'm envious of small town living. Love being transported by reading to places that I can only dream of. Thanks for sharing your list.
(Joanne Hicks 10:39pm July 21, 2015)