Ever wonder if real people end up in fiction books?
Can't speak for all authors, but if you know me, you may end up in one of my books.
My friends know, because I tell them, I get the best details for characters from real life. And, I'm constantly looking for good character traits. So, smack that gum when you're angry, keep using those one-liners when you're hurt, or snort at the end of your laugh when you're happy. The vault in my brain is filing every detail away.
George, the over-the-top photographer from ALIVE AT 5 my debut romantic suspense, is based on a real photographer I worked with for years in television news. He's funny, talented, and has the mouth of a sailor. I still can't believe the things he got away with doing and saying. But, I loved his fearlessness! Many people have told me they LOVE George in ALIVE AT 5 because he's crazy. Crazy fun! And that is true in real life as well.
In CUBA UNDERCOVER, the reporter's sidekick is named Dallas "Dawg" Jones. He's based on another long time photographer and friend Eric Moore. Eric was so into helping me. I sat with him one day and read all of Dallas's dialogue in CUBA UNDERCOVER. He changed every line, tweaking it into something that would actually come out of his mouth. Friends who have read CUBA UNDERCOVER in the edit stage say they can actual hear Eric talking. He even posed for a publicity picture with me.
And finally, my hero Antonio Vega in CUBA UNDERCOVER is based on my husband Jorge Figueredo. I met Jorge while on assignment in Cuba, even though he was living in Tampa, where I work. I was doing a story on his family, still divided by a dictator, decades after the revolution in Cuba ended. After writing this book, I asked him to help me with hero's dialogue and actions. I followed him from room to room while he painted rooms in our condo. He listened to every line and would stop me when something didn't sound authentic. Then he'd say, "Linda, Antonio wouldn't say that." "Okay, dear, what would Antonio say?" Jorge would give me the right words for the moment in the manuscript. So, the love of my life really is the voice of Antonio Vega. And that makes this book extra special to me.
Who is next? Wait and see…..
Linda Bond loves to read. She started with those great Nancy Drew books. Remember Nancy Drew and 'The Secret of the Old Clock?" How about 'The Mystery of the 99 Steps?' She really liked smart, gutsy heroines, even at a young age. In high school, Linda discovered historical romances by authors like the great Kathleen Woodiwiss. She read at least three books a week. So many her mother actually called a conference with her teacher, worried, and overwrought that her innocent little girl was reading those trashy romance novels.
What was she learning? Linda's teacher just looked at her mom and said, "Your daughter reads three books a week?" Linda's mother said, "Yes, at least. And I don't know what to do."
"Let her read," Linda's teacher responded. And, so she did.
Harold Robbins and Jackie Collins took Linda out of her high school hallways and into the glamorous Hollywood Hills.
John Grisham, James Patterson, and Harlen Coben can still keep Linda up all night. Turning pages, ladies, turning pages.
Linda lives for a good romantic thriller. Which is probably why she's a reporter. She's addicted to the rush of adrenaline that comes with finding and crafting a great story.
Each day Linda writes about someone's unique life. In Linda's world, 400 words must carry the weight of 400 pages. Linda writes a dreaded synopsis every single day- under deadline.
Now, Linda is retraining herself to do just the opposite. She's punching up her pages with powerful passages. With each new chapter, Linda smiles, because she loves to tell a story.
It's really as simple as that.
The best way to really know Linda Bond is to read what she writes. That's where the real fun begins.
Website | Twitter | Facebook | Blog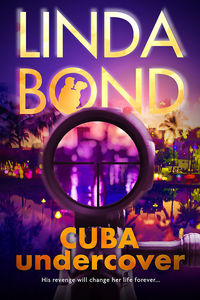 Cuban-American TV reporter Rebecca Menendez's success comes from playing by the rules. When she's kidnapped by a fierce and intensely handsome man who needs her help, however, all of those rules seem pointless. Nothing could have prepared her for being taken hostage…or the irresistible reward if she complies: information about her long-thought dead father.
Antonio Vega has spent almost every day of his adult life dreaming of revenging his father's death. With his sister's life and freedom in jeopardy, Antonio isn't taking any chances. But once Rebecca and Antonio are in Cuba, they're immersed in a world of corruption, deceit, and betrayal. It's a deadly game…and there are no rules.
No comments posted.