5. The sex is fantastic. But what happens after you get busy...that's what blows your mind!
So he knocks on your front door and you don't even make it to the bedroom before you're both stripped down and ready to do things that would make Anastasia and Christian blush...holy hormones on fire!! When it's just lust, the toe-curling physical is all you need, and after the deed is done, you're already hunting down your lacy naughty things so you can make a quick exit...
But then you decide to catch your breath in his arms. And since the bed is so damn comfortable, why not chill out and watch that episode of The Walking Dead you both wanted to see? And all that cardio can really work up an appetite. He just happens to know where to get the most delicious carne asada…
When you're coming up with a million excuses to spend another hour or two together, it's love, not lust!
4. You find yourself thinking about him when you're not together.
The sexting is about to make your phone combust at work, and it's good. But once the hot stuff cools down, discussion about things that are big and hot and wet and ready right now gives way to a little joke about the last annoying customer who came in at work...and then he fills you in about his day off surfing...and you ask about the fishing trip he was planning to take with his grandfather…
What started out as delicious fun turns into something a little sweeter and just as sexy, because, besides the way he drives you wild with passion, you care about the day-to-day things he's going through.
When your thoughts move from purely scandalous to comfortably everyday--and it's still a turn on--it's love!
3. You want him to meet your friends and family.
Your mom is prim and proper Ms. Manners type, his is a total throwback to the 60s, complete with her flowy skirts and penchant for essential oils--and you keep thinking you'd be totally okay with a regular turkey and a tofurkey at Thanksgiving if it meant you'd be able to watch the big game with your guy while you eat his famous pumpkin pie...and maybe steal a can of whipped cream for later...
If you'd love to meet his family and friends and introduce him the most important people in your life--and sneak off to have sex in your old room--it's love!
2. You have fun doing literally anything with him.
Sex is so much fun--sex in cars, sex on the stairs, sex in a big, comfy bed. But when the guy who rocks your world between the sheets makes normal things fun--like cooking dinner, studying, or grocery shopping--you know he's a keeper. So if you want to tag along when he gets a new tattoo or if he's up for the ride when you're driving across town to register for spring semester, things have reached a new level.
If having him around can make anything from a trip to the dentist to a lazy day at the beach the most fun you've ever had, open your eyes! This is love!
1. You let go of all your safety nets...and he did too.
Lust is about fun, zero commitment, variety! Once upon a time the thought of having to face your booty call in the harsh light of morning made a walk of shame sound like loads of fun!
But you're not freaked out when you realize his toothbrush and deodorant have found a permanent home in your bathroom and a few of his shirts are mixed in with your clothes. Those other numbers in your phone--the ones you always kept on hand as convenient back-ups in case your plans fell through last minute? You've deleted them. He turned down his former friend-with-benefits when she invited him on an impromptu weekend getaway, and he let you know he told the cute assistant at work he's not interested in grabbing drinks.
What's brought on this change?
Are you two complete and total idiots? You belong together!
When you're willing to be vulnerable for the other person, and you trust them to do the same for you, you're absolutely, no question, butt-crazy in love!
Lexi Scott is the combined forces of authors and best friends, Liz Reinhardt and Steph Campbell. Together, they write new adult and contemporary romance featuring strong, smart, feisty women and the swoony worthy, good guys who love them. The grew up on opposite coasts- one on the east, one of them on the west, but somehow, both ended up married and raising their families in the Southern U.S.
They love traveling, good food, wine and hoarding books.
Their upcoming release, HIDE ME, is the first book in the Silver Strand series.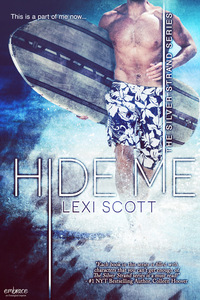 A new adult romance from Entangled's Embrace imprint...
This is a part of me now...
Sometimes it's easier to run...
Ripped apart by guilt and grief, nineteen-year-old Whit Conrad grabs her stuff, runs from her super-conservative family in Pennsylvania, and hauls ass for sunny California. All she wants is escape. But what she gets is a craptastic apartment, a job at a tattoo parlour, and a life that's not her own. Then she meets a sexy, inked surfer who has the potential to capsize everything...
Deo Beckett is adrift. Underemployed and spending his time partying too hard, he knows he should be doing something more with his life. Being something more. All it takes is a pin-up hottie with a smart mouth-and a bruised soul-to force Deo to start looking below the surface. To wonder if there's more to life than being a beach bum. Now he's falling for Whit...hard.
But Whit has secrets, and she'll go to any lengths to keep Deo from discovering her past...
Previously released under the title Lengths August 2012, and has been enhanced with new material.
1 comment posted.