Who would be so wicked as to take a bucolic, friendly village, full of charm and quaint shops, and throw in one senseless murder after another? (Think Norman Rockwell meets Ted Bundy.) Well, that's exactly what cozy mystery writers do. They create an idyllic setting—perhaps a quaint English hamlet, or a southern town nestled in the Appalachian hills—introduce you to a whole host of friendly, likeable town folk and then start killing them off, one by one.
Seems a little demented, huh? Well, not really. First, I'm a small town girl, so setting a mystery in a small town comes naturally to me. And before you jump to all sorts of conclusions about personal vendettas I might be plotting against my own neighbors, let me explain several reasons why a small town makes the perfect setting for a cozy mystery:
- For starters, everyone knows everyone. This makes for plethora of unique dynamics—vicious gossip and hidden secrets—and a lot of fun, familiar interaction between characters.
- Familiarity between characters also creates plenty of personal motivations for murder—greed, jealousy, love affairs gone bad … the possibilities are endless.
- Furthermore, a small town lends itself to a tightly plotted mystery. With limited suspects and a somewhat isolated setting, the reader can easily follow along as the sleuth tracks down the killer.
- And what could be more fun than roaming along with the protagonist through tree-lined streets, in and out of quaint shops, bookstores, lively pubs, flower shops, and restaurants serving delectable local foods… all while tension builds as both reader and sleuth strive to restore justice to a once quiet, peaceful setting.
With my own small town background, I understand the limitations as well as the wonderful possibilities of such a setting. Which is why I injected all sorts of those emotions and characteristics in my latest cozy mystery, PEACHES AND SCREAM, where the fictional town of Cays Mill, Georgia, is home to a wide cast of vivid, quirky and endearing characters. People who share not only a past checkered with family feuds and sinister secrets, but a sense of community pride and a commitment to neighbors. That's why when a murderer strikes in Cays Mill, the stakes are high. Because in a small town, chances are, a friend or neighbor you think you know all-too-well is either the victim … or the murderer.
During her writing career, Susan has worked as a freelance writer, academic writer, and novelist. Her short work has appeared in several national publications including Woman's World magazine. Currently she's busy working on The Georgia Peach Mysteries, soon to be released from Berkley Prime Crime. She has also continued the New York Times bestselling Novel Idea Mysteries, starting with the fourth book in the series, under the pen name Lucy Arlington.
Website | Twitter | Pinterest | Facebook | Goodreads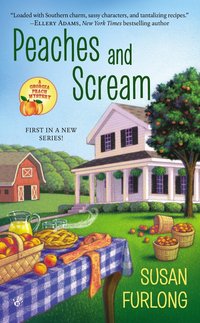 In the first Georgia Peach Mystery, when murder threatens her family's orchard, Nola Harper is ready to pick out the killer and preserve the farm's reputation…
To help run the family peach farm during her parents' absence, Nola Harper returns to her childhood home of Cays Mill, Georgia, and soon discovers that things back at the farm aren't exactly peachy. A poor harvest and rising costs are threatening to ruin the Harpers' livelihood, and small-town gossip is spreading like blight thanks to Nola's juicy reputation as a wild teenager way back when. But Nola really finds herself in the pits when she stumbles upon a local businessman murdered among the peach trees.
With suspicions and family tensions heating up faster than a cobbler in the oven, this sweet Georgia peach will have to prune through a list of murder suspects— before she too becomes ripe for the killer's picking…
INCLUDES RECIPES
1 comment posted.