Any historical fiction author will tell you how we are constantly stumbling across fascinating historical tidbits we wish we could weave into our stories. I have pages and pages of research that simply didn't enhance or advance my stories, and so had to be left out. In the case of A STUDY IN DEATH, I did a great deal of research on Edinburgh's underworld and crime, and I uncovered some interesting and unusual past cases.
The first involved John Hay, an indicted highway robber, who in November 1783 escaped from the Tollbooth, and survived in Edinburgh for six weeks by hiding in a mausoleum in Greyfriars Kirkyard. He did so by being fed by the boys from Heriots School, which stood adjacent. Hay was himself an ex-"Herioter," and so the boys felt they were taking care of their own. Hay then escaped abroad, avoiding prosecution.
Margaret Rannie was hanged for "irregularities of conduct." I discovered no other details as to what these "irregularities" were, but when doctors examined her after her death it was discovered she was "both man and woman," and that her autopsy revealed she had two of every organ—two livers, two hearts, and so on.
"Half-Hangit Maggie" Dickson was tried under the Concealment of Pregnancy Act of 1690, and sentenced to death for child murder in September 1724 because she had a premature baby and then attempted to hide it. She was hanged, declared dead, and then loaded onto a cart to be taken to her hometown of Musselburgh. However, halfway there she woke up. There was much debate about whether she should be re-hanged, but it was eventually decided she should go free. She lived another thirty years.
As Lady Darby abruptly and terrifyingly discovers in A STUDY IN DEATH, the Edinburgh mob is notorious and fickle. Two curious examples of this involve young people. Groups of young boys used to take part in what was known by the general populace as "bickers" or "tulzies." These were essentially running street battles between the boys of different areas of the city (Old Town versus New Town) or different schools (Heriot's versus Watson's). These "battles" mostly involved name-calling and stone- throwing, with few injuries. Sir Walter Scott described them as "only a rough kind of play." When the Town Guard would try to intervene both sides would overlook their quarrels with each other and turn on the guard.
In February 1870, a group of Edinburgh University students decided it would be a lark to toss snowballs at pedestrians on the South Bridge. What started out as relatively- harmless fun quickly escalated when a strong police presence arrived at midday. Armed with "an abundance of ammunition in the shape of snowballs," the students enjoyed hurling them at the police, forcing them to retreat. However, after a second charge, the students dashed back into the university and shut the gates, all the while still continuing to throw snowballs through the iron gates. When the classes at Surgeons Hall were dismissed, they also joined in pelting the frustrated police. More police were called in and they finally subdued the students with truncheons after entering through a rear gate and squeezing them in the middle. The large crowd that had gathered to support the police then turned on them, jeering them for retaliating so harshly. The newspapers described the incident as a "Serious Snowball Riot at the University."
Anna Lee Huber is the RITA and Daphne awards-nominated author of the national bestselling Lady Darby Mysteries, including A Grave Matter, Mortal Arts, and The Anatomist's Wife. She is a summa cum laude graduate of Lipscomb University in Nashville, Tennessee, where she majored in music and minored in psychology. She currently resides in Indiana with her family and is hard at work on the next Lady Darby novel. Book 4, A Study in Death, will release on July 7th, 2015. Visit her online at www.annaleehuber.com.
Website | Facebook | Twitter | Goodreads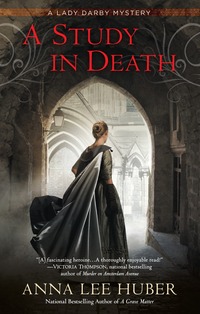 Scotland, 1831. After a tumultuous courtship complicated by three deadly inquiries, Lady Kiera Darby is thrilled to have found both an investigative partner and a fiance in Sebastian Gage. But with her well-meaning-and very pregnant-sister planning on making their wedding the event of the season, Kiera could use a respite from the impending madness.
Commissioned to paint the portrait of Lady Drummond, Kiera is saddened when she recognizes the pain in the baroness's eyes. Lord Drummond is a brute, and his brusque treatment of his wife forces Kiera to think of the torment caused by her own late husband.
Kiera isn't sure how to help, but when she finds Lady Drummond prostrate on the floor, things take a fatal turn. The physician called to the house and Lord Drummond appear satisfied to rule her death natural, but Kiera is convinced that poison is the real culprit.
Now, armed only with her knowledge of the macabre and her convictions, Kiera intends to discover the truth behind the baroness's death-no matter what, or who, stands in her way...
1 comment posted.