Hi there, I'm excited to be back here at Fresh Fiction today celebrating my release of DRESSED TO KILL, Book 4 of the Tourist Trap Mystery series. And like my affection for dive bars, I adore the little tourist trap towns that survive on the tourist trade from coast to coast.
Last year, we visited Deadwood, South Dakota and Mount Rushmore. Now they know how to bring in visitors. You could visit a bear sanctuary, pan for gold, or even learn about history while you drove up the winding road that eventually led you to the historic site. Did I stop and get souvenirs? You, betcha! My favorite is a glass frog that I got at a shop that sold Native American items.
Tourist traps, I love them. Here's a few reasons why.
9. It's a great place to refresh your wardrobe. Nothing says USA like a bright yellow Yellowstone zip up hoodie. My favorite for sitting around a campfire.
8. You can do your Christmas shopping early. Every shop we visited last year had Christmas themed items, especially, tree ornaments. Nothing says Christmas like the young Elvis Presley smiling back at you from a singing ball. Or a bear holding up a holiday greeting sign.
7. If you're traveling with young ones, you can get new toys, coloring books, puzzles to help pass the time. Just don't leave the crayons on the back seat when you lock up the car. When those puppies melt, you've got a mess on your hands. And it decreases the value of your trade in.
6. It's a great place to make the driver stop. My husband is a get in the car and go kind of driver. We've made it from Illinois to Idaho in just over a day. The good news is he's a sucker for souvenirs, in fact, he's looking for a pair of authentic moccasins, so if you find some, let me know.
5. Typically, there's a lot of history in the places. Driving through Kansas, I found several Pony Express stops, right off the main road. Which got my mind wandering. The Lincoln Museum in Springfield, Illinois is a great place to spend a day or an afternoon. So much stuff they don't teach you in sophomore history. (Or I've forgotten.)
4. You can show off your vacation photos on Facebook. Even if they're taken from the car as you whizzed past.
3. They're an easy place to pick up collectibles. I've got a bag of antique (now – LOL) Beanie Babies I picked up while walking through tourist towns.
2. You can visit other countries without carrying a passport. I loved visiting Seattle's World Fair exhibit with all the international shops. It's a great place to check out your heritage.
And the #1 reason to visit a tourist trap? It's fun. As I'm writing the series, I love walking through the streets of South Cove and checking on my old friends. It may be a virtual vacation, but sometimes in this busy world, virtual is better than no vacation at all.
So what about you? Do you love visiting tourist traps? Are your china cabinet shelves lined with shot glasses, one from every state? Or are you a spoon collector like me? My son even brought me back spoons from Europe when he took his senior French class trip.
New York Times and USA Today best-selling author, Lynn Cahoon is an Idaho native. If you'd visit the town where she grew up, you'd understand why her mysteries and romance novels focus around the depth and experience of small town life. Currently, she's living in a small historic town on the banks of the Mississippi river where her imagination tends to wander. She lives with her husband and two fur babies.
Website | Facebook | Goodreads | Twitter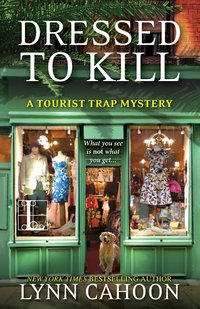 Jill Gardner—owner of Coffee, Books, and More in the tucked-away town of South Cove, California—is not particularly thrilled to be portraying a twenties flapper for the dinner theater murder mystery. Though it is for charity…
Of course everyone is expecting a "dead" body at the dress rehearsal…but this one isn't acting! It turns out the main suspect is the late actor's conniving girlfriend Sherry…who also happens to be the ex-wife of Jill's main squeeze. Sherry is definitely a master manipulator…but is she a killer? Jill may discover the truth only when the curtain comes up on the final act…and by then, it may be far too late.
No comments posted.