Sweet tea! I'm Southern, after all. And the recipe is so simple. –Catherine
Ingredients:
6-8 large tea bags
3-4 cups sugar (or your low calorie sweetener of choice)
Lemon (optional)
Mint leaves (optional)

Directions:
- Get a gallon drink dispenser. Place 6-8 large tea bags in the container. Place the lid on top with the tags dangling out.
- Set the container in the window sill all day.
- At the end of the day, pull out the tea bags. Add 3-4 cups or sugar (or your low calorie sweetener of choice) and refrigerate. Especially yummy if add lemon slices or mint leaves.
USA Today bestselling author Catherine Mann has over two million books in print in more than twenty countries. A winner of the prestigious RITA Award, she pens military romantic suspense novels for Berkley and Sourcebooks, as well as steamy romances for Harlequin. Catherine resides in Florida with her military flyboy husband, their four children and menagerie of pets.
Website | Facebook | Twitter | Goodreads | Pinterest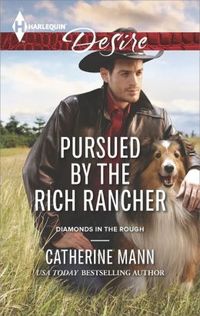 A millionaire cowboy must woo a single mom to earn his inheritance! Only from USA TODAY bestselling author Catherine Mann.
Single mom Nina Lowery has never understood the sex appeal of cowboys. Until she brings her son to a weeklong horse camp and meets the wealthy rancher in charge.
Seduction isn't part of Alex McNair's plan to earn his piece of his family's estate. Yet plans have a way of changing. Nina and her little boy hold the key to Alex's future. Breaking the promise he made to his dying grandmother is not an option-but neither is breaking Nina's heart.
No comments posted.