A KISS FOR LADY MARY is the seventh full novel in my Marriage Game series. By this time, I've written all sorts of heroes: Sweet, difficult, rakes, ones that have it all together, and ones that don't. They all had one thing in common. None of them balked at seducing the woman they loved into marriage, or, in one case, into a real marriage. Then along came Kit Featherton. An Alpha hero who seems to have it all together. Strong, handsome, the perfect gentleman, who refuses to seduce his way out of a completely scandalous situation. In fact, he almost made a perfect mess out of courting his lady.
I never make play lists, but two songs kept playing in my head, and, it seemed, on the radio when I was in the car.
The first was Hello, Good-by, by The Beatles.
"You say yes, I say no, You say stop and I say go go go, oh no, You say goodbye and I say hello, Hello hello, I don't know why you say goodbye, I say hello, Hello hello, I don't know why you say goodbye, I say hello."
The second was Hot N' Cold by Katie Perry.
"'Cause you're hot then you're cold. You're yes then you're no. You're in then you're out. You're up then you're down. You're wrong when it's right. It's black and it's white.
It was then I realized that the push me-pull me sort of thing occurs all the time in relationships, and has been happening for hundreds of years. It just makes getting my hero and heroine to a Happily Ever After a little more challenging.
How do you like your heroes?
Bestselling author Ella Quinn's studies and other jobs have always been on the serious side. Reading historical romances, especially Regencies, were her escape. Eventually her love of historical novels led her to start writing them. She has just finished her first series, The Marriage Game, and her new series will start in April 2016.
She is married to her wonderful husband of over thirty years. They have a son and granddaughter, one cat and a dog. After living in the South Pacific, Central America, North Africa, England and Europe, she and her husband decided to make their dreams come true and are now living on a sailboat cruising the Caribbean and North America.
Ella is a member of the Romance Writers of American, The Beau Monde and Hearts Through History. She is represented by Elizabeth Pomada of Larsen-Pomada Literary Agency, and published by Kensington.
EllaQuinnAuthor.com | Facebook | Twitter | Blog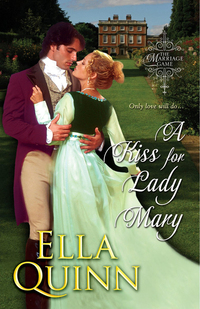 Ella Quinn's bachelors do as they like and take what they want. But when the objects of their desire are bold, beautiful women, the rules of the game always seem to change…
Handsome, charming, and heir to a powerful Viscount, Christopher "Kit" Featherton is everything a woman could want—except interested in marriage. So when he hears that someone on his estate near the Scottish border is claiming to be his wife, Kit sets off to investigate.
Since her parents' death, Lady Mary Tolliver has been hounded by her cousin, a fortune- hunting fool after her inheritance. Refusing to settle for anything less than love, Mary escapes to the isolated estate of rakish bachelor, Kit Featherton. Knowing he prefers Court to the country, she believes she will be safe. But when Kit unexpectedly returns, her pretend marriage begins to feel seductively real…
3 comments posted.
LOL, Andrea! It is interesting to see what they are going to do. Thanks for commenting!
(Ella Quinn 12:14pm May 26, 2015)