Kaylea Cross | Female Military Heroines Rule

April 12, 2013
AVAILABLE
Bagram Special Ops #2

March 2013
On Sale: March 11, 2013
Featuring: Ryan Wentworth; Candace Bradford
ISBN: 1426895186
EAN: 9781426895180
Kindle: B00APEXMKQ
e-Book
Add to Wish List

Also by Kaylea Cross:
Dangerous Attraction, November 2013
Singed, July 2013
Ignited, June 2013
Tactical Strike, March 2013

I love writing military alpha male heroes, but with my Bagram Special Ops series I wanted to do something different. I've read very few romances about military heroines, especially active duty ones, and it was important to me to showcase what some of the incredible women in the military are doing overseas in harm's way.
In the first book of the series, DEADLY DESCENT, the heroine is Captain Devon Crawford, a Black Hawk medevac pilot. The heroine of book two, TACTICAL STRIKE, is Captain Candace "Ace" Bradford, and her job is just plain badass.
Ace is a pilot on a AC-130U "Spooky" gunship crew. There aren't very many of them, let alone females. She's worked long and hard to earn her place in Air Force Special Operations Command, and to win her spot on the crew. Her aircraft is one of the most specialized in the Air Force arsenal, and it's easy to see why when you read its mission profile:
From The Aviation Zone: "The Lockheed AC-130H/U is a fixed-wing, side-firing aerial gunship that provides close air support, air interdiction and force protection. Close air support missions include troops in contact, convoy escort and urban operations. Air interdiction missions are conducted against preplanned targets or targets of opportunity. Force protection missions include air base defense and facilities defense. Secondary missions include armed reconnaissance, forward air control, limited command and control, and combat search and rescue."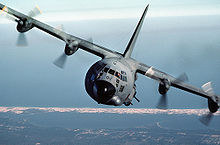 In TACTICAL STRIKE, you get to see Ace and the Spooky II at work with a USAF Combat Controller ("CCT" and hero of the book) on the ground. The results are pretty explosive!
Gunship pilot Captain Candace Bradford has worked long and hard to earn her rank and position within the male-dominated world of Air Force Special Operations. She's not about to let anything or anyone jeopardize that, let alone one sinfully tempting man who seems determined to cause her nothing but trouble. Even if she's starting to fall for him.
As an elite Combat Controller, Staff Sergeant Ryan Wentworth is used to overcoming adversity in order to complete a mission. Breaking through Candace's prickly exterior and into her heart is a challenge he can't let go. But just when he's begun to gain her trust, they're thrown together in the field facing an overwhelming enemy force.
Candace and Ryan find themselves on the run, searching the skies for an emergency extraction. But one dangerous enemy has an agenda in mind and he'll use whatever means necessary to achieve it, including using American forces to do his dirty work.
I hope I've piqued your interest enough to want to read the Bagram Special Ops series. And, TACTICAL STRIKE is currently on sale for only $2.99! To enter the giveaway for a digital copy of one of my titles, please leave me a comment.
Happy reading!
Kaylea Cross
Kaylea Cross is an award winning author of edge-of-your-seat romantic suspense. A Registered Massage Therapist, Kaylea is an avid gardener, artist, Civil War buff, Special Ops aficionado, belly dancer and former nationally-carded softball pitcher. She lives in Vancouver, BC with her husband.
You can find Kaylea through her website, Twitter, Facebook, and her blog.
One commenter will win their choice of Kaylea's books - digital copy
Comments
39 comments posted.
Re: Kaylea Cross | Female Military Heroines Rule

This sounds so interesting. I've never read one of your books
before but after reading this your series is definitely going
on my TBR list.
(Jennifer Boyett 3:26am April 12, 2013)
There are many women in harm's way in our military. Thanks for bringing this out in your books. I know a real life female hero and it isn't a easy life for them.
(Kathleen Yohanna 3:45am April 12, 2013)
wow looks amazing this book :D wpould love to win
(Rachael Kennedy 4:38am April 12, 2013)
This book sounds wonderful and look forward to others you have written.
(C Culp 6:34am April 12, 2013)
I've only read one military heroine so far, and she was a decoy - dressed like a good-time girl to lure a rich Arab playboy. So even though she had full military training she wasn't in a real warzone. Your tale would be an interesting comparison.
(Clare O'Beara 7:48am April 12, 2013)
Yes I would love to read this book. Thanks so much for telling me about it!
(Bonnie Capuano 9:00am April 12, 2013)
Great to see "girl power" used! Would love to win!
(Brittany Savage 9:31am April 12, 2013)
Your book TACTICAL STRIKE sounds like a fantastic read. My
husband Jesus would love it because he was going to be in
the Marines till he was hurt in a bad auto accident. We
would love to read more about Captain Candace Bradford and
Staff Sergeant Ryan Wentworth on their mission and romance
too. We really appreciate you caring enough for women in the
military and writing about their great adventures. Thank You
very much and we Pray for all military personnel too. Thanks
and God Bless You and everyone. Cecilia CECE and Jesus
(Cecilia Dunbar Hernandez 11:01am April 12, 2013)
looks really great..
(Kent Cook 11:13am April 12, 2013)
Sounds like a great book. Thanks so much for the chance to win a copy. Best of luck with it.
(Nancy Reynolds 11:41am April 12, 2013)
Sounds like a great series, I can't wait to read them.
(Maggie Malia 12:08pm April 12, 2013)
I've read all your books and they're awesome...highly recommend!!! I especially enjoyed Tactical Strike...Ace was a completely bad ass female...would love to be her!!
(Kris Gilson 12:12pm April 12, 2013)
Every military type book I've read
has been about a male who is either
in the armed forces or is a former
member of and the woman he falls for
is always a civilian so I've never
read a book where the female is a
member of the military...I'm
definitely looking forward to
reading Tactical Strike for this
reason.
(Timitra Cozier-Bobb EHL- 1196 1:16pm April 12, 2013)
sounds like a good book!
(Debbi Shaw 1:54pm April 12, 2013)
Hi, Jennifer! Thank you, I hope you enjoy it :).
(Kaylea Cross 2:14pm April 12, 2013)
Kathleen, no it's not an easy life at all! And not for their families, either. Thanks for commenting!
(Kaylea Cross 2:14pm April 12, 2013)
Hi, Rachel and Carletta. Thanks!
(Kaylea Cross 2:15pm April 12, 2013)
Clare, I try to be as accurate as possible (within reason)in my military books. I put a lot of work into the research.
(Kaylea Cross 2:15pm April 12, 2013)
Bonnie and Brittany, thanks!
(Kaylea Cross 2:16pm April 12, 2013)
Cecilia, thank you! I hope I do our men and women in uniform justice. I sure do admire them. Best wishes to you and your Marine :).
(Kaylea Cross 2:17pm April 12, 2013)
Kent, Nancy and Maggie, thank you! I love military characters.
(Kaylea Cross 2:17pm April 12, 2013)
Kris, that's awesome! Thank you so much. And by the way, if you thought Ace was badass, wait 'til you get a load of Maya in her book. She makes Ace look like a wuss!
(Kaylea Cross 2:18pm April 12, 2013)
Timitra, I agree, most of the books I've read have featured military men with civilian heroines. Writing both heroes and heroines as current military is very tricky because of the fraternization rule.
(Kaylea Cross 2:19pm April 12, 2013)
Oh I have not gotten this series yet, but have it written down on my want list!
(Colleen Conklin 2:51pm April 12, 2013)
I have never read one of your books but I am an avid reader. I
would love to read one of your military books especially your
new one. I think the woman military person for an action book
is wonderful. I hope I get to read yours.
(Kim Hilts 4:33pm April 12, 2013)
Colleen, I hope you enjoy it! I love the action scenes :).

Kim, thank you. I'm proud to have written about these amazing women!
(Kaylea Cross 5:00pm April 12, 2013)
I love seeing a book with a female military character! It's
been great getting to know your work, Kaylea!
(Natalie Field 5:05pm April 12, 2013)
Book sounds great. Thanks for a chance to win.
(Linda Hall 5:47pm April 12, 2013)
I don't see the difference if the women are on the sideline especially when they are in the war zone. If they are in the military, they are already putting their lives at risk. War is War. There are no difference.
(Kai Wong 5:56pm April 12, 2013)
Awesome. Women are equal so there shoukd be more bks abt
female military heroines.
(Vicki Hancock 6:14pm April 12, 2013)
It's about time that we have some writing about our female military heroines!
(Sue Farrell 7:32pm April 12, 2013)
Love your books, Kaylea! Can't wait to read LETHAL PURSUIT,
book 3 in the Bagram Special Ops series.
(Mary C 7:42pm April 12, 2013)
Tactical Strike sounds fabulous. Can't wait to read. Thanks for the
giveaway. Have not read your books; but will in the future.
Lori
(Lori Thomas 8:00pm April 12, 2013)
Interesting books. Sound very intriguing
(Lisa Fitzgibbons 8:47pm April 12, 2013)
Your books are great to read, hope could get in epud format
(T. Glenn 10:32pm April 12, 2013)
I thoroughly enjoy reading about the military. Looking forward to reading more!
Good luck and happy writing!
(Tracie Travis 11:18pm April 12, 2013)
You have piqued my interest. I love the idea of reading about
women in the military.
(Mary Preston 11:50pm April 12, 2013)
I haven't heard about "spooky gunships" since when I talk with my hubby about his time in Viet Nam-- but they still are used in Iraq & Afghanistan-a very well built piece of machinery. I bought your book since I love military stories.
(Suzanne Bischoff 4:04pm April 17, 2013)
I am excited, that I won one of your books. Tactical Strike, would be my
first choice, want to thank you for for this giveaway.
(Teresa Harrell 2:58pm April 19, 2013)
Registered users may leave comments.
Log in or register now!