Enjoy these new urban fantasy reads coming out this October.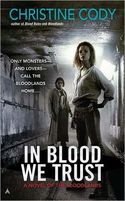 IN BLOOD WE TRUST by Christine Cody (Ace, 9/27/2011, $7.99, Bloodlands)
The compelling post-apocalyptic series continues. They are monsters: Mariah, the reluctant rebel who has become a god to others of her kind, and Gabriel, the vampire, who loves her at his own peril. They have returned to the Bloodlands, where their story began—to face the horrors of Mariah's past and the uncertainties of Gabriel's future—and to make a final stand, for their lives—and their love.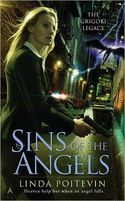 SINS OF THE ANGELS by Linda Poitevin (Ace, 9/27/2011, $7.99, Grigori Legacy)
Heaven help her when an angel falls—first in a fantastic new paranormal series. When homicide detective Alexandra Jarvis is assigned a new partner in Aramael, a Guardian Angel who doubles as a hit man, they have only one thing in common: a fallen angel hell-bent on triggering the apocalypse. Now they have no choice but to work together—relentlessly, fearlessly, intimately. Because only they can stop the rogue angel from ushering in the end of days.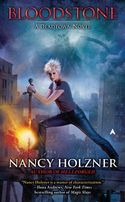 BLOODSTONE by Nancy Holzner (Ace, 9/27/2011, $7.99, Deadtown)
Boston's Back Bay district is known for high society, not lowlifes. So when mutilated human bodies begin turning up in the area, the entire city takes notice. And even though there's no real evidence pointing to a paranormal culprit, the deaths are straining relations between human and inhuman residents. As the bodies pile up, demon-hunter Vicky Vaughn investigates, only to find that the creature behind the carnage is after much more than just blood.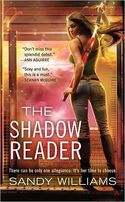 THE SHADOW READER by Sandy Williams (Ace, 10/25/2011, $7.99)
A Houston college student, McKenzie Lewis can track fae by reading the shadows they leave behind. For years she has been working for the fae King, tracking rebels who would claim the Realm. Her job isn't her only secret. She's in love with Kyol, the King's sword-master—but human and fae relationships are forbidden. When McKenzie is captured by Aren, the fierce rebel leader, she learns that not everything is as she thought. And McKenzie must decide who to trust and where she stands in the face of a cataclysmic civil war.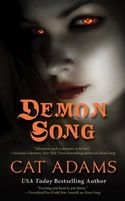 DEMON SONG by Cat Adams (TOR, October 2011, $7.99 Reprint)
In a world where magic is real and the supernatural is almost normal, bodyguard Celia Graves has survived a vampire attack which made her a half-vampire and awakened her latent Siren abilities. She's battled a Siren Queen to the death and twice faced down a demon that wants to kill her. She's also had her heart broken—twice—by her old flame, magician Bruno DeLuca. An ancient rift between the demonic dimension and our own—sealed during the destruction of Atlantis—begins to open, threatening to loose all the demons of Hell on humanity. To overcome a death curse which nearly guarantees her failure, she'll need to join forces with people she no longer trusts, and put people she has come to care about directly in harm's way.

Enjoy!
No comments posted.