Tis the season where things go bump in the night. Sit back, keep the light on, and enjoy these new exciting paranormal romances coming out this October.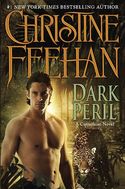 DARK PERIL by Christine Feehan (Jove, 10/4/2011, $7.99 Reprint)
There's only one way for Dominic—one of the most powerful of the Carpathian Dragonseekers—to learn the secrets of the enemy: ingest their parasitic vampire blood, infiltrate the camp, and relay the information to the Carpathians. But to do it, he first has to make it out of the camp alive.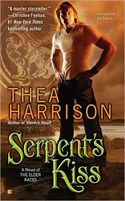 SERPENT'S KISS by Thea Harrison (Berkley, 10/4/2011, $7.99, Elder Races)
Recently, Vampire Queen Carling's power has become erratic, forcing her followers to flee. Wyr sentinel Rune is drawn to the ailing Queen and decides to help find a cure for the serpent's kiss—the vampyric disease that's killing her. With their desire for each other escalating, they will have to rely on each other if they have any hope of surviving the serpent's kiss.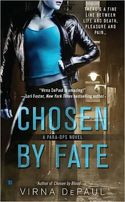 CHOSEN BY FATE by Virna DePaul (Berkley, 10/4/2011, $7.99, Para-Ops)
Experience Virna DePaul's intriguing world protected by an elite Para-Ops team with a unique set of skills. Although he keeps company with a vampire and a were, human Shaman Caleb O'Flare can definitely hold his own. But neither his psychic ability nor his healing powers can help his sexy-as-hell teammate, Wraith—a ghost with no memory of her human existence, who cannot experience touch without pain. No wraith has managed to exist past its tenth year, so her time is about to run out. She wants only two things before accepting her fate: to learn her human identity, and experience one night with Caleb.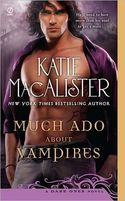 MUCH ADO ABOUT VAMPIRES by Katie MacAlister (Signet, 10/4/2011, $7.99, Dark Ones)
New in the Dark Ones series from Katie MacAlister, Corazon Ferreira is a jaded woman. Turns out she was a vampire's mate in a past life. And no matter how distractingly gorgeous he is, she just can't get the image of him killing someone out of her head. But when her life depends on him, Corazon's going to have to stop overthinking things—and start trusting her heart.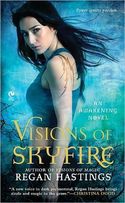 VISIONS OF SKYFIRE by Regan Hastings (Signet, 10/4/2011, $7.99, Awakening)
A brand new novel in an exciting paranormal romance series. Teresa Santiago has awakened her abilities to summon lightning but is unable to control her power—or her attraction to Rune, her Eternal protector and destined partner. Now, Teresa and Rune must locate a missing artifact of unimaginable power before it unleashes the forces of darkness on the world. But with enemies both mortal and magical on their trail, Teresa and Rune discover that only through sacrifice will love conquer all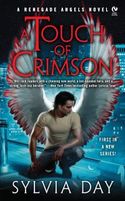 A TOUCH OF CRIMSON by Sylvia Day (Signet, 10/4/2011, $7.99, Renegade Angels)
First in a new series. Can true love survive a war between angels, vampires and lycans? Adrian Mitchell is a powerful angel leading an elite Special Ops unit of Seraphim. His task is to punish the Fallen—angels who have become vampires—and command a restless pack of indentured lycans. But Adrian has suffered his own punishment for becoming involved with mortals—losing the woman he loves again and again. Now, after nearly two hundred years, he has found her—Shadoe—her soul once more inhabiting a new body, with no memory of him. And this time, he won't let her go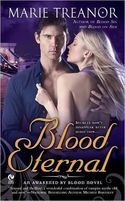 BLOOD ETERNAL by Marie Treanor ( Signet, 10/4/2011, $7.99, Awakened by Blood)
Secrets don't disappear after seduction. Despite the growing passion that unites them, all is not well between Elizabeth and Saloman. She refuses to follow him as he builds his influence among the human population and consolidates his rule over the vampire world. A shocking revolt is just the latest crisis that's called him away. But under Saloman's regime, vampires have become less concerned with secrecy. And after he joins forces with vampire hunters, Elizabeth begins to understand the inevitable collision of the two worlds. She could be a conduit between humanity and the undead—if she can manage to play both sides and stay alive.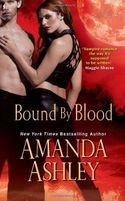 BOUND BY BLOOD by Amanda Ashley (Zebra, October 2011, $7.99)
Zack Ravenscroft loves women—all women—and they love him. The irresistibly seductive owner of the hottest casino in Nevada, Zack has tasted every wicked pleasure Sin City can offer. But never in his 600 years as a vampire has he seen a morsel as delectable as Kaitlyn Sherrad, the mysterious young newcomer in town. Zack knows nothing about her—except that he craves her. Kaitlyn is half vampire, half human—and all woman. As the cherished daughter of the Carpathian Coven's master, she has been given every luxury a girl could desire. Now her only need is for a prince. But though she's ready to gamble her heart on Zack, a powerful enemy stalks their every move…watches their every kiss…and waits to destroy their undying love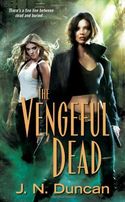 THE VENGEFUL DEAD by J.N. Duncan (Kensington, October 2011, $7.99)
Paranormal fans will devour this newest page-turner in this exciting, sophisticated urban fantasy series from J.N. Duncan—featuring a hard-bitten, hard-drinking FBI agent, and her love interest, vampire Nick Jackie Rutledge just can't put her past to rest. Her Bureau partner is dead, but not gone. Worst of all, a wrenching journey into Deadworld has given her unwanted new abilities. Now a merciless force capable of possessing humans is on a killing spree, destroying the guilty and innocent alike. It isn't long before Jackie is a prime suspect, struggling to stay two steps ahead of her savvy new partner, and her undead P.I. and paramour, Nick. But to clear her name, she'll have to take on her greatest challenge yet: confronting an inner darkness as inescapable as the one she hunts—and capable of annihilating more than her soul.


THE BITE BEFORE CHRISTMAS by Heidi Betts (Brava, October 2011, $6.99 Reprint)
In this extraordinary collection of holiday novellas from national bestselling author Heidi Betts, vampires turn to Angelina Ricci—vampire matchmaker extraordinaire—to help them find that special someone to curl up with under the mistletoe.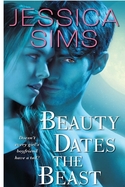 BEAUTY DATES THE BEAST by Jessica Sims (Pocket, 10/25/11, $7.99)
From a debut author, this is the first book in a sizzling new romance series about a paranormal dating service called Midnight Liaisons. WANTED: Single human female to join charming, wealthy, single male were-cougar for a night of romantic fun—and maybe more.
Enjoy!
No comments posted.