Take your escape from the every day with these great urban fantasy reads. These heroines may not get a vacation day, but luckily you can sit back, put your feet up, and enjoy these adventures and escape the stress of your every day.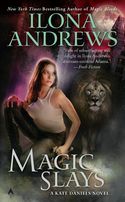 MAGIC SLAYS, Ilyona Andrews (Ace, June 2011, $7.99, Kate Daniels)

Kate Daniels has quit the Order of Merciful Aid, but starting her own business isn't easy when the Order starts disparaging her good name. And being the mate of the Beast Lord doesn't bring in the customers, either. So when Atlanta's premier Master of the Dead asks for help with a vampire, Kate jumps at the chance. Unfortunately, this is one case where Kate should have looked before she leapt.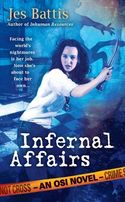 INFERNAL AFFAIRS, Jes Battis (Ace, June 2011, $7.99, OSI)

A dead body on the beach turns out to be a live demon on the run from some of the nastiest bounty hunters in this dimension—or the next. Protecting one demon from another, Tess gets wrapped up in a case that's as dangerous as it is mind- boggling, especially when it begins to involve her own past.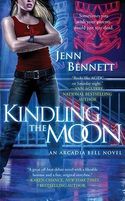 KINDLING THE MOON, Jenn Bennett (Pocket, June 2011, $7.99, Arcadia Bell Novel)

Meet Arcadia Bell: bartender, renegade magician, fugitive from the law. Being the spawn of two infamous occultists isn't easy, but freewheeling magician Arcadia "Cady" Bell knows how to make the best of a crummy situation. After hiding out for seven years, she's carved an incognito niche for herself slinging drinks at the demon-friendly Tambuku Tiki Lounge. But she receives an ultimatum when unexpected surveillance footage of her notorious parents surfaces: either prove their innocence or surrender herself. Unfortunately, the only witness to the crimes was an elusive Æthyric demon, and Cady has no idea how to find it. She teams up with Lon Butler, an enigmatic demonologist with a special talent for sexual spells and an arcane library of priceless stolen grimoires. Their research soon escalates into a storm of conflict involving missing police evidence, the decadent Hellfire Club, a ruthless bounty hunter, and a powerful occult society that operates way outside the law. If Cady can't clear her family name soon, she'll be forced to sacrifice her own life . . . and no amount of running will save her this time.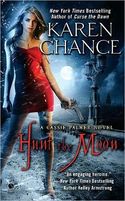 HUNT THE MOON, Karen Chance (Signet, June 2011, $7.99, Cassie Palmer)

Cassandra Palmer recently defeated a god, which you'd think would buy a girl a little time off. But it doesn't work that way when your new job description is Pythia—the world's chief clairvoyant. Cassie is busier than ever, trying to learn about her power, preparing for her upcoming coronation, and figuring out her relationship with the enigmatic sexy master vampire, Mircea.

But someone doesn't want Cassie to become Pythia, and is willing to go to any lengths to make sure the coronation ceremony never happens—including attacking her mother before Cassie iseven born.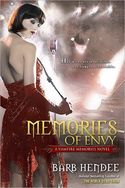 MEMORIES OF ENVY, Barb Hendee (ROC, June 2011, $7.99, Vampire Memories)

Reluctant vampire Eleisha Clevon has made a home for herself and other vampires in Portland, Oregon, teaching them to feed without killing. But vampire Simone Stratford wants nothing to do with her. Simone loves to feed, and to play twisted games with her victims before striking.When Eleisha and her protector, Philip Branté, go to Denver to search for Simone, what they find is far worse— and more seductive—than either one bargained for.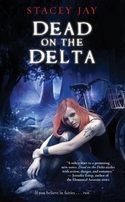 DEAD ON THE DELTA, Stacey Jay (Pocket, June 2011, $7.99)

Once upon a time, fairies were the stuff of bedtime stories and sweet dreams. Then came the mutations, and the dreams became nightmares. Mosquito-size fairies now indulge their taste for human blood—and for most humans, a fairy bite means insanity or death. Luckily, Annabelle Lee isn't most humans. The hard-drinking, smart-mouthed, bicycle-riding redhead is immune to fairy venom, and able to do the dirty work most humans can't. Including helping law enforcement— and Cane Cooper, the bayou's sexiest detective—collect evidence when a body is discovered outside the fairy-proof barricades of her Louisiana town. But Annabelle isn't equipped to deal with the murder of a sixyear- old girl or a former lover-turned-FBI snob taking an interest in the case. Suddenly her already bumpy relationship with Cane turns even rockier, and even the most trust-worthy friends become suspects.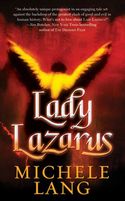 LADY LAZARUS, Michele Lang (TOR, June 2011, $7.99)

The romantic saga of a beautiful young witch and the angel she loves, who fight hitler's demonic minions on the eve of World War ii. With the romance of Twilight, the suspense of The Dresden Files, and the delicious thrills of True Blood, the enthralling saga of Magdalena Lazarus unfolds. Descended from the legendary witch of Ein Dor, she alone holds the power to summon the angel Raziel and stop Hitler and his supernatural minions from unleashing total war in Europe. The Nazis have fighters more fearsome than soldiers, weapons more terrifying than missiles, and allies that even they fear: SS werewolves, the demon Asmodel—who possesses a willing Adolf Hitler—and other supernatural creatures that are all literally hell-bent on preventing Magda from possessing the Book of Raziel, a magical text with the power to turn the tide against Hitler's vast war machine. Magda, young and rebellious, grew up in the cosmopolitan city of Budapest, unaware of her family's heritage. When her mother dies, Magda—ready or not—is the Lazarus who must face the evil that holds Europe in an iron grip. Unready to assume the mantle of her ancient birthright, but knowing that she must fight, she sets out across Europe searching for the Book. Magda is desperate enough to endanger her soul by summoning the avenging angel Raziel. When she sees him in the glory of his celestial presence, her heart is utterly, completely lost.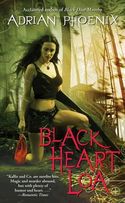 BLACK HEART LOA, Adrian Phoenix (Pocket, June 2011, $7.99)

Kallie Rivière, a Cajun hoodoo apprentice with a bent for trouble, learned the meaning of those ominous words when hoodoo bogeyman Doctor Heron targeted her family for revenge. Now, while searching for her still-missing bayou pirate cousin, Kallie finds out the hard way that someone is undoing powerful gris gris, which means that working magic has become as unpredictable as rolling a handful of dice. The wards woven to protect the Gulf coast are unraveling, leaving New Orleans and the surrounding bayous vulnerable just as an unnatural storm—the deadliest in a century—is born. As the hurricane powers toward the heart of all she loves, Kallie desperately searches for the cause of the disturbing randomness, only to learn a deeply unsettling truth: the culprit may be herself. To protect her family and friends, including the sexy nomad Layne Vallin, Kallie steps into the jaws of danger . . . and finds a loup garou designed to steal her heart—literally.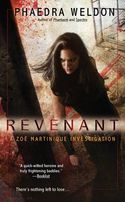 REVENANT, Phaedra Weldon (Ace, June 2011, $7.99, Zoë Martinique)

Zoë Martinique is getting used to the strange turn her life has taken since she discovered her ability to travel outside her body. Now beings from another astral plane are being hunted by her old enemy, the Phantasm, and it's up to her to save them and preserve the cosmic balance.
Enjoy- Sara Edmonds
No comments posted.