With the fall leaves comes deliciously cooler weather that just begs for a comfy chair, a warm blanket and a cozy mystery to curl up with.
This month, I'm combining my look at what's new in cozy mysteries this month with my author interview.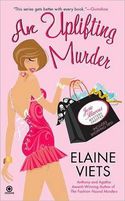 I'm delighted to feature author Elaine Viets, whose latest book is AN UPLIFTING MURDER: A Josie Marcus Mystery Shopper Mystery.
Elaine Viets is also the author of the Dead End Job Mystery series. She is an Anthony Award and Agatha Award winner. She lives in Fort Lauderdale, Florida, with her husband. Author website: Elaine Viets and her blog: www.thelipstickchronicles.com
Elaine was gracious enough to take time to answer a few questions for her readers!
Sharon: At what age did you know that you wanted to be a writer?
Elaine: I've wanted to write since high school. I did well in English and the nuns encouraged me to write. They steered me into a career in journalism back when women were supposed to be homemakers. I'm grateful to them. I got my degree in journalism and worked at a newspaper for nearly 30 years before I became a mystery writer.
Sharon: How did you get interested in writing "cozy" mysteries?
Elaine: I write the kind of books I like to read. I read four or five mysteries a week. I want my characters to have relationships with friends and families, to be connected to their communities. I enjoy learning about new neighborhoods, cities, careers or cultures. I don't like novels about soulless serial killers or psychopaths. My books are funny and fun to read.
Sharon: What inspired the mystery shopping theme of your series?
Elaine: Penguin asked me to try out for a mystery shopper series. I came up with Josie Marcus, a single mother with a pre-teen daughter and a mother who is fiercely protective. Josie is part of the sandwich generation. Josie hasn't much money, but her best friend, Alyce, is comfortably off. The two of them complement each other. The series was supposed to last two or three books, but "An Uplifting Murder," the sixth Josie Marcus mystery, was published in November.
Sharon: What appealed to you about the genre of cozy mysteries as opposed to hardcore mysteries or suspense stories?
Elaine: My mysteries are about friendship, which is important to women. We need the advice and emotional support of our friends. Shopping is a form a female bonding that's as legitimate as male bonding in bars. You can tell a lot about a woman when you shop with her: Is she patient? Is she honest? Will she tell you if that dress really does make you look fat?
Sharon: Your main character is a mystery shopper - where did you gather your inspiration for these characters?
Elaine: My mother was a mystery shopper back in the mid-1960s. She and her best friend, Connie, shopped supermarkets and fast-food places. Mom and Connie were a bit like Alyce and Josie. Mom's mystery shopping job was flexible enough so that she could work during the day, but be home when we kids got off school and still have dinner on the table for my Dad at night.
Sharon: With more and more series coming out in the cozy genre, do you see the competition for readership becoming more fierce? What do you do to keep your readers coming back for more?
Elaine: The cozier the better. There are so many sub-divisions in the cozy world. Joanna Slan has a scrapbooking series. Joanna Carl has a chocolate series. Sally Goldenbaum writes the Seaside Knitters series. These series are fun to read and I learn about everything from scrapbooks to chocolate (yum).
I want my readers to identify with Josie and her problems with her daughter and her mother, as well as enjoy an entertaining mystery.
Sharon: The cover art on your books is just gorgeous - very eye-catching! Who does the artwork for each book, and are you consulted as to how it will look?
Elaine: Thank you. I love my covers, too, and I'm lucky to have such good ones. They're by a Japanese artist, Tsukushi. My editor asks me for ideas for each cover, but I never come up with anything as clever as NAL's artist.
Sharon: Who are some of your favorite authors? Who inspires you?
Elaine: I like Michael Connelly, Nancy Pickard, Charlaine Harris, Sue Grafton, especially her earlier books, Lawrence Block, David Rosenfelt. There are so many good ones to read.
Sharon: What do you have coming up in the future?
Elaine: I've just turned in my tenth Dead-End Job mystery, "Pumped for Murder," about the world of extreme bodybuilding. The novel will be published in hardcover from NAL this May. Helen Hawthorne has married Phil and they've started Coronado Investigations, their own detective agency. They are asked to solve an old murder from the 1980s and a new one that takes place at the gym where Helen works.
Sharon: What advice would you have for anyone wanting to break into the "cozy mystery" genre?
Elaine: Learn your craft. Read as many mysteries as you can. Make friends with your local bookstore and find out what sells and what doesn't. Go to the conferences, such as Malice and Sleuthfest, to get advice from other writers. Listen to the panels. Attend the workshops. Meet editors and agents. Joanna Slan got her start when she met an agent at Sleuthfest.
Here's a little about AN UPLIFTING MURDER:
On Josie's latest assignment, her former teacher-now working in a lingerie shop-is in need of some serious support when a customer is found murdered. Unfortunately, the teacher's alibi is flimsier than the camisoles she sells, so Josie will need to bust out her sleuthing skills to expose the real killer!
Here are a few more cozy mysteries that are guaranteed to warm up your November days.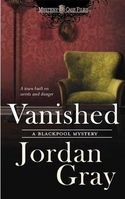 VANISHED: A Blackpool Mystery
By Jordan Gray
Harlequin Books; $7.99
Locals in the English coastal town of Blackpool don't take kindly to strangers, but newcomers Michael and Molly Graham have managed to make a few good friends. Dylan Stewart has encouraged them to join him and go native during the town's annual Seafaring Days celebrations. The event makes for lively crowds, colorful costumes—and a perfect cover for murder.
Troublemaker Willie Myners is found stabbed in his boat and the police's main suspect is Dylan himself. Michael and Molly can't help but be pulled into the mystery—and deeper into the dark history of Blackpool. Amid whispers of cursed sixteenth-century coins and gypsy gold, what they discover is something far more sinister than the revenge of a jealous husband. And much more dangerous.
This is the second book in the Blackpool Mystery series that is loosely based on the Mystery Case Files video games by Big Fish. The next book in the series, "Submerged," is due out in February.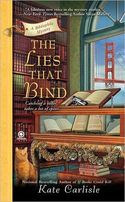 THE LIES THAT BIND: A Bibliophile Mystery
Obsidian Mystery; $7.99
Book restoration expert Brooklyn Wainwright returns home to San Francisco to teach a bookbinding class. Unfortunately, the program director Layla Fontaine is a horrendous host who pitches fits and lords over her subordinates. But when Layla is found shot dead, Brooklyn is bound and determined to investigate-even as the killer tries to close the book on her for good.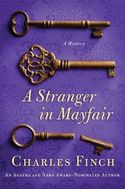 A STRANGER IN MAYFAIR
St. Martins Press; $24.99
Returning from a continental honeymoon with his lifelong friend and new wife, Lady Jane Grey, Charles Lenox is asked by a colleague in Parliament to consult in the murder of a footman, bludgeoned to death with a brick. His investigation uncovers both unsettling facts about the family he served and a strange, second identity that the footman himself cultivated.
Going into the boxing clubs and public houses, the Mayfair mansions and servants' quarter of Victorian London, Lenox gradually realizes that an old friend may be implicated in the footman's death. Soon a suspect is arrested, but Lenox has his doubts. Desperately trying to balance the opening of Parliament and what he feels sure is a dark secret, he soon discovers that the killer is someone shockingly innocuous—who may be prepared to spill blood again, even a detective's.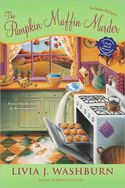 THE PUMPKIN MUFFIN MURDER: A Fresh Baked Mystery
Obsidian Mystery; $14.00
Phyllis loves to spend quality time with her grandson. She'll be taking him to a festival with hopes of winning the baking contest-now that her friendly competitor, Carolyn, is judging and not competing. But when a decorative scarecrow is actually a dead body in disguise, it's Phyllis's sleuthing skills that are needed.
The dead body is that of the festival's organizer- and his wife, Carolyn's friend, falls under suspicion. Carolyn turns to Phyllis for help, because who's better at dishing out some justice than a baker extraordinaire who can handle the heat...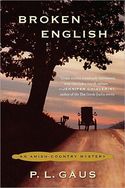 BROKEN ENGLISH: An Amish Country Mystery
By P. L. Gaus
Plume Books; $13.00
The peaceful town of Millersburg, Ohio, in the heart of Ohio's Amish country, is rocked by the vicious murder of one of its citizens at the hands of an ex-convict. When a local reporter covering the story ends up dead as well, with the convict already behind bars, suspicion falls on David Hawkins, father of the first victim. But Hawkins is nowhere to be found, not even among the protective Amish colony that had taken him in as one of its own regardless of his shadowy past.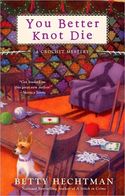 YOU BETTER KNOT DIE: A Crochet Mystery
Berkley Prime Crime; $24.99
Her crochet group, The Tarzana Hookers, is working overtime for the holidays-but Molly Pink is having trouble finding time to crochet so much as a snowflake. The bookstore where she works is adding a yarn department, and planning a huge launch party where the mysterious author of a popular series will reveal his or her true identity.
But before the author appears, another person disappears. The husband of Molly's neighbor is missing. When a suicide note arrives, it appears the husband has jumped off the Catalina Ferry- but Molly smells something fishy. Despite the protestations of her detective boyfriend, Molly's soon hooked on unraveling another mystery. She better watch out-or her sleuthing may get her on someone's naughty list...
1 comment posted.
I am a branch manager of a small southern library and I can't wait to order some of these cozy mysteries.
Liz Campbell
(Liz Campbell 4:43pm December 31, 2010)