1--What is the title of your latest release?
THANKSGIVING BLESSING is my latest release, and it's Book Three of the Amish Holiday series from Berkley Books.
2--What's the "elevator pitch" for your new book?
An Amish widow and an Amish widower collide over their shared property until a threat from outside and a firebug show them that what they have in common is stronger than any differences, giving them the strength to heal each other.
3--How did you decide where your book was going to take place?
Since this was the most recent book in a long-running series, it took me back to the familiar community of Promise Glen, which is so real to me that I could walk its streets blindfolded!
4--Would you hang out with your protagonist in real life?
Rebecca and I have a lot in common (although I've never had twins!) and I know we'd have long conversations about raising children, gardening, and choosing just the right apples for our favorite Apple Crumb Pie.
5--What are three words that describe your protagonist?
Loving, generous, and empathetic
6--What's something you learned while writing this book?
To paraphrase scripture, pain lasts for the night, but joy comes with the morning.
7--Do you edit as you draft or wait until you are totally done?
I usually read over the last pages I wrote, correcting as I go, before starting on the day's writing. This gets my mind back into the story as well as giving me a chance to be sure I've said what I wanted to say.
8--What's your favorite foodie indulgence?
Cookies and ice cream, especially Butter Pecan!
9--Describe your writing space/office!
Because my husband and I are now living in a apartment building for seniors, I usually compose on my laptop while sitting in my recliner and looking out the windows toward the distant ridges. This time of the year they are still cloaked with the brown and orange and red of late fall, although one storm could probably leave the trees bare.
10--Who is an author you admire?
I have always loved Jane Austen, and I periodically go back and read all of her books.
11--Is there a book that changed your life?
The books I read in childhood formed my way of thinking and imagining, and eventually led me to the realization that I could actually write books for a living!
12--Tell us about when you got "the call." (when you found out your book was going to be published)/Or, for indie authors, when you decided to self-publish.
"The call" for me came nearly thirty years ago, but I've never forgotten it. Learning that my book would be published was the culmination of all my hope and dreams.
13--What's your favorite genre to read?
I enjoy reading cozy mysteries and historical mysteries, and I stay away from reading books in my own writing genre, for fear it might influence my books too much.
14--What's your favorite movie?
I loved the newest version of Little Women—it did a lovely job of delving into the characters' inner selves.
15--What is your favorite season?
Autumn, because I love the crisp days and cool nights, the scent of burning leaves in the air and the riot of colors on the hillsides.
16--How do you like to celebrate your birthday?
Going out to dinner with my kids, my grandkids, and my sweetheart…laughing and talking and remembering.
17--What's a recent tv show/movie/book/podcast you highly recommend?
I'm really interested in genealogy, so I love programs that deal with that subject.
18--What's your favorite type of cuisine?
Pennsylvania Dutch, of course.
19--What do you do when you have free time?
I like to volunteer for the outreach activities of my church.
20--What can readers expect from you next?
Look for my next book in February, THE AMISH BACHELOR BARGAIN!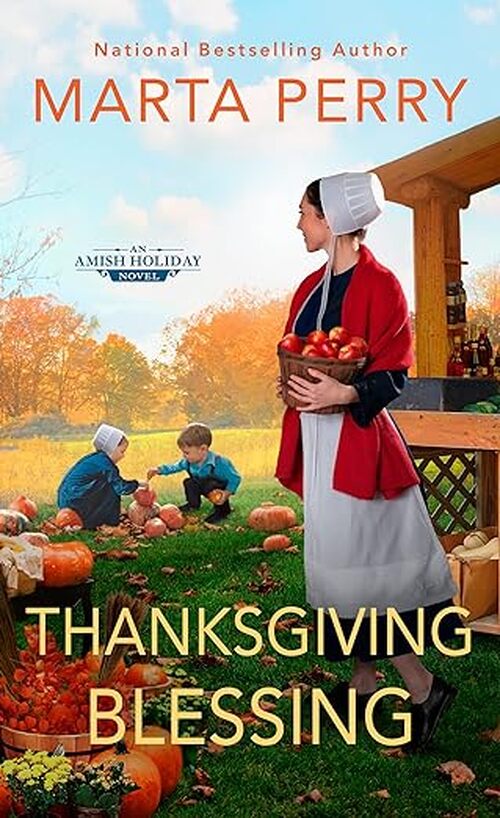 When Promise Glen is struck by a vandalism spree around the Thanksgiving holiday, a community's values—and two weathered hearts—are put to the test.
As a widow with two-year-old twins and a struggling orchard, Rebecca King's dreams of expanding her business seem near impossible. To make matters worse, a troublesome string of destructive acts around Promise Glen threatens her roadside fruit and vegetable stand, forcing Rebecca to accept the help of her condescending new neighbor, Nathan Mueller.
Nathan didn't intend to offend Rebecca with his offer to share the stand, especially since he's a widower and single parent himself. He admires Rebecca's strength and kindness in the face of adversity. If only they hadn't started off on the wrong foot…
Despite their best efforts to shield their hearts, working side by side through the busy harvest plants the seeds of a budding friendship. But when the vandalism spreading through Promise Glen escalates to arson and rumors blaze through the town, they'll have to learn to rely on each other more than ever. As Thanksgiving approaches, Rebecca and Nathan are forced to reconcile with their own grief, forgive what can't be changed, and come to truly understand the core values of the holiday: love and gratitude.
Romance Holiday [Berkley, On Sale: October 24, 2023, Mass Market Paperback / e-Book, ISBN: 9780593337967 / ]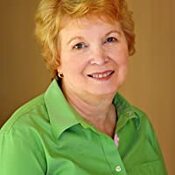 Marta Perry realized she wanted to be a writer at age eight, when she read her first Nancy Drew novel. Most girls reached the end of that book wanting to be Nancy. Marta wanted to be the person who created the story. The dream lay hidden for years while she pursued other career goals, but eventually it re-surfaced, and she began to write, beginning with short children's stories for Sunday school take-home papers. After seeing hundreds of her short stories published in a variety of magazines, Marta finally started work on the novel she'd always wanted to write. Thirty-some published novels later, she still feels the same excitement when she begins a new book.
A lifetime spent in rural Pennsylvania and her own Pennsylvania Dutch roots led Marta to the books she writes now about the Amish. The Pleasant Valley Amish series from Berkley Books are longer, more complex emotional stories with Amish main characters, while her Love Inspired suspense stories are shorter, more adventure-filled books set in Pennsylvania Dutch country. She also writes a Love Inspired series, The Bodine Family, set on the South Carolina coast where she and her husband have a second home.
Marta lives with her husband in a century-old farmhouse in the Pennsylvania countryside, but spends winters at their vacation home in South Carolina. When she's not writing, she's active in the life of her church and enjoys traveling and spending time with her three children and six beautiful grandchildren.
No comments posted.